RIP Lester Piggott – your legend lives on
The greatest flat jockey of all time changed horse racing forever.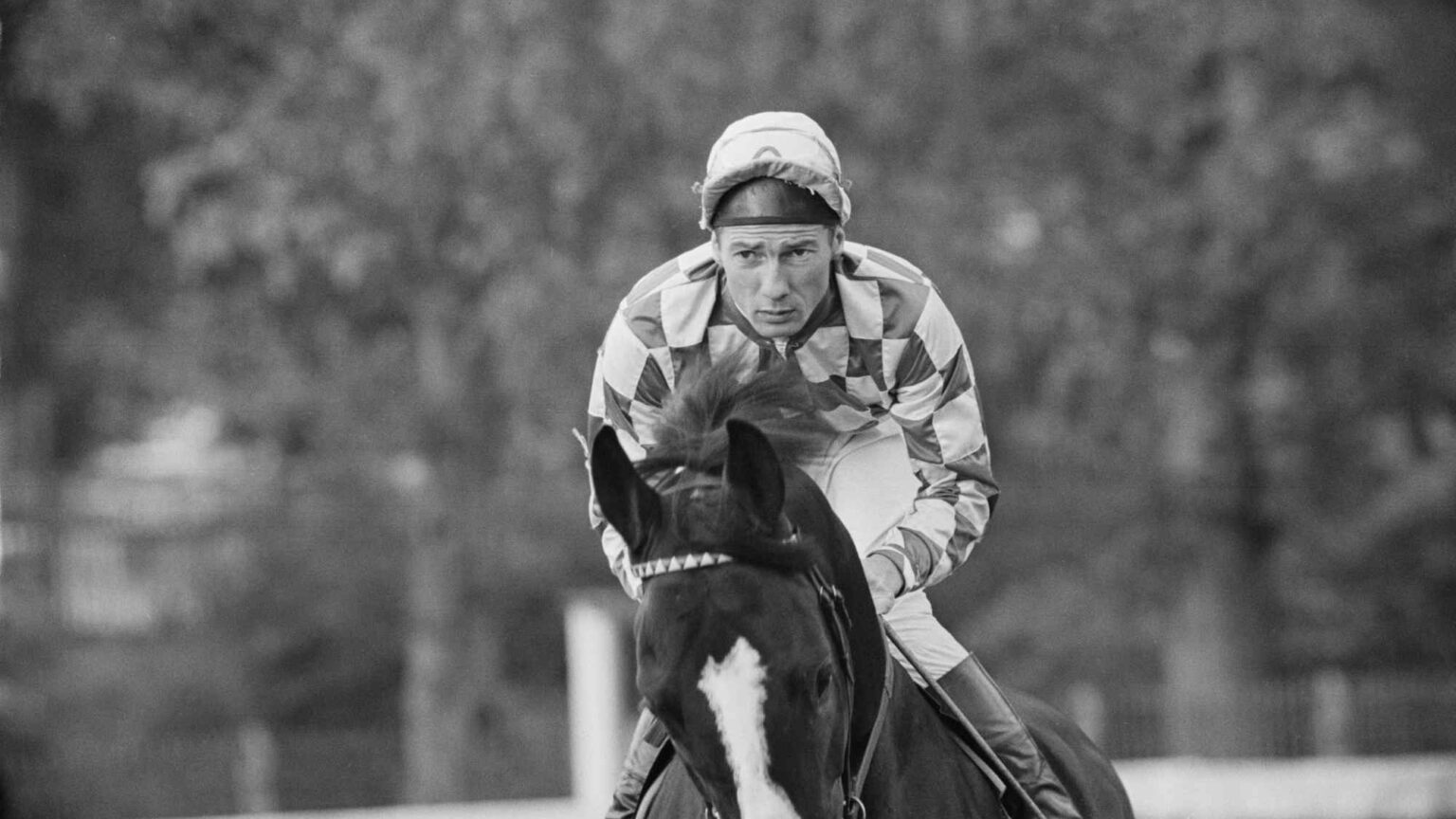 Every media obituary has rightly hailed Lester Piggott, the great champion flat jockey who died on Sunday aged 86, as 'a legend' of horse racing. Yet Lester's legend was built on characteristics that might be frowned upon in fashionable sports coverage today, from his ruthless will to win at all costs to his refusal to play the celebrity game.
Piggott in later life became officially revered as an icon: hailed as 'the queen's favourite jockey', recognised with a statue at Epsom racecourse – where he won the Derby a remarkable nine times – and by having the annual jockey awards named 'the Lesters'.
During his riding career, however, the younger Lester was an unlikely rebel. Frowned upon and persecuted by the upper-class racing establishment, he changed the sport forever and helped free professional jockeys from their lowly status as bonded servants in riding breeches.
Piggott's father and taskmaster, Keith, himself a successful jockey and trainer, taught the young Lester that winning was what mattered. Lester rode his first winner in 1948, when he was just 12 years old; these days he would not legally be permitted to do a paper round riding a bike at that age. He rode his first Derby winner, fittingly called Never Say Die, in 1954, aged 18; none of today's young star protégés has come anywhere near that.
Over his career, Piggott rode 4,493 winners in the UK, his record nine Derby triumphs among a record 30 winners in British Classics. He finally retired in 1985. But after serving more than a year in jail for tax evasion, he staged one of the greatest sporting comebacks of all time. Arriving in the US to ride Royal Academy in the prestigious Breeders' Cup Mile days before his 55th birthday, he duly came from last to first to win on the line, the richest victory of his long career.
Only his iron discipline and drive allowed Lester to ride any winners at all. At five foot eight, he was really too big to be a flat jockey. Known as 'the Long Fellow' he spent his life constantly fasting, apparently living on little more than a cigar in order to ride at up to 30 pounds below his natural bodyweight. (Asked why he famously rode with his backside stuck high in the air, the relatively long-legged Piggott replied, 'I've got to put it somewhere'.)
But the lithe Lester had the strength to push his horse to win in countless driving finishes, often using the whip in a rat-a-tat style that would be frowned on today. He was also notoriously unafraid to push rival jockeys out of his way, whether physically during a race or beforehand by persuading top trainers and owners to 'jock off' their regular riders and let him ride a promising horse instead.
It may not always be true that nice guys come last, but champions surely often have to be hard. And as veteran racing commentator Brough Scott writes, Piggott was 'the hardest of the hard', capable of winning a Classic race only days after being trapped in a starting stall by a bucking horse and almost having his ear torn off.
The taciturn Lester's apparent standoffishness (a condition exacerbated by his partial deafness) earned him the alternative nickname of 'Old Stoneface'. Despite reportedly displaying a dry wit in private, Piggott exuded none of the public charm of friend and admirer Frankie Dettori, racing's national treasure and the only more recent jockey fit to pull up Lester's riding boots.
As Piggott's old rival, Willie Carson, observes, unlike today's celebrity sportsmen the 'iconic' Lester 'didn't care what people were going to think about him'. But never mind the PR. More importantly, as Carson also says, Lester 'changed the way things were done from his early days until he retired', and other jockeys 'were better off for his endeavours'.
Not only did Piggott raise the professional standards of jockeyship and force others to follow suit – he also changed the status of professional jockeys.
The old-school-tie establishment that ran British racing never liked the young upstart, frequently punishing Piggott with longer-than-normal bans for ruthless riding. It liked Lester even less when, in 1967, he tore up convention, gave up his job as stable jockey to trainer Noel Murless and became the first top rider to go freelance. Everybody predicted it would be a disaster. Instead, Piggott's career and finances reached new highs.
Until Piggott came along, even champion jockeys were supposed to be cap-doffing serfs, calling owners and trainers 'Mister' and doing as they were told. Lester broke that old mould forever and created the modern superstar jockey. His obsession with money as well as winning would eventually lead to his conviction and jail sentence for tax evasion. (Even then, some thought Piggott was the fall guy for the top hats who had willingly paid him off the books, none of whom were ever charged.)
I grew up surrounded by prints of Piggott's great rides on the walls of our family home, with one of 1970 triple crown winner Nijinsky enjoying pride of place. (I still have it, sporting Lester's signature next to a hair from the history-making horse's tail.) If George Best was my 1960s sporting hero, Piggott was my father's. It was a happy day in the Hume household when Lester won the Derby on Sir Ivor in the afternoon, and Georgie scored as Manchester United won the European Cup the same evening. It was 29 May 1968, and Lester died on the 54th anniversary of that great day.
The last time I saw Piggott in person was almost 20 years ago at the late, great Walthamstow dog track, giving out prizes alongside a TV racing personality of the time. A youngish punter next to me asked, 'Who's that little old bloke with Big John McCririck?'. Such is the fickle culture of celebrity with which we now live. McCririck might be long gone and largely forgotten. But a legend such as Lester will live on in the memories of all who saw him, and hopefully the hearts of all who love real sport.
To enquire about republishing spiked's content, a right to reply or to request a correction, please contact the managing editor, Viv Regan.