Why foreign fighters see Ukraine's cause as their own
Aiden Aslin, Shaun Pinner and Brahim Saadoun embody the spirit of solidarity and internationalism.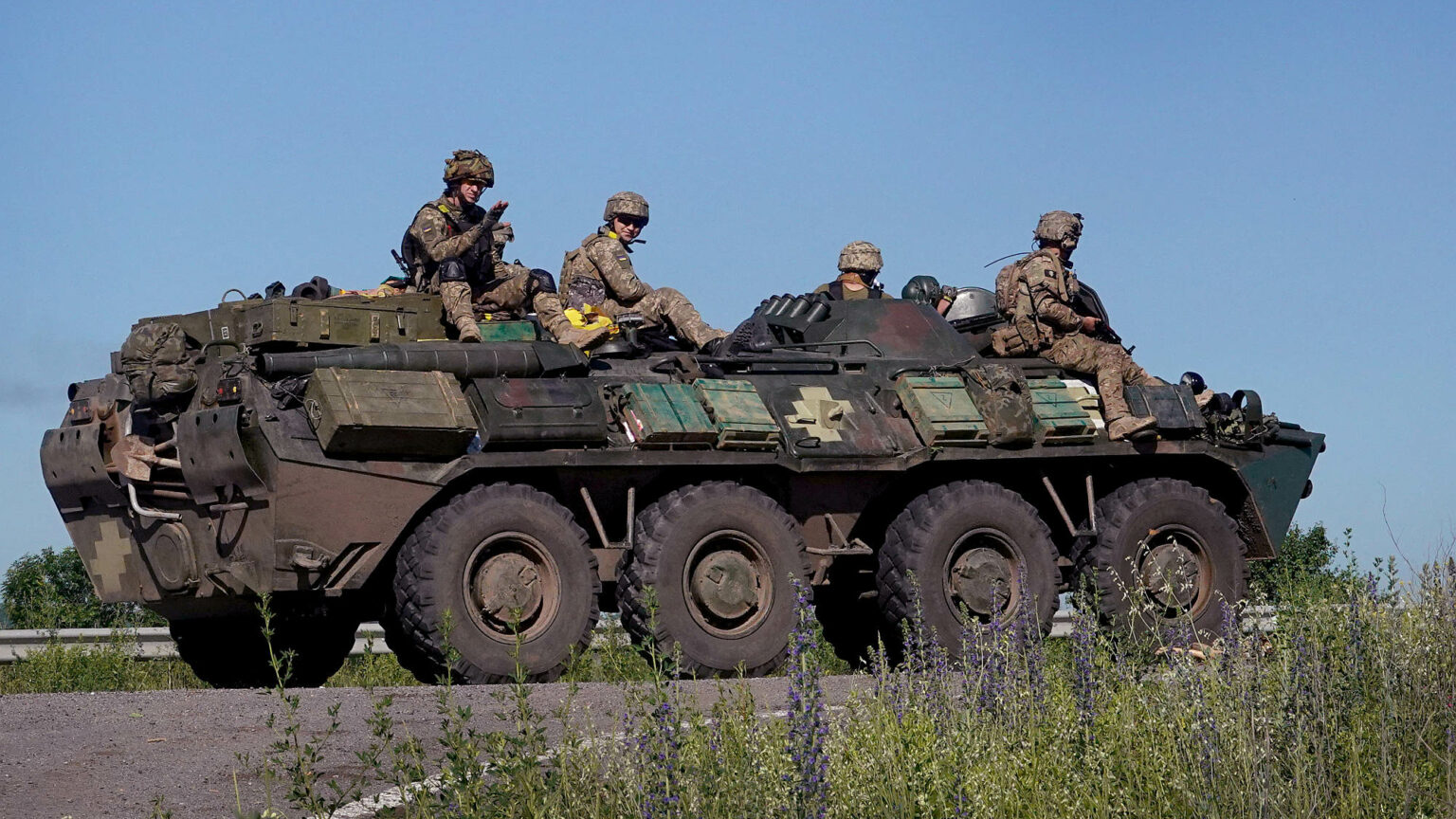 Yesterday, two Brits and a Moroccan were sentenced to death by a court in the self-proclaimed Donetsk People's Republic (DPR) in eastern Ukraine. The three, who had been fighting with the Ukrainian armed forces, were found guilty, in the words of the court, of 'mercenary activities and committing actions aimed at seizing power and overthrowing the constitutional order of the DPR'.
The official condemnation from Ukraine's Western supporters came quickly. The British government pointed out that they were prisoners of war and that, under the Geneva Conventions, they 'were entitled to combatant immunity… from prosecutions'. UK foreign secretary Liz Truss called it 'a sham judgement with absolutely no legitimacy'.
She's right, for once. This was a grotesque showtrial, widely publicised and featuring dubious confessions of guilt. It likely serves a very cynical purpose, which has nothing to do with justice and everything to do with trying to extract concessions from the West.
Yet some in the West have been more critical of Truss and the West in general than of the cynical machinations of the DPR court. You can see it in the social-media posts blaming Truss for the two Brits being there in the first place, after she said in late February that going over to fight in Ukraine 'is something people can make their own decisions about'. That the two Brits, 28-year-old Aiden Aslin and 48-year-old Shaun Pinner, have been living in Ukraine since 2018 and 2014 respectively seemingly makes little difference to those willing to blame the UK government for just about everything.
But the criticism of the involvement of Brits, like Aslin and Pinner, in Ukraine's conflict with Russia runs deeper than party-political point-scoring. It testifies to the deep-seated belief of Western anti-war types that the war in Ukraine has nothing to do with Westerners. That Ukraine's struggle against Russian aggression is not the concern of people from the UK. That the cause of Ukrainian nationhood is not their cause.
This is a troubling attitude. It suggests that people from the UK, or Canada, or Sweden, or from wherever else Ukraine has attracted support, should not be identifying with the struggle of another nation. That they have nothing really in common with those people over there. That genuine internationalism and solidarity are impossibilities – the naive delusions of those who fail to recognise the harsh realities of geopolitics.
This miserable worldview is precisely what the stories of Aslin and Pinner refute. Aslin is a former care worker from the market town of Newark in Nottinghamshire. And Pinner is a one-time British soldier from Bedfordshire. Aslin moved to Ukraine four years ago, where he met his fiancée. Pinner moved there eight years ago and lived with his wife in Mariupol. And both fought against ISIS during the mid-2010s as part of the Kurdish-led Syrian Democratic Forces. Despite being British citizens (albeit now with dual nationalities), growing up over a thousand miles away in a very different country, they both clearly identify with the struggle for nationhood of their adopted homeland. They see the values they hold dear in the aspirations of the Ukrainian people. So much so that both have been serving in the Ukrainian military for several years – Aslin enlisted in the Ukrainian marines in 2018 and Pinner has been contracted to the Ukrainian defence ministry, having initially started clearing mines for Ukraine in 2014.
In a very real sense, they see and experience Ukraine's struggle as their struggle, Ukrainian nationhood as their cause. These aren't callow adventurers, throwing themselves uselessly and ignorantly into some distant conflict in the hope of furnishing their lives with meaning. (No one wants to encourage that.) They are seriously committed to the cause of Ukraine.
This doesn't just apply to Aslin and Pinner. It also applies to all those who have rallied to Ukraine's side after the Russian invasion. To those like Brahim Saadoun – the 21-year-old Moroccan student sentenced alongside Aslin and Pinner. Saadoun signed up to fight almost as soon as Putin commenced his act of aggression. And it applies to the thousands of others who answered Ukrainian president Volodymyr Zelensky's call for the formation of a foreign legion back in February, which created the most significant international brigade since the Spanish Civil War.
Indeed, just like those who headed to Spain over 80 years ago to fight for the republic against General Franco and his fascist backers, those foreigners now courageously fighting for Ukraine are doing so because they recognise in Ukraine's struggle something they value, too. As Aslin's grandmother told the BBC, he was defending 'Ukraine's right to self-determination'.
The foreign volunteers battling beside their Ukrainian brothers-in-arms are showing us all that there are some things worth fighting for.
Tim Black is a spiked columnist.
To enquire about republishing spiked's content, a right to reply or to request a correction, please contact the managing editor, Viv Regan.