Angela Merkel is as arrogant as ever
The former German chancellor insists she did nothing wrong in the build-up to the war in Ukraine.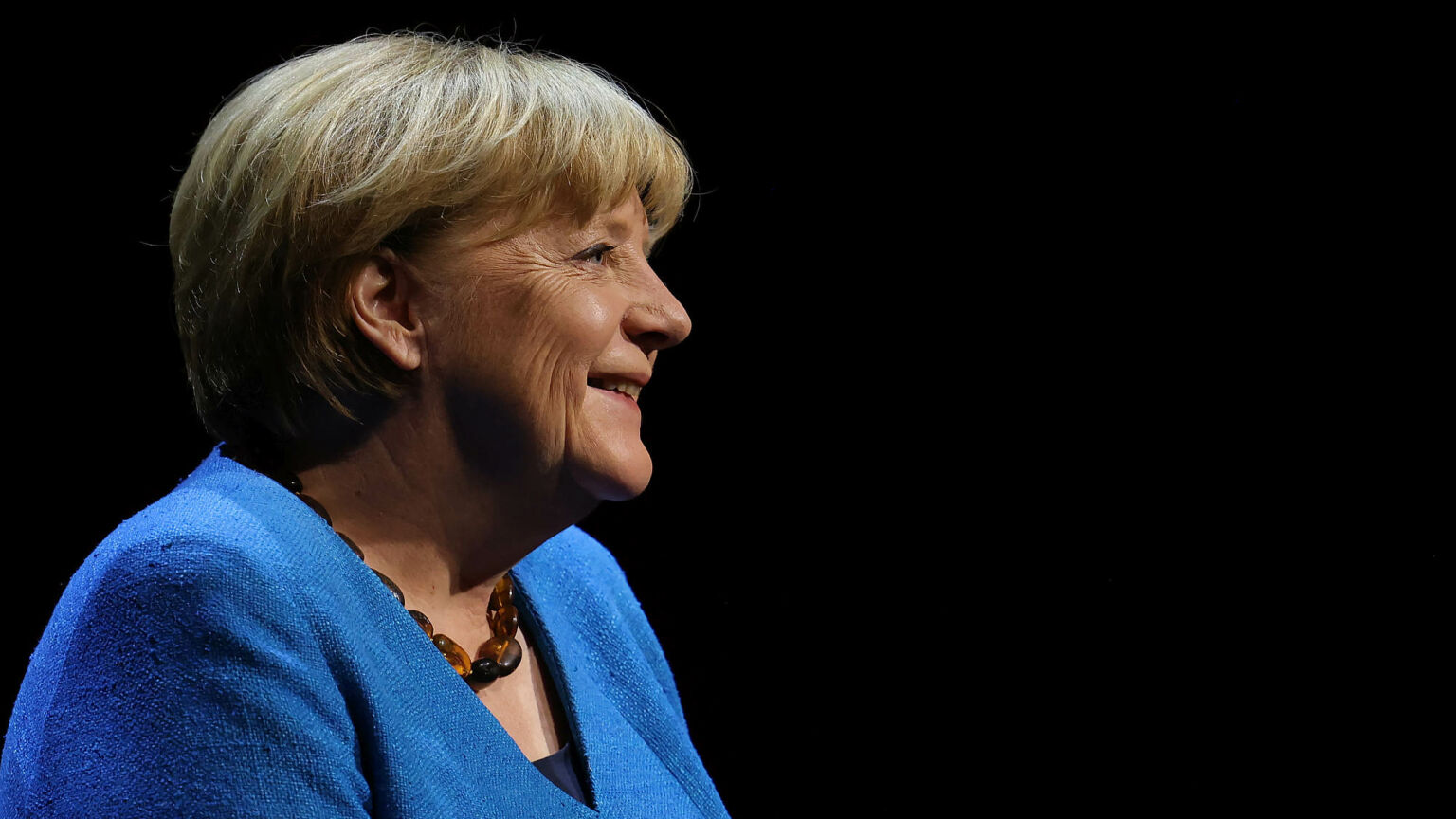 So now we finally know what former German chancellor Angela Merkel has to say about Russia's invasion of Ukraine. Seven months after leaving office, and almost four months into the war, Merkel has finally broken her silence on the most important issue confronting Europe today.
Earlier this month, Merkel gave an on-stage interview at the Berliner Ensemble theatre. 'For the first time since her time as chancellor, Merkel will be faced with the challenging questions of our time' was how the event was billed – quite the promise, not least as Merkel managed to avoid facing tough, critical questions throughout her time in office.
It was easy to predict what the trickiest questions would be about. Merkel's reputation has taken a nosedive since the war in Ukraine began. The invasion has exposed the shortcomings of her chancellorship faster than anyone could have imagined. While Merkel was once feted as the de facto leader of Europe, she is now widely seen as an appeaser of Vladimir Putin and is blamed for Germany's chronic dependence on Russian gas.
In the end, the event was carefully choreographed. Nothing was left to chance. The conversation was led by journalist Alexander Osang, one of Merkel's biggest fans. ('She is still my chancellor', Osang announced to the crowd before she appeared on stage.) Questions from the audience were not permitted, and so the Ensemble theatre – established by none other than Bertolt Brecht to stage his radical plays – became a safe space for the ex-chancellor to defend her legacy.
Merkel would not hear a word of criticism of her time in office. She said several times that she had 'nothing to apologise for' in her policies towards Russia. She also said she had tried everything with Putin and would have regretted not establishing diplomatic relations with him. Everything she did, whether it succeeded or not, was in the interests of avoiding disaster and strengthening diplomacy, she claimed.
So what about Nord Stream 2, the now notorious multibillion-euro gas-pipeline project connecting Germany to Russia? It is irrelevant, according to Merkel, because Putin's invasion began before the pipeline could start pumping gas.
And what about her government's neglect of the German army, which is now being rebuilt at the cost of €100 billion? Merkel said it was unfair to blame her for this, as all of Germany's leading generals had supported her decision to scrap general conscription (a decision which is now widely blamed for the army's dilapidated state). The interview carried on in this vein, with Merkel refusing to admit to a single mistake.
While Merkel offered nothing by way of self-criticism, she did have plenty of critical things to say about the US. She even criticised the US for sanctioning some of the companies involved in the Nord Stream 2 project. She also said the US's botched Afghanistan withdrawal would have pleased Putin. At times, Merkel implied that Putin's invasion might not have happened if she had remained in power.
For Merkel's fans in the German mainstream media – of which there are still far too many – she showed herself to be at peace with her decisions. Some even characterised her turn on stage as brilliant, open, honest and quick-witted. In truth, even when faced with a soft-touch interviewer, Merkel was clearly defensive, having to fight for her reputation like never before.
In her insistence that she did nothing wrong, Angela Merkel reveals that she has not changed at all since leaving office. But the world around her has changed radically – and the truth about her legacy has caught up with most of us in Germany. Her reputation is now beyond saving.
Sabine Beppler-Spahl is spiked's Germany correspondent.
To enquire about republishing spiked's content, a right to reply or to request a correction, please contact the managing editor, Viv Regan.