The genius of Paul McCartney
He reminds us of an era when working-class kids could change the world.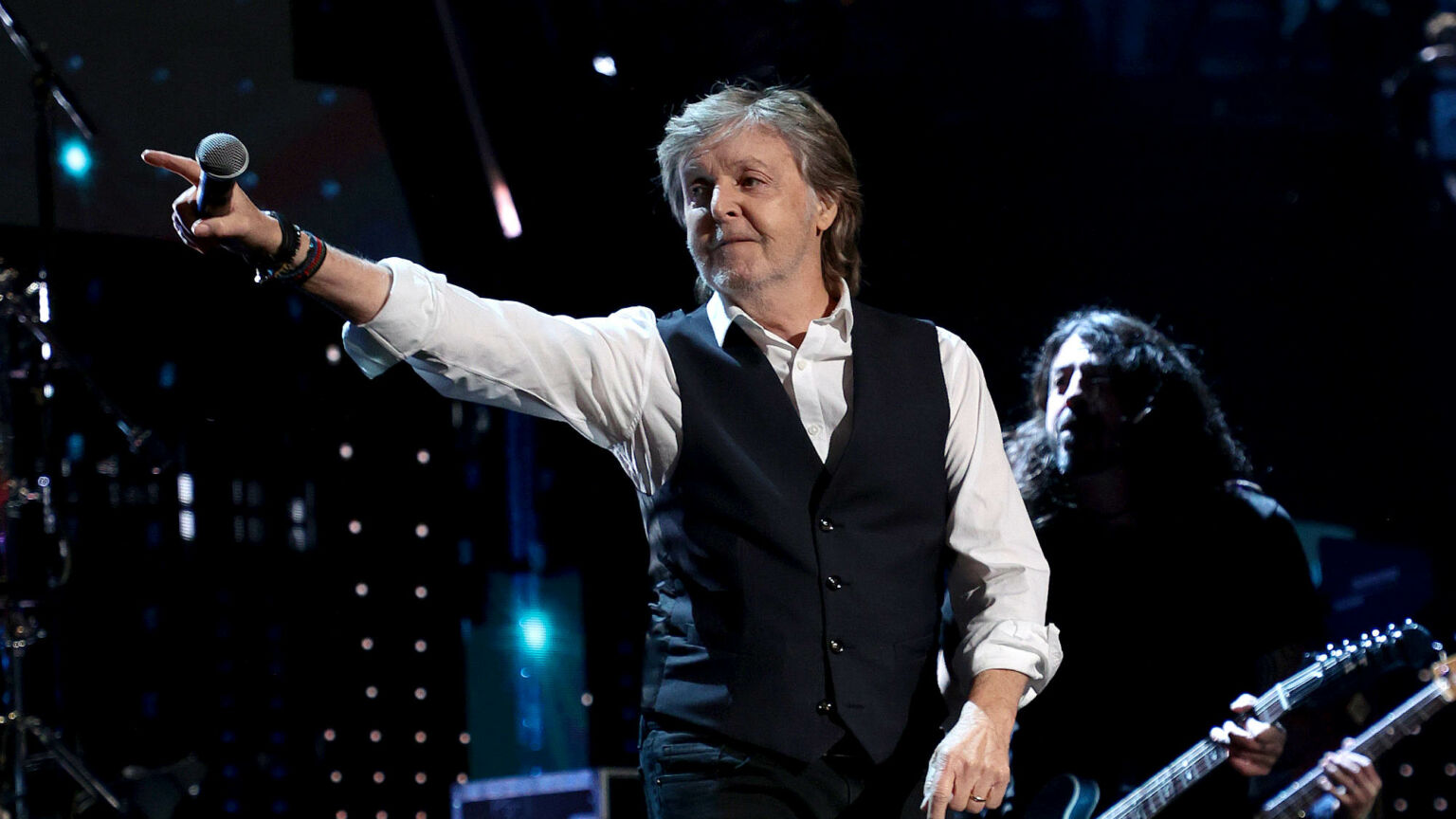 There's a lot of handwringing about Sixties Britain at the moment. We are told that the freedom it unleashed turned out to be the road to ruin, particularly for women. We are told that, despite the decade's association with social progress, everyone back then actually had very questionable views. Heck, rainbows only existed in the sky back then. But such one-eyed revisionism ignores the fundamental positives of the Sixties. Particularly how doors were kicked wide open by working-class people with talent and vision – how non-upper-class folk transformed themselves and British society in the process. And if there is one individual who personifies this remarkable – but increasingly forgotten – shift, it is Sir Paul McCartney, who turned 80 over the weekend. This Saturday he'll become the oldest person ever to headline Glastonbury.
McCartney heads into his ninth decade with his reputation in excellent shape. For a long time he had to endure being considered either the lesser talent to fellow Beatle John Lennon or just too affable to be a loveable 'character'. But for the past 25 years or so McCartney has benefitted from retro Beatlemania, courtesy of Britpop and endless features in Mojo magazine, and has been given his rightful accolades. Even his patchy but often brilliant solo career has been praised to the rafters.
Peter Jackson's 2021 documentary, The Beatles: Get Back, in which Jackson drew together hitherto unseen footage from the recording of Let It Be between 1968 and 1970, has also been a boon to McCartney. The footage shows him as an inspired band leader, coaxing performances from reluctant band mates and creating brilliant songs out of nothing.
From The Beatles' beginnings in 1960, it was McCartney who mapped out how he and his mates would do things differently. It was he who insisted that they wrote and performed their own songs (unheard of at the time) and that they stuck at the gruelling Hamburg 'toilet circuit' of small venues between 1960 and 1962. It was also McCartney's versatility as a songwriter that motored The Beatles' light-speed transformations over their eight-year existence. He relished overcoming self-set challenges. Famously, he wrote the thundering 'Helter Skelter' in 1968 in response to the claim that only the Who could truly rock out.
McCartney's genius goes well beyond 'catchy tunes' or studio-based wizardry. Composer Howard Goodall argues that The Beatles single-handedly re-established the power of melody for a mass audience, in the way classical composers had done previously. For Goodall, it is not hyperbole to compare McCartney's compositional talents to that of Mozart. (Goodall's 2017 BBC documentary, marking the 50th anniversary of Sgt Pepper's Lonely Hearts Club Band, demonstrated this point brilliantly.) As Goodall has argued, classical music was at a low ebb during the early Sixties, deliberately putting off audiences with atonal, avant-garde soundscapes. By drawing on Britain's musical past – from music hall to hymns – Lennon and McCartney reacquainted millions with rich melody and composition. Rather than writing songs to demarcate themselves from mass society, The Beatles revolutionised contemporary music to make it the collective soundtrack to our lives.
McCartney is a world-changing Sixties innovator, but he has always resisted the gadfly tendencies of the counterculture generation he came from. He has steadfastly clung on to a lifestyle – of monogamy and marriage and family – that places him closer to a Church of England vicar than, say, Keith Richards. He has long been derided as the 'sensible Beatle', whose resolutely 'ordinary man' behaviour was no affectation. More accurately, he was always more of a modernist than a California-type hippie (despite the dope-smoking habit). He was a cultural revolutionary, but one who recognised that there were some traditions worth preserving. This has put him at odds with his rock'n'roll disciples in the music press, but it has connected him to the lives and mores of millions.
It's doubtful that anyone over the age of 40 needs reminding of McCartney's colossal achievements – his status as a pioneer whose name (and melodies) will be around for a long time to come. But following his 80th birthday, McCartney is still a much-needed reminder of the positive changes that Britain went through in the Sixties. Key to this was the space and freedom it gave to ordinary people to do things differently and to enrich society. The colonisation of today's popular music, film and art by the upper classes shows how far Britain has sunk as an open and dynamic society. We need fewer attacks on the 'dark' and supposedly reprehensible Sixties culture, and more of the light and brilliance that McCartney represents.
Neil Davenport is a writer based in London.
To enquire about republishing spiked's content, a right to reply or to request a correction, please contact the managing editor, Viv Regan.