Whatever happened to 'protect and serve'?
The Uvalde massacre has exposed the institutionalised cowardice of the US police.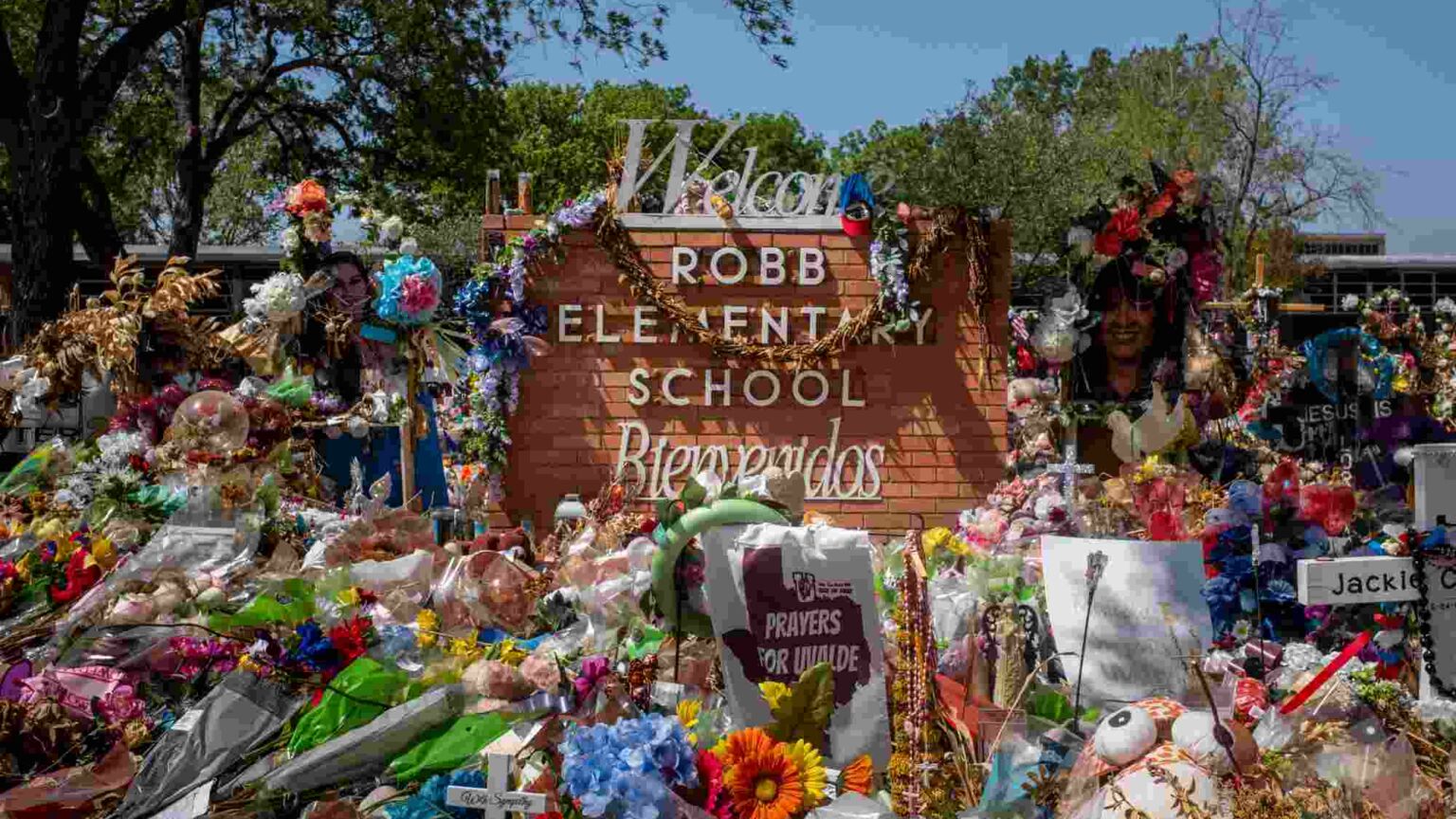 In 2014, 22-year-old Jon Meis was working at Seattle Pacific University when Aaron Ybarra began firing a shotgun, killing one person and injuring three others. When he paused to reload, Meis, armed only with a pepper spray, tackled him and successfully subdued him.
Meis is far from the only citizen to show such heroism in the face of an armed attacker. There have been many other cases where a member of the public has taken down, disarmed or subdued a gunman before they could cause more harm. And sometimes they have paid with their lives.
Now contrast such heroic acts with the conduct of the authorities in Uvalde, Texas, where a solitary shooter was able to massacre 19 children and two teachers at Robb Elementary School last month.
On 24 May, at 11.33am, 18-year-old Salvador Ramos allegedly walked into the school through an unlocked door armed with an AR-15-style rifle. Once inside, the suspect walked into an unlocked classroom and opened fire before entering another classroom through an adjoining door.
Three officers with handguns entered the school building just two minutes after Ramos. They were soon followed by school-district police chief Pete Arredondo and seven more officers. As newly released video images have since shown, by 11.52am there was a significant armed police presence inside Robb Elementary School. When the suspect then shot at the cops, grazing two of them, they fell back and did not go back in until 12.50pm, when they finally shot Ramos dead.
It has also since been revealed that school-district police officer Ruben Ruiz was actually stopped by the police from intervening. Ruiz was outside one of the classrooms where the shooting was taking place and had received a call from his wife, a teacher at the school, who had been shot. As Ruiz tried to enter the classroom he was detained by the police who took his gun off him and escorted him away from the scene. His wife died shortly afterwards.
All this raises very serious questions about the police's handling of the shooting. Steven McCraw, the director of the Texas Department of Public Safety (DPS), called the police response an 'abject failure'. As he told a state Senate hearing last Tuesday: 'The officers had weapons, the children had none. The officers had body armour, the children had none. The officers had training, the subject had none. One hour, 14 minutes and eight seconds – that is how long the children waited, and the teachers waited, in Room 111 to be rescued.'
McCraw is right. This was an 'abject failure' on the part of the police. In a situation that demanded bravery and initiative, they displayed neither.
Uvalde's police force certainly cannot blame a lack of resources for their failure. Between 2015 and 2022, the police budget grew by nearly a third, reaching 40 per cent of the city's total budget. Uvalde Police Department even has its own part-time SWAT team, though it is unclear if it was mobilised for the school shooting.
The disastrous response of Uvalde's cops to the Robb Elementary School shooting sheds light on the terrible impact of certain cultural changes on and within the police. It is clear that the police are now more risk-averse than they ever used to be. It is also clear that individual officers are less willing or simply unable to respond to situations using their own judgement. Indeed, many police departments in cities across America are now using predictive algorithms, based on arrest data and police records, to make policing decisions for them.
Above all, it is clear that Uvalde police failed to display qualities that were once deemed virtuous, but are now more likely to be damned as signs of toxic masculinity. Those officers on duty that horrible day should have shown courage. They should have been willing to act and take responsibility for their decisions. They should have been capable of displaying the same bravery as those citizens who have taken on shooters or terrorists in recent years. But when the situation demanded heroism, the cops were found wanting.
In the past, police forces were inspired by the motto 'protect and serve'. Today it seems emasculated and bureaucratised cops find themselves unable to respond to massacres happening before their very eyes. Policing needs an urgent rethink.
Kevin Yuill teaches American studies at the University of Sunderland.
To enquire about republishing spiked's content, a right to reply or to request a correction, please contact the managing editor, Viv Regan.