We need democratic control over the Bank of England
'Independence' was a terrible idea. It's time to reverse it.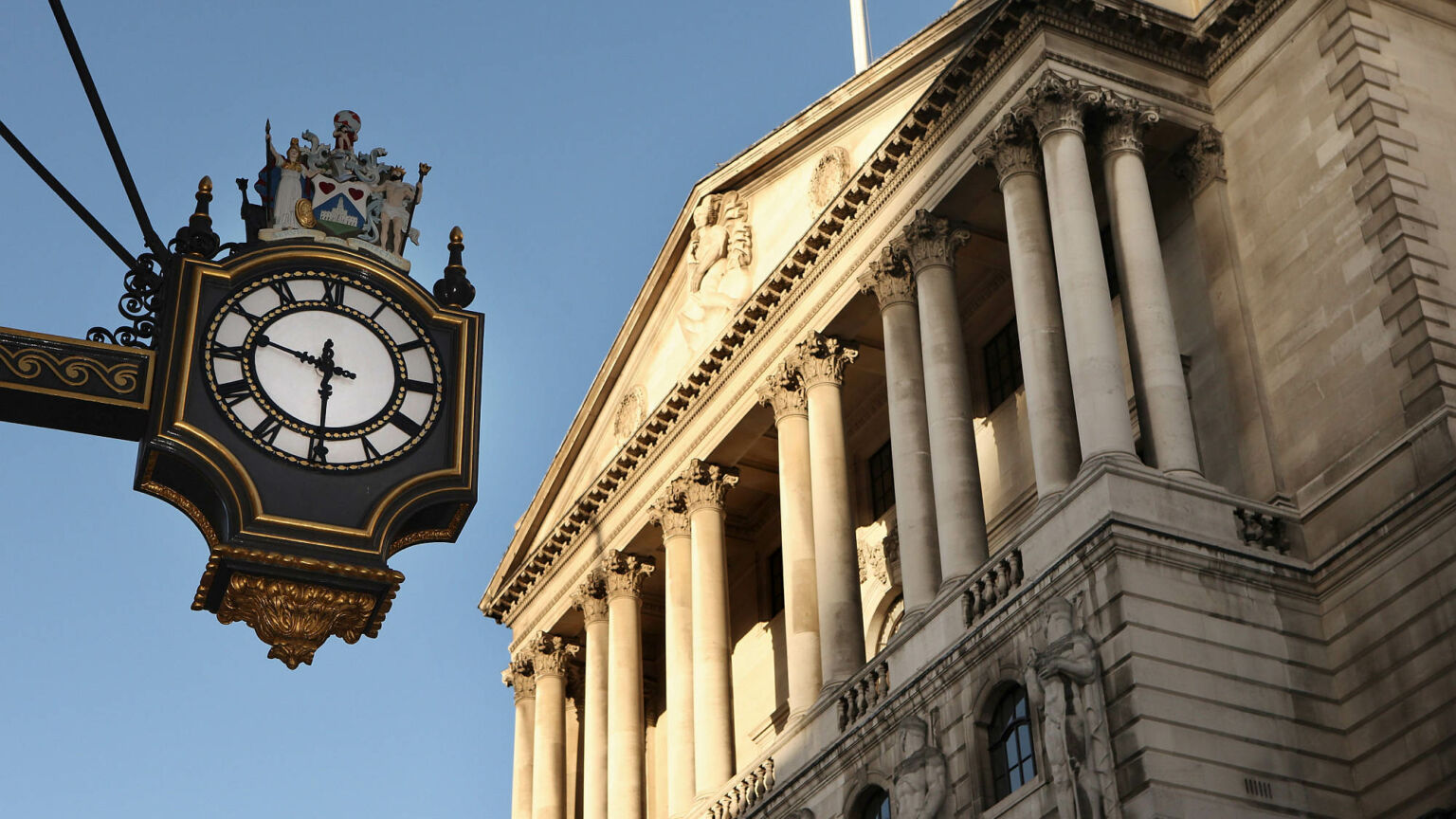 Andrew Bailey, governor of the Bank of England (BoE), is hardly a household name. But some people are beginning to take an interest in the man. Last August, he notoriously said that many of the drivers of inflation were 'temporary'. Now, in a poll of 1,500 Brits, 49 per cent say the BoE is not doing all it could to curb inflation, while just 16 per cent say that it is.
Bailey is an important figure. By setting interest rates, the BoE's Monetary Policy Committee (MPC), which he chairs, has a blunt instrument with which to constrain consumer demand. The bank is supposed to keep inflation at a level of two per cent. It influences borrowing and lending by retail banks, the mortgage market and the exchange rate for sterling. It has engaged in a series of bouts of quantitative easing, each less effective than the last. It is directly responsible for issuing cash.
Also, just as the US Federal Reserve has recently been charged with adding 'racial equity' to its dual mandate of price stability and full employment, so the BoE likes to go beyond its old remit. It tests banks and insurers for their resilience in the face of climate change, and works with its own Prudential Regulation Authority (PRA) and the Financial Conduct Authority (FCA) to improve diversity and inclusion among the 1,500 firms the PRA regulates. In 2020, the bank also teamed up with the Beano to help teach primary-school kids about money. 'Financial literacy', Bailey said at the time, 'is essential for everyone'.
It is certainly essential for him. Trained as a Cambridge historian, only to rise through the ranks of innumerable and ineffably grey UK financial institutions, Bailey has many critics. Some still worry about his less-than-distinguished record as head of the FCA (2016-20). Many more have since attacked him in public for his and the BoE's complacency and lateness in tackling inflation. Both these criticisms are fair. But they miss the more fundamental point. Namely, that Bailey plays an enormous role in the management of the British economy and yet he was never elected by us – and it is about time that he and people like him were.
He isn't the only one. There's also the European Central Bank (ECB) president, Christine Lagarde. In 2016, having been appointed head of the International Monetary Fund, Lagarde was convicted but never punished by a French court for criminal negligence while minister of finance under sleazy French premier Nicolas Sarkozy (she had rubber-stamped an iffy payout of €400million of public funds to Bernard Tapie, a pal of Sarkozy). Today, she earns about £350,000 a year as head of the ECB. Her powerful role in Europe's economies was gained through an obscure process of appointment, not unlike the white-smoke ways of agreeing upon a new pope.
She is unelected. And so is Jerome Powell, chairman of the Federal Reserve Board of Governors in the US. Powell is an attorney, investment banker and Republican: he was appointed by Donald Trump in 2018, and has had his modest ($200,000+) salary renewed by Joe Biden.
There are plenty of reasons to criticise Bailey. At the FCA, he racked up a dismal record of whitewashing fraudulent consumer finance, bungling probes into and prosecutions around it, falling asleep in a meeting, and leaving an investigation on behalf of battered investors in Neil Woodford's Woodford Equity Income Fund in a quagmire. As if to confirm his poor powers of attention, Bailey had by 2019 let the FCA's ritzy, £60million HQ at Stratford become, in the words of its chief operating officer, a place for 'leaving cutlery and crockery in kitchen areas, overflowing bins, stealing plants and charging cables from desks, catering and security teams being subject to verbal abuse, colleagues defecating on the floor in toilet cubicles on a particular floor, urinating on the floor in the men's toilets and leaving alcohol bottles in sanitary bins'. As the Financial Times noted, the revelations emerged at just the moment that Bailey was angling to be head of the BoE.
Later, however, all that did not prevent the Financial Times from praising Bailey's promotion to run the BoE. He was, the paper sagely pronounced, a 'safe pair of hands', a 'competent insider', and one who would bring 'continuity amid turmoil elsewhere'.
It hasn't turned out that way. By November last year, Bailey was 'very uneasy' about the cost of living, only to allow his MPC to keep interest rates at rock-bottom levels, all the while envisaging inflation rising to just five per cent in 2022. That series of inconsistencies shocked investors. One staffer on The Times – who had observed during Bailey's tenure at the FCA that, 'as wafflers go, Mr Bailey is proving a master of the art' – called him 'a waffler, whose words don't mean anything'.
It gets worse. Paid £575,000, Bailey ruffled feathers this February by not being able to remember his own salary, while recommending that workers exercise pay restraint (he has since, very generously, foregone a pay rise himself). Yet at the time, even Boris Johnson's official spokesman disagreed, saying: 'We obviously want a high-growth economy and we want people's wages to increase.'
The man has a remarkable talent not just for waffle, but also for putting his foot in it. Yet none of his sins comes anywhere near the original sin of former Labour chancellor Gordon Brown, four days after his elevation in 1997, when he gave the BoE 'independence' from the government. This has never been questioned. It is still defended, as Brown used to defend it, on the grounds that if chancellors are allowed to set interest rates they will be swayed by public opinion and oscillate between boom and bust.
In other words, the whole purpose of the BoE, over what is now a quarter of a century, has been to outsource decisions about the economy away from elected politicians, and make them subject to the reckonings of experts removed from voters.
Altogether, the Bank of England's governor stands as a symbol of the nadir which the discussion of economics has reached. However, to scapegoat Andrew Bailey and other central bankers is exactly the kind of evasion that Downing Street would like, for that tactic absolves the government of all responsibility for the economic travails that have afflicted us since well before Covid and the war in Ukraine – especially the perennial lack of any long-term plan for the supply side of the economy, and thus any plan for achieving durable cuts in costs and prices. After all, without such a plan inflation may moderate, but prices for food, energy and everything else could all too easily stay high for years and years.
Let's stop beating up on one incompetent waffler like Bailey, and instead focus our ire on Bank of England 'independence' itself. It is undemocratic, impervious to popular feeling and a dependable get-out for useless governments. Return the bank's decisions to politicians! They have their faults, but at least we can vote them out.
We can't do that with Andrew Bailey.
James Woudhuysen is visiting professor of forecasting and innovation at London South Bank University.
To enquire about republishing spiked's content, a right to reply or to request a correction, please contact the managing editor, Viv Regan.