Long live populism
Boris Johnson may be gone, but the Brexit spirit still reigns.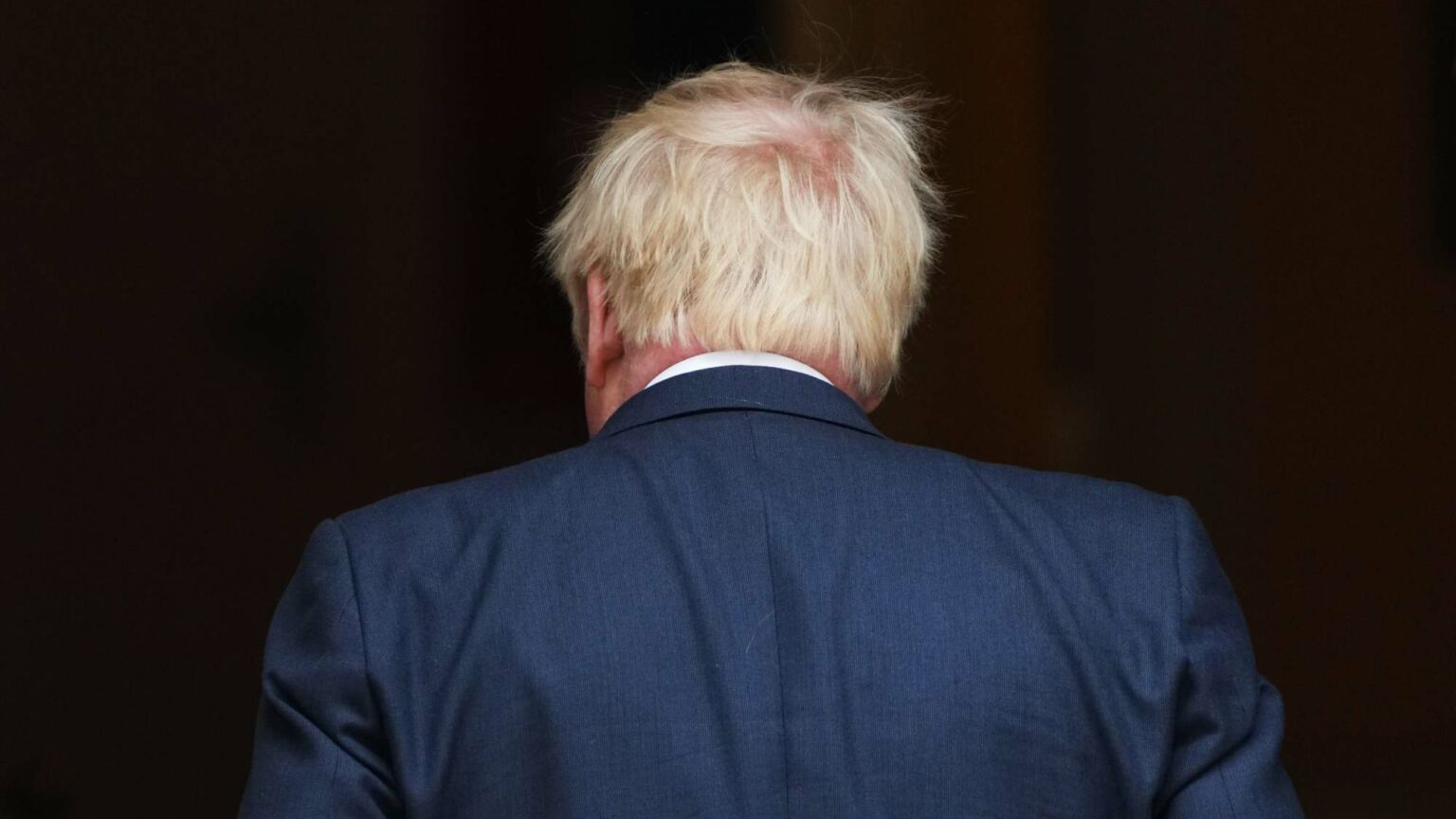 So, it's finally over. Boris Johnson has resigned as UK prime minister, following an absurd few days in Westminster as he tried to cling on to power while ministerial resignations piled up around him. In the end, it fell to Nadhim Zahawi – the man Johnson had hastily appointed chancellor just a day and a bit earlier – to strike the final blow, calling on the man who'd just promoted him to resign. And so Johnson has gone, with a typically breezy speech outside Downing Street, just two-and-a-half years after he secured a historic mandate to 'get Brexit done' and shake up a complacent, disdainful metropolitan elite.
What a two-and-a-half years it has been, complete with plague, penury and war in Europe. But for all the horrors of recent times and for all Johnson's many mistakes in office his tenure will remain a landmark moment in the struggle for British democracy. His Brexit deal may have been imperfect. Britain may remain lumbered with its own homegrown oligarchy and anti-democratic institutions. But in rescuing the Brexit vote from the clutches of a Remainer Parliament, in reminding the elites who ultimately rules in a democracy, and in dealing a blow to a treacherous Labour leadership that had betrayed working-class Brexit voters, Johnson's 2019 election did democracy a great service.
That election changed Britain forever. You could feel it in the air. After a bitter interregnum following the 2016 Brexit vote, in which a furious political class tried to cancel the biggest electoral bloc in history, the people's will had finally prevailed. Working-class voters, long ignored by the ruling class and their own Labour Party, made themselves matter – first by voting Brexit and then by taking a chance on a Tory promising to get Brexit done. The Conservatives succeeded in bulldozing the Red Wall by recognising that the Brexit vote was not a demand for a more xenophobic or inward-looking Britain, but a more democratic Britain. On top of finally implementing Brexit, they pledged to review the role of the House of Lords, prerogative powers, the courts and the Human Rights Act in dampening democratic decision-making. Johnson dubbed his government the 'people's government'. While he has fallen well short of his lofty rhetoric, he saw which way the wind was blowing. Voters wanted to take back control, and not just from Brussels.
These are the populist sentiments that put Johnson into No10. Which is why the slow replacement of that so-called people's government by a kind of Tudor court was so sickening. Following the departure of Dominic Cummings – hardly a radical democrat himself, but at least a weirdo with a plan – Downing Street increasingly became a den of airheaded Sloane Rangers jostling for position. From former No10 policy chief Munira Mirza to former Brexit negotiator David Frost, those around Johnson who had real stature and an understanding of the mandate they had received walked away as the government's position on everything from the culture wars to Covid became increasingly reactive and incoherent. Meanwhile, from Owen Paterson to Partygate to Chris Pincher, firefighting one scandal after another began to paralyse Downing Street.
Without question, a media sent mad by Brexit and Boris exploited every scandal going to try to bring the government down. The cynicism of it all was stunning. So much so that Alastair Campbell – the man who helped lie us into a disastrous, barbarous war – became TV's go-to authority on the subject of truth and standards in public life. But Downing Street's ineptitude, its bullshitting and its inability to take a position and stick to it poured fuel on every fire. Meanwhile, with Brexit and the vaccine rollout behind us, the government increasingly had nothing to show for itself. Voters want their wishes enacted and their interests defended. Parties and pinching would mean much less if the government also had a programme that commanded support. But in the end it didn't. To the extent that the government had a coherent programme at all, it was increasingly set against the interests of working-class people. Net Zero, a campaign for mass impoverishment, was perhaps the prime example.
In his final, bunkered hours, Johnson began to resemble his worst caricature: a wannabe 'world king' clinging on to power for its own sake. Despite losing the confidence of his backbenchers, his ministers and the public, he insisted he had to 'deliver' for those who voted for him, despite increasingly forgetting who his voters are and what precisely he was supposed to be delivering to them. In the end, for all the scandal-mongering and talk of the most evil and mad PM ever, Johnson's government came to resemble so many that came before it – a bitchy, ideas-lite administration that could only galvanise support by talking up the fear of the alternative. What an insult to those voters who took a chance on the Tories in 2019. They wanted Brexit to be implemented and for a different kind of politics – one that paid more attention to them than the SW1 set. And it all ended in the mother of all Westminster soap operas, penned by the PM's own idiocy and ineptitude.
Johnson had to go. He proved himself a dreadful vessel for the populist spirit he briefly courted. He became a block to the project of deepening the democratic revolt of 2016. But we should be open-eyed about what lies ahead. Following Johnson's resignation, all the usual ghouls are circling. 'If Boris goes, Brexit goes', is their unofficial slogan, coined by Tory Europhile Michael Heseltine. 'Boris Johnson's reign ends in disgrace, just like his friend Donald Trump. The end of an era of transatlantic populism? Let's hope so', tweets Belgian Remoaner pin-up Guy Verhofstadt. They all spy in Johnson's demise an opportunity to undo not just our exit from the European Union, but also the principles Brexit represented – that the people are sovereign, that citizens should shape their nation, and that those in power must be accountable to us and sackable by us.
Well, they're in for a shock. Brexit was always bigger than Boris Johnson. In conflating the two, Johnson diehards and Remoaners make the same mistake. Indeed, Johnson went into 2019 a deeply unpopular candidate. Even many Leavers were suspicious of him. In the end, voters took a chance on him because they wanted Brexit and a more democratic politics. The idea that Johnson's failures in office and the caterwauling of his critics have convinced them of the error of their ways and the brilliance of technocracy is absurd. The pandemic has if anything offered us a neat demonstration of how, clever though they are, experts don't always know best, and that doom-mongering models – be they about Covid cases or the post-Brexit economy – often aren't worth the paper they're printed on. This is why experts should advise, but never rule.
We must remain vigilant against any attempt to reverse the democratic gains of the post-Brexit era. But those who think Brexit will just disappear with Boris clearly haven't been paying attention. The Brexit vote has to some extent rewired our political class. No one could now win a Tory leadership race, let alone an election, pledging to undo Brexit. Even the Labour Party now has to at least pretend that it has accepted it. Earlier this week, Keir Starmer – through gritted teeth – ruled out taking the UK back into the Single Market or Customs Union. No one believes Starmer – or Tory Remainers for that matter – when they pose as born-again Brexiteers. But the fact that they now have to pose as being okay with Brexit is, in its own way, remarkable.
None of this will stop the vengeful old regime from trying to reassert itself, of course. But they will have a fight on their hands. As we see across the pond, populism isn't going anywhere. Even the demise of Trump in 2020 – a far more flawed populist tribune than Johnson, to put it lightly – and the return of the 'adults' in the form of Joe Biden has not stemmed the populist tide. If anything, new battlegrounds have been opened up, with parents leading a fightback against woke educationalists and toppling Democrats who give in to critical race theory.
Boris Johnson may be gone, but the British people still rule. It's now the job of any democrat to make sure that those spurned elites, those desperate to see the post-2016 era die with Johnson's premiership, are proven wrong once again. The world king is dead, long live populism.
Tom Slater is editor of spiked. Follow him on Twitter: @Tom_Slater_
To enquire about republishing spiked's content, a right to reply or to request a correction, please contact the managing editor, Viv Regan.