The crisis in the legal profession
Barristers' pay isn't the half of it – core legal principles have been jettisoned.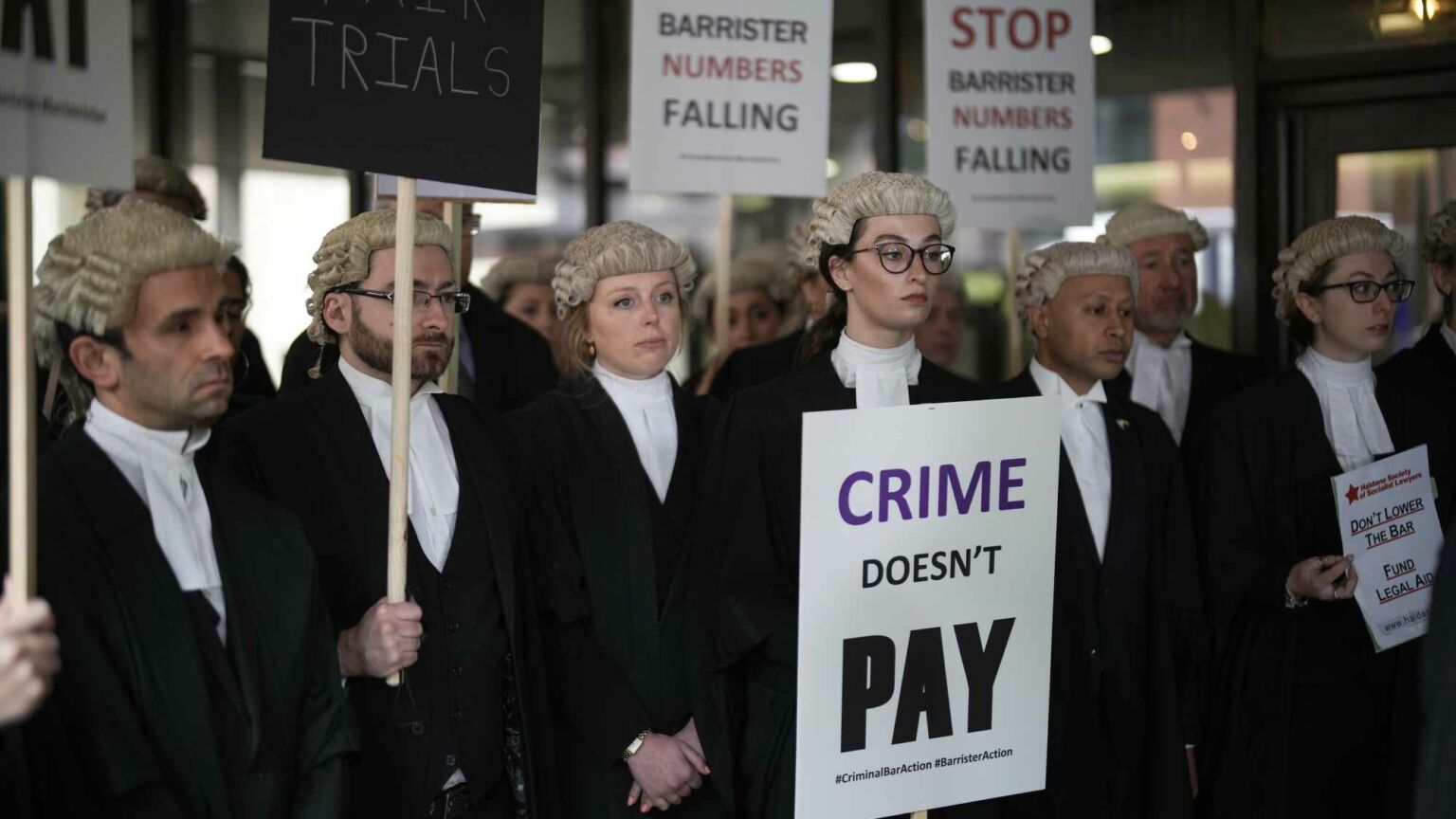 Criminal barristers are on strike this week. The effect of the strike will be huge, compounding the impact of the pandemic, which led to a huge backlog in cases in the criminal courts.
The strike has widely been described as part of a 'summer of discontent' for the Tory government. There are now a number of public-sector workers who are expected to go on strike this summer, including teachers and doctors. But it would be wrong to count barristers among their ranks. While many workers are demanding pay rises in line with inflation, barristers have already been offered an above-inflation 15 per cent increase in legal-aid fees. (Those currently on strike are calling for an increase of 25 per cent.)
Of course, barristers should be free to strike for better pay and conditions like anyone else. But their position is more complicated than that of teachers or rail workers. Barristers are not government employees – they are self-employed. And they are free to supplement their publicly paid earnings by turning to private work. Claims that barristers are earning as little as £12,200 per annum or £88 per day after expenses don't give the full picture. Many barristers spend time on secondment at external organisations, like the Financial Conduct Authority or the Serious Fraud Office. This kind of work can provide extremely good pay, even to a barrister of limited experience. So it is absurd to view the barristers' strike as part and parcel of a wider workers' movement.
But the legal profession is very much in crisis. And far more worrying than the issue of pay is that the profession has lost its sense of duty and purpose in recent years. It has allowed standards to slip, too.
When I began working as a criminal solicitor, those who obtained top pupillages seemed to be from another planet. They had first-class degrees from Oxbridge. They had master's degrees. They had usually won some kind of top public-speaking competition. They had unshakeable confidence in their own abilities. And even though they were early in their legal careers, they clearly had the attributes to present a case in court. As someone with only mediocre academic credentials myself, I could understand the value that they added to the profession.
Today, by contrast, most criminal lawyers would admit in private that there are far too many mediocre people in the legal profession – including barristers and solicitors. Of course, excellence does not have to be showcased through traditional academic means. But the legal profession has gone too far in diluting its own standards. Many of the ancient traditions that once defined the profession have also gone by the wayside.
Nowadays, obtaining a role in a chambers is viewed as an achievement in itself. So much so that the process of developing a practice and ingratiating oneself in the profession has become an almost secondary concern. People welcome the fact that the bar has become less 'elitist'. But in a sense this undermines the purpose of the bar, which is to cultivate the elite of the legal profession on the basis of merit.
There has been a clear cultural change at the bar, too. It is no longer the relatively private, solemn and serious profession of the past. It is now perfectly normal for young pupil barristers to regularly tweet about their court activities and career advancements – and for senior members of the profession to publicly join in.
In and of itself, much of this is harmless. But it is not just the 'stuffy' traditions that the bar is willing to undermine. Barristers have also failed to stand up for many of the core principles of the justice system.
Increasingly, the bar has embraced the Ministry of Justice's drive towards 'efficiency' and 'victim-centred justice', which have both eroded the norms of justice. Too many at the bar have embraced the idea that criminal proceedings, the process of adjudicating guilt and innocence, are just an inconvenience that gets in the way of delivering the correct therapeutic outcome for alleged victims of crime. They see this as a more modern form of justice, but it is not really justice at all.
Beyond the pay rows of the barristers' strike, a much more fundamental problem is afflicting the legal profession. It has lost a sense of its purpose. Barristers need to rediscover core legal principles if they are ever to make the case for why their profession matters.
Luke Gittos is a spiked columnist and author. His most recent book is Human Rights – Illusory Freedom: Why We Should Repeal the Human Rights Act, which is published by Zero Books. Order it here.
To enquire about republishing spiked's content, a right to reply or to request a correction, please contact the managing editor, Viv Regan.