Prince Harry, Americans don't want your 'insights'
Now the dimwitted duke is sticking his oar into the US abortion debate.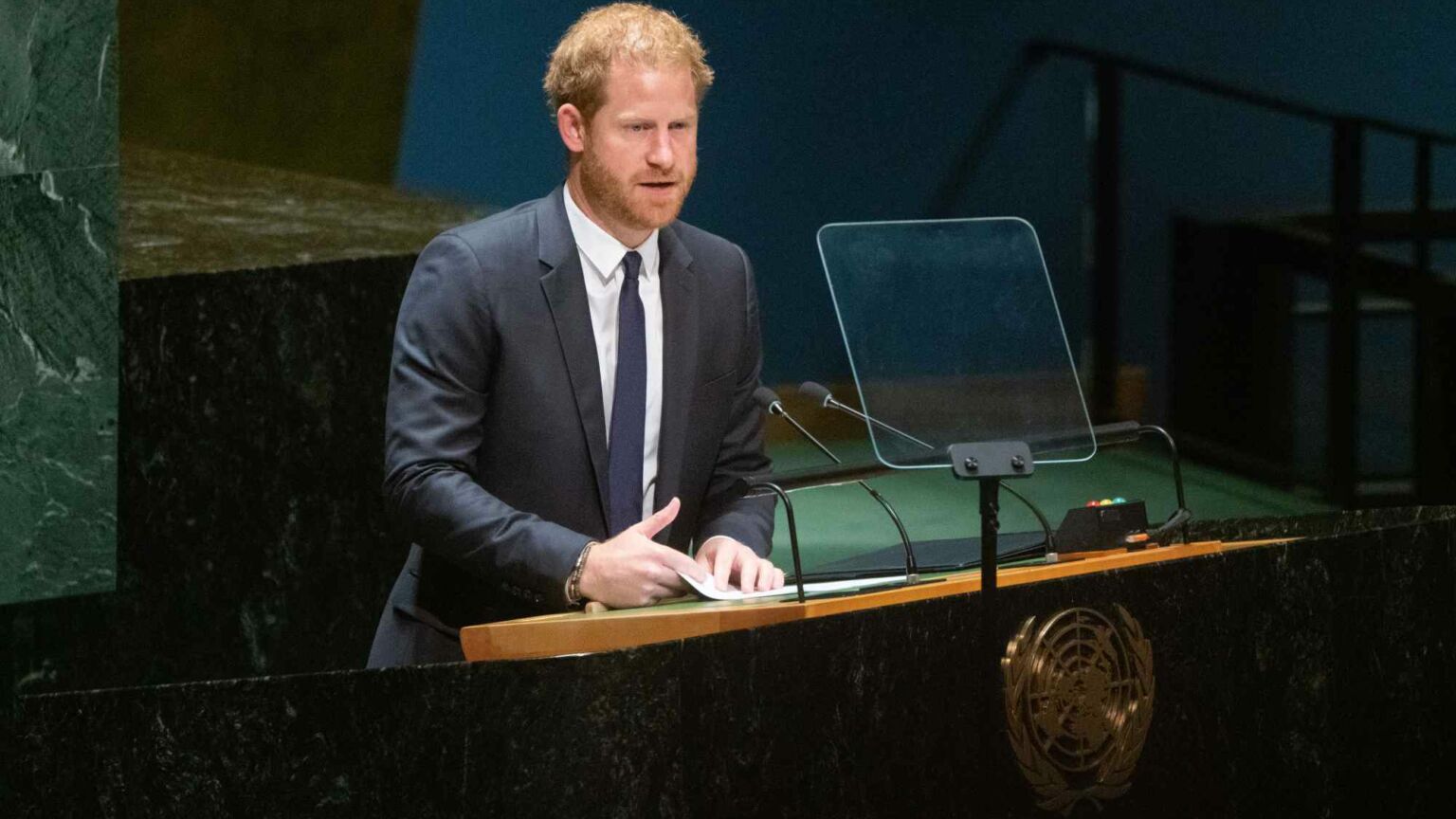 Prince Harry has once again launched an ill-advised intervention into US politics – this time, as part of a keynote address to the United Nations in New York to mark Nelson Mandela Day.
Seemingly unaware that the US has not sought the advice of British royalty on how to conduct its internal affairs since at least the 1770s, the Duke of Sussex made some pointed remarks in his address yesterday. Most notably, his speech included a thinly veiled swipe at the US Supreme Court's recent decision to overturn Roe v Wade.
Though the duke did not mention Roe by name, he did, in a clear allusion to it, talk of the 'rolling back of constitutional rights here in the United States'. And he warned that this was part of a 'global assault on democracy and freedom'.
The irony of a member of the royal family issuing warnings about the perilous state of democracy was not even the worst thing about his tirade. Prince Harry's speech was full to the brim with many other unwanted and ignorant 'insights'.
Take for example his contention that constitutional rights are being rolled back in the US. As Amber Athey explains in Spectator World, Harry clearly misunderstands what the Supreme Court's Roe ruling actually involved. Whatever we may think of the court's decision and its implications, it did not 'roll back' a constitutional right as such – it ruled that there was never a constitutional right to abortion in the first place. The judges argued that a woman's decision to have an abortion was not covered by the constitutional 'right to privacy', as Roe had previously held.
That the prince does not know much about US constitutional rights should surprise absolutely no one. Last year, the dimwitted duke said on the Armchair Expert podcast that the First Amendment to the US Constitution – which protects freedom of speech to a level that isn't matched anywhere else in the world – was 'bonkers'. So much for his concern about the 'rolling back' of constitutional rights. Harry went on to admit that it was a 'huge subject' and one that he didn't really understand because he had only 'been [in the US] a short time'.
Well it seems that, one year on, the prince no longer feels shackled by his ignorance. He is clearly keen to sound off on a range of issues affecting the US and the world, giving full vent to his depthless stupidity in the process.
Harry unleashed really is quite a thing to behold. In his UN speech, he touched on everything from climate change to Covid and the war in Ukraine. He quoted at length from the works of Nelson Mandela. And he also complained about the threat of 'misinformation', which he says is 'weaponising lies' at the world's expense.
Perhaps when Harry is done delivering these sixth-former activist speeches, he could take the time to actually learn something about America and the wider world, rather than just regurgitating high-status opinions. I won't hold my breath.
Charlie Peters is a writer. Follow him on Twitter: @CDP1882
To enquire about republishing spiked's content, a right to reply or to request a correction, please contact the managing editor, Viv Regan.