The revenge of Italian democracy
The fall of Mario Draghi's technocratic regime is a nightmare for the pro-EU elites.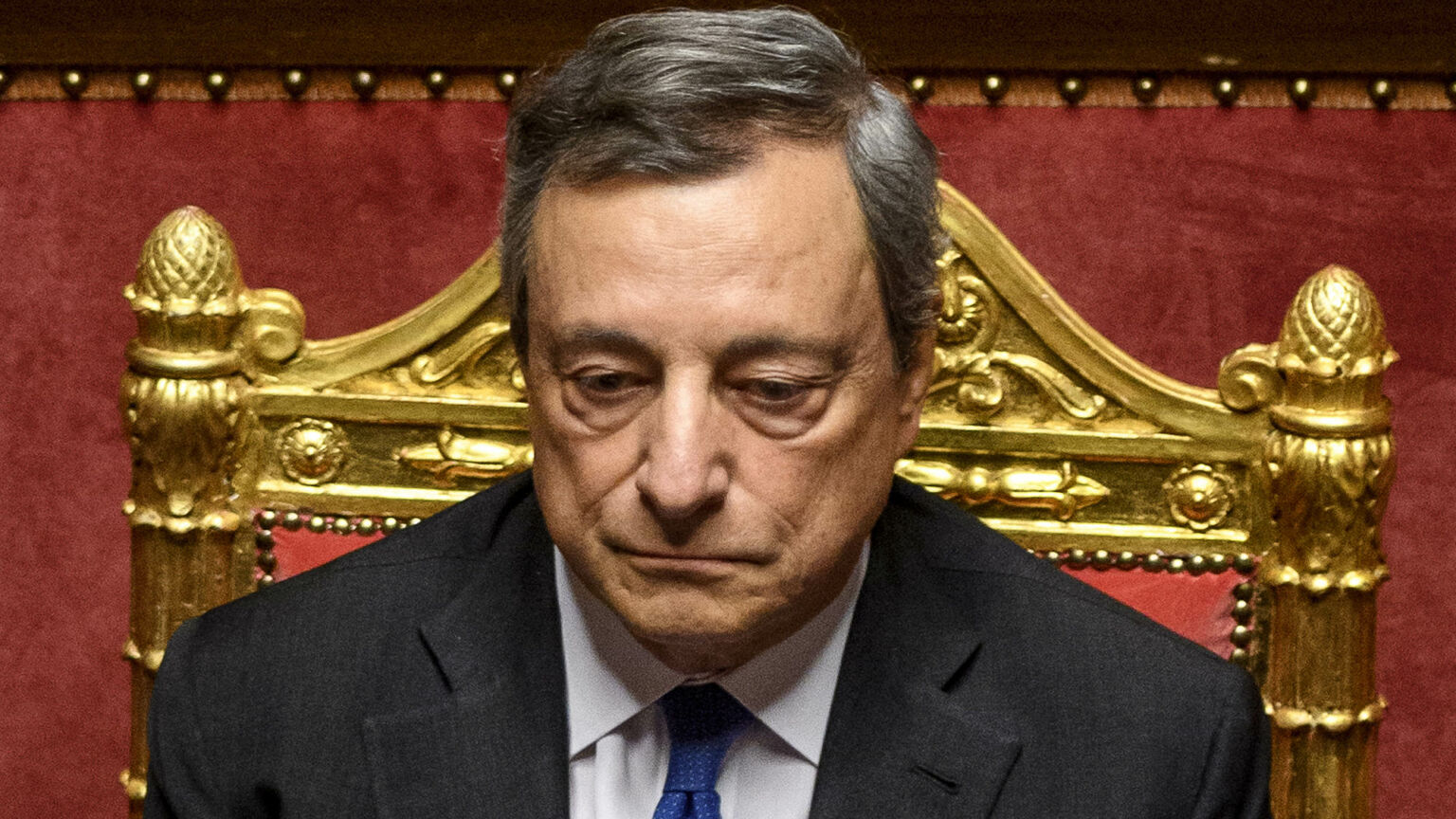 Mario Draghi resigned as Italy's prime minister last week, triggering the dissolution of parliament. This is good news for democracy.
It means that the Italian people can finally make their voices heard at a General Election, which is due to be held in September. This is a chance to revive the spirit of democracy in Italy. The election might, for the first time in many years, lead to a prime minister who has been elected by the people rather than one appointed through backroom party deals or by the Brussels elites.
Make no mistake, the downfall of the super-technocrat, Draghi, is bad news for the EU political establishment and its cosmopolitan allies in the world of business and culture. Indeed, numerous mainstream commentators have presented the fall of their beloved 'Super Mario' as a direct threat to the political and financial order in Europe. They fear that Draghi's resignation will allow the forces of populism to take the initiative. As the New York Times put it last week, the 'downfall of Italy's prime minister has raised concerns across Europe about the power of populist movements'.
And no wonder. Draghi is a representative of the EU and Europe's managerial class in general. The EU elites rightly regard his demise as a direct blow to their authority.
Italian political life is now dominated by technocrats. The pro-EU elites have used the crises and corruption of Italy's political and financial institutions as an opportunity to intervene ever more directly in Italian political and economic life. Italy has effectively been turned into a political laboratory, in which elites have been experimenting with different types of technocratic governance for years. Various disinterested experts and apolitical professionals have been parachuted into senior government roles. And time and again, Italian parliamentarians have simply given in to external pressure to allow this to happen.
In 2011, for example, the EU took advantage of Italy's dire financial situation to effectively force then prime minister Silvio Berlusconi to resign. Brussels, with help from then Italian president Giorgio Napolitano, quickly made former EU commissioner Mario Monti an Italian senator for life, and then appointed him as prime minister. It is worth noting that the government Monti then formed did not include a single elected politician.
Since this Brussels-backed takeover, Italy has been governed by a succession of technocratic leaders, very much in the Monti mould. These out-of-touch managerialists have consistently failed to engage and inspire the public. But they have been sustained in power by the European Commission and foreign capital.
There have been challenges to this technocratic regime. At the 2018 General Election, Italians gave a huge majority to two populist and Eurosceptic parties, the Five Star Movement and the League. But this challenge soon petered out.
After the 2018 election, the leaders of both the Five Star Movement and the League could not decide who should become the prime minister. So they appointed Giuseppe Conte, an academic, jurist and technocrat, who lacked any prior political experience. Conte had never had to fight for his political ideals beyond the small elite antechamber in which he existed, nor had he directly faced the electorate. His appointment as PM amounted to a silent technocratic coup. A year-and-a-half later, the League left the coalition government. But instead of dissolving parliament and holding fresh elections, the Five Star Movement joined forces with the Democratic Party – a pro-EU, pro-establishment party – to stay in power and keep Conte as PM.
Then, in 2021, Conte's government collapsed following a petty dispute over the allocation of EU-provided Covid-relief funds. He was unceremoniously deposed and replaced by Draghi, backed by the Five Star Movement and the League, whose pretensions to populism and democracy were exposed as a sham.
From the standpoint of the EU and its elite allies, Draghi was the perfect appointment. A former president of the European Central Bank, he was seen less as a politician than as a competent manager who would restore some order to Italian politics. When the Five Star Movement and the League suffered significant setbacks at the local elections in October 2021, the Western political establishment heaved a collective sigh of relief. As The Times declared at the time, the elections 'appear to have brought down the curtain on an experiment in anti-establishment politics that inspired populist movements around the world'.
Today, this has been exposed as wishful thinking on the part of Western elites. Recent opinion polls show that a significant section (around 25 per cent) of the Italian electorate are now rallying behind the right-wing populist Brothers of Italy party, led by Giorgia Meloni.
September's General Election comes at a crucial moment for Italy. It faces a major economic crisis, with poverty rife and youth unemployment at 24 per cent. Draghi wanted to introduce more 'structural reforms' that would have further eroded the living standards of working people.
Italians now have the opportunity to strike a blow for democracy and against the technocrats that have dominated Italian politics for too long. It won't be easy. Italian elites, backed by Brussels and others, have so far managed to insulate the political system from democratic pressure, successfully neutralising supposedly populist parties, like the Five Star Movement. Whether they can continue to neutralise or buy off their political opponents remains to be seen.
Meloni's Brothers of Italy party is certainly striking a pro-democracy pose at the moment. Criticising Draghi's government, Meloni has said that 'it is autocracies that claim to represent the people without the need for citizens to vote, not Western democracies'.
In response to this challenge, supporters of the technocratic status quo have been quick to describe the Brothers of Italy as fascist or crypto-fascist. This accusation rests on the Brothers of Italy's history. It emerged in 2012 as the successor to the National Alliance, which itself emerged from the Italian Social Movement (1946-1995), formed by members of Benito Mussolini's National Fascist Party. Meloni, for her part, has insisted that she 'does not belong to the cult of fascism'.
It is a sign of the times that someone pledging to defend sovereignty and democracy can be so easily called 'fascist' by technocrats who have done so much to trample over democracy.
Either way, the Italian people will have a chance to reassert themselves this September. Democracy must return to Italy.
Frank Furedi's The Road to Ukraine: How the West Lost its Way will be published by De Gruyter in September 2022.
To enquire about republishing spiked's content, a right to reply or to request a correction, please contact the managing editor, Viv Regan.