The pro-choice fightback starts here
Even in red states like Kansas, there is a clear majority for reproductive choice.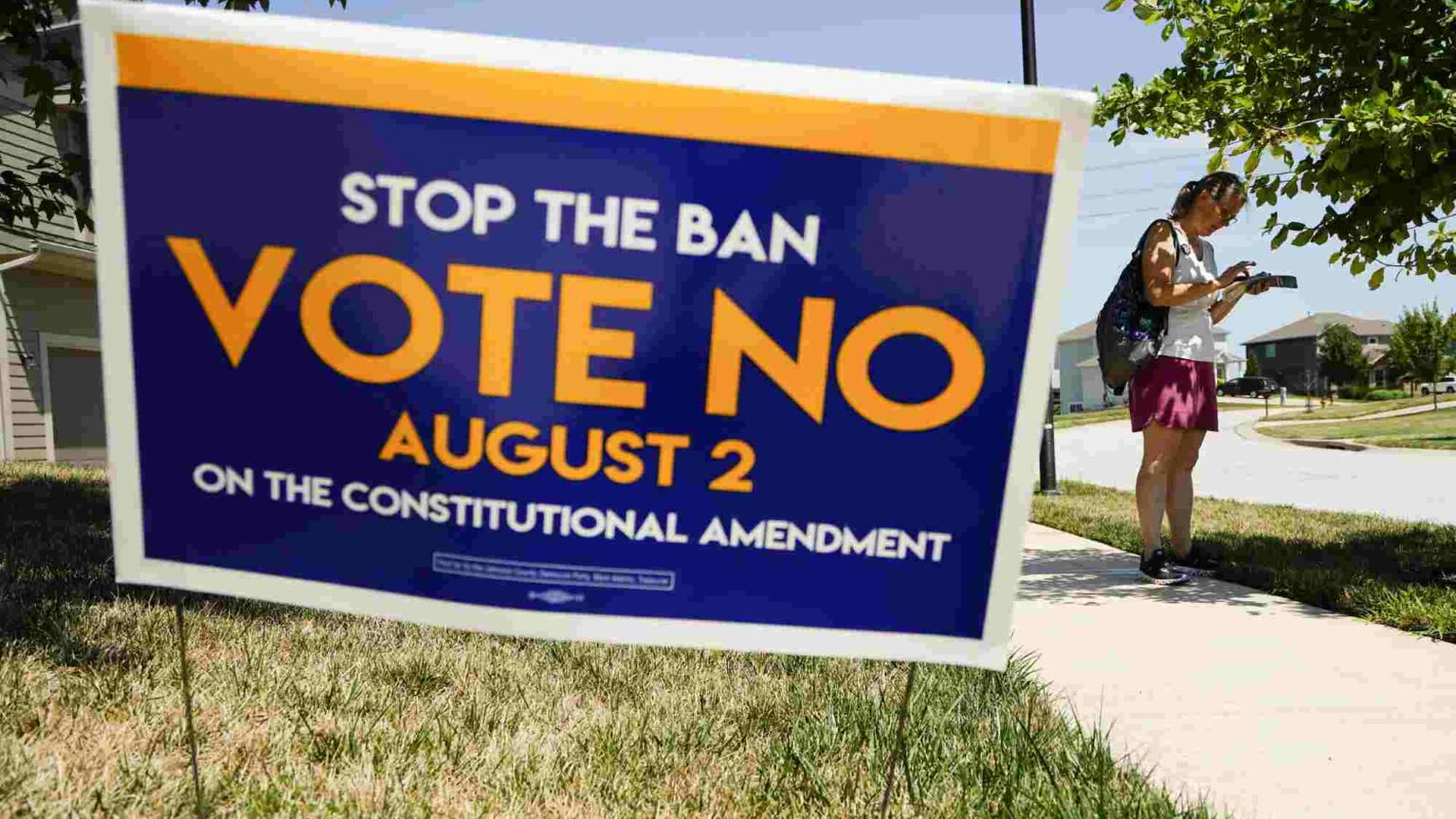 'Women are not without electoral or political power', US Supreme Court justice Samuel Alito observed in his majority opinion in Dobbs v Jackson , which withdrew the federal constitutional protection for reproductive choice set out in Roe v Wade. Well, they exercised their power in Kansas in a referendum last week, perhaps to his dismay. Fuelled partly by a surge in new voter registration by women and an outraged pro-choice women's movement, Kansas voters decisively rejected an amendment to the state constitution that would have eliminated protections for abortion rights.
Anti-choice advocates who sponsored the referendum lost by nearly 20 points in an exceptionally high-turnout election. It was an unexpectedly lopsided defeat in this Republican state, as voters crossed party lines to deny legislators the power to decide whether women and girls should be free to terminate unwanted or life- and health- threatening pregnancies. According to the Washington Post, about one in five Republican primary voters 'turned out in favor of abortion rights'. They turned out in surprising numbers even in deep red, rural areas. In one county that Trump won by 81 per cent in 2020, less than 56 per cent of voters supported the anti-abortion side in the referendum, the New York Times reports.
The vote was a necessary reminder that abortion is not simply a partisan issue. It was also a tribute to a pro-choice campaign that relied on non-partisan appeals to individual freedom. 'We were not just talking to Democrats', one organiser noted. 'We believe every Kansan has a right to make personal healthcare decisions without government overreach', she said. Surely that's a message that can resonate with those voters who considered mask mandates gross violations of personal autonomy during the pandemic. The pro-choice side 'appealed to diverse voting blocks and mobilised Kansans across the political spectrum to vote no', Rachel Sweet, campaign manager for Kansans for Constitutional Freedom, noted in a media call.
Democrats hoping to rally pro-choice voters in November should take note of what Kansan pro-choicers did not do – they did not follow the lead of the increasingly 'progressive' ACLU, for example, and link reproductive choice for women to transgender rights. 'Yes, people other than women need access to abortion care', the ACLU has stupidly declared. They did not rely on gender-neutral or genderfluid language and concepts that gratify progressives and alienate nearly everyone else. Democrats need to refrain from talking about 'pregnant persons' who 'chest feed'. They need to recognise, after all, that only women get pregnant.
They also need to focus on freedom, and some are finally doing so. For years Democrats treated 'freedom' like a four-letter word copyrighted by Republicans, whose commitment to freedom is often rhetorical or highly selective, as our battles over reproductive choice and book bannings make clear. The progressive Democratic base can be equally hostile to freedom, especially freedom of speech and due process for anyone accused of sexual misconduct. But progressive power is primarily cultural, and perhaps on the wane. Democrats must stop pandering to it if they hope to attract and mobilise pro-choice moderates and independents.
Regaining abortion rights will be a long and difficult process requiring political realignments. The Supreme Court's anti-choice majority returned the determination of abortion rights to the states secure in the knowledge that anti-choice Republicans control nearly two-thirds of state legislatures and are likely to retain control for years, thanks to gerrymandered districts, which the court previously allowed. Gerrymandering will also help ensure an anti-choice Republican takeover of the House in 2023, and it's doubtful that moderate Republicans with pro-choice sympathies will cross party lines in the November Midterms to help Democrats hold the Senate. How people voted in the single-issue Kansas referendum is a poor predictor of how they'll vote in November's multi-issue elections.
Right-wing, anti-choice Republicans will continue to enact draconian state abortion restrictions that deny women the right to terminate unwanted pregnancies, even in cases of rape and incest, and deprive them of essential, life-saving medical care when they miscarry. Free-speech rights will be threatened by laws that criminalise abortion counselling, and the right to travel will be chilled by laws barring women from going out of state to obtain abortions and targeting people who help them. Eventually these laws will be tested in court – some may reach the Supreme Court, where pro-choice advocates should not expect a sympathetic hearing.
Will it matter if these laws are opposed by the majority of a state's voters? Maybe not, thanks again to gerrymandering and the possibility that Trumpist election deniers will gain control of elections in key states and the power to suppress Democratic votes. Majority support for at least limited reproductive choice poses a challenge to minority rule, but it will not dismantle it and restore abortion rights anytime soon.
Wendy Kaminer is an author, a lawyer and a former national board member of the American Civil Liberties Union.
To enquire about republishing spiked's content, a right to reply or to request a correction, please contact the managing editor, Viv Regan.