Salman Rushdie and the racism of shielding Muslims from offence
Those who want to treat Islam differently to all other faiths see Muslims as lesser citizens.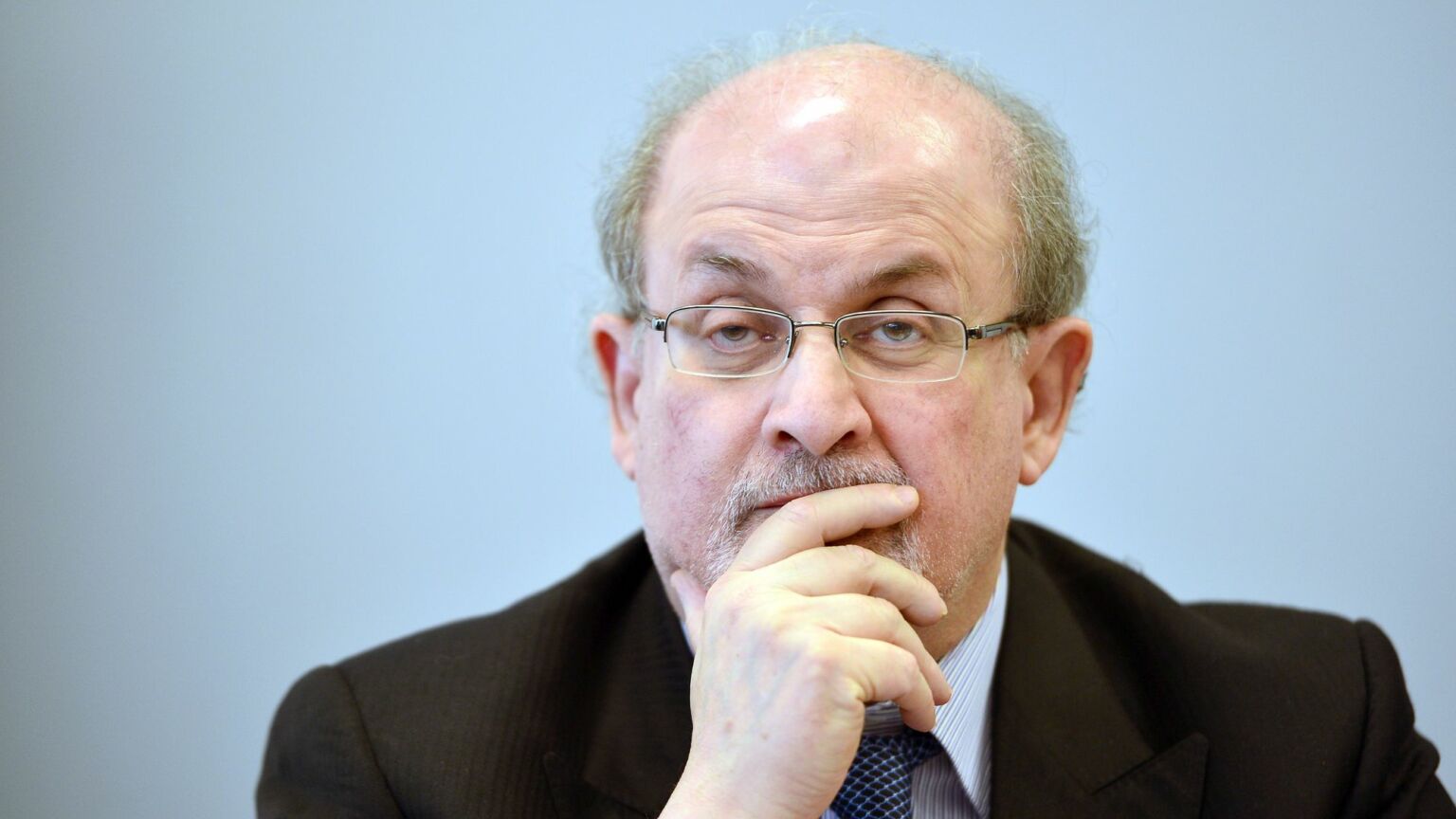 First the horror, then the silence. It's been a week since Salman Rushdie was stabbed on stage in New York, the 33-year-old fatwa finally catching up with him, and the mood is strangely muted. There have been some powerful defences of free speech in the media and statements of solidarity with Rushdie, who is still in a hospital bed nursing life-changing injuries. But in general our political and cultural elites have managed only limp, anodyne or oddly delayed interventions – in Labour leader Keir Starmer's case it took him a full day to say anything about the attempted murder of a fellow knight of the realm. Meanwhile, the culture warriors – those wont to downplay the threat of Islamist extremism and dismiss free speech as a racists' charter – are keeping remarkably schtum.
Perhaps that's progress. After all, this wasn't a courtesy many of them extended to Charlie Hebdo in 2015. Those 12 bodies were barely cold before the global great and good began denouncing the French magazine as 'Islamophobic' and 'racist' for its depictions of Muhammad – all but saying the cartoonists had brought that murderous attack on themselves. But the silence after the Rushdie attack is telling in its own way. That so many people can't quite find the minerals to condemn Islamist intolerance and stand up for free speech even now speaks to a profound moral confusion on the part of our elites. Even in the wake of an attack as symbolic as this, there is a sense of holding back – of not wanting to rock the boat.
The 1989 fatwa was a world historical event. When Ayatollah Khomeini, then 'supreme leader' of Iran, condemned Rushdie's novel, The Satanic Verses, as blasphemous and put a price on his head, it was unprecedented. It marked the beginning of a grim new era of global Islamist agitation and violence. But it also revealed that a deep rot had set in within Western societies, too. The response from political and cultural figures was half-hearted at best. Margaret Thatcher and her foreign minister, Geoffrey Howe, expressed sympathy for Muslims offended by the book, before mumbling a defence of Rushdie's right to publish it. 'There is no law in life or nature that says great religions may be insulted with impunity', was the response of fellow novelist John le Carré.
In the decades since then, this strange willingness on the part of Western politicians and intellectuals to fiercely defend the honour of a religion they do not themselves believe in has only grown. Time and again, acts of Islamist extremist censorship have been met with the same kind of shrug. From the Rushdie affair to the murder of Theo van Gogh to the Danish cartoons controversy to the Charlie Hebdo massacre to the beheading of Samuel Paty, the response has often been one of silence or a hinted-at 'what do you expect?'. Meanwhile, some have taken onboard the idea, increasingly pushed by Islamists, that to depict Muhammad or lambast Islam is to engage in a form of 'hate speech'. Just three years ago, in a review of a Rushdie documentary, the Independent's associate editor slammed The Satanic Verses as 'no better than racist graffiti on a bus stop'. 'I wouldn't have it in my house, out of respect to Muslim people and contempt for Rushdie', he wrote. 'I'd be quite inclined to burn it, in fact.'
These are contemptible comments about an author threatened with death for writing a book. But they also betray an anti-Muslim prejudice all of their own. From the beginning of the Rushdie affair there has been an obnoxious tendency to lump all Muslims together, to treat them as a monolithically insulted bloc and to anoint extremists as their legitimate representatives. In the process, secular or dissenting voices have been erased. Voices like the Arab and Muslim artists and intellectuals who published a volume of work in 1993 in support of Rushdie. One of them was the Egyptian writer and Nobel laureate Naguib Mahfouz. He felt that the The Satanic Verses was indeed insulting to Islam, but he still defended its right to be published and read. 'The veritable terrorism of which [Rushdie] is a target is unjustifiable, indefensible', he wrote in that volume. 'One idea can only be opposed by other ideas.' Five years later he himself was stabbed in the neck by extremists.
There's a lesson in this that we desperately need to learn. Whenever we give in to the idea that certain works are blasphemous against Islam and must be censored, we throw many Muslims around the world, suffering under Islamist extremism and intimidation, under the bus. We write dissenters out of the story. What's more, by instantly giving in to those who claim to speak for all Muslims, Western businesses and institutions can find themselves embroiled in sectarian conflicts. The Lady of Heaven, a film deemed by some Sunni Muslims to be blashemous against Islam, was pulled by British cinema chains earlier this year following protests. This was a Muslim-made film, made from a Shia perspective. And so Muslim filmmakers had their film crushed in the name of protecting Muslims. It's a neat reminder that when we're talking about the right to blaspheme against Islam we're not just talking about the right of non-Muslims to take the piss out of the prophet – we're also talking about the right of minorities within Islam to express their faith in a way other Muslims deem blasphemous.
One of the key aims of the anti-Rushdie movement in Britain in the late 1980s was to extend blasphemy laws to protect Islam. Thankfully, that failed. And in 2008 England abolished its archaic blasphemy law for good. But as we now know, that was a Pyrrhic victory. We merely passed new blasphemy laws, aimed at rooting out 'hate speech' – some of which have been used to prosecute critics of Islam. Meanwhile, an informal Islamic blasphemy law came into effect – the product of Islamist aggression and liberal cowardice. Last year, when some Muslims protested outside Batley Grammar School in Yorkshire, demanding a teacher be sacked for showing his religious-studies pupils cartoons of Muhammad, the headteacher, the local MP and much of the great and good essentially gave in. The teacher is still in hiding. How did we end up in a situation, in 21st-century Britain, where being insufficiently deferential to a religion – and one religion in particular – has become a moral crime?
There is the fear of reprisals, of course – of being made an example of, as Rushdie has been. But there's also something else going on – a deep condescension and a racist double standard. Those who feel compelled to treat Islam differently, to protect it from criticism in a way no other religion is, are treating Muslims differently. They see even their Muslim fellow countrymen as lesser citizens, incapable of having their views challenged or mocked. The implication is that Muslims are simply too backward, too volatile, too 7th century to ever embrace freedom and democracy fully. If there is any racism in this discussion, it lies not with Rushdie or his supporters – it lies with those who think Islam must be treated differently, and who think Muslims just aren't like the rest of us.
Tom Slater is editor of spiked. Follow him on Twitter: @Tom_Slater_
To enquire about republishing spiked's content, a right to reply or to request a correction, please contact the managing editor, Viv Regan.