We are still in denial about radical Islam
Even the savagery of the 'ISIS Beatles' is already being forgotten.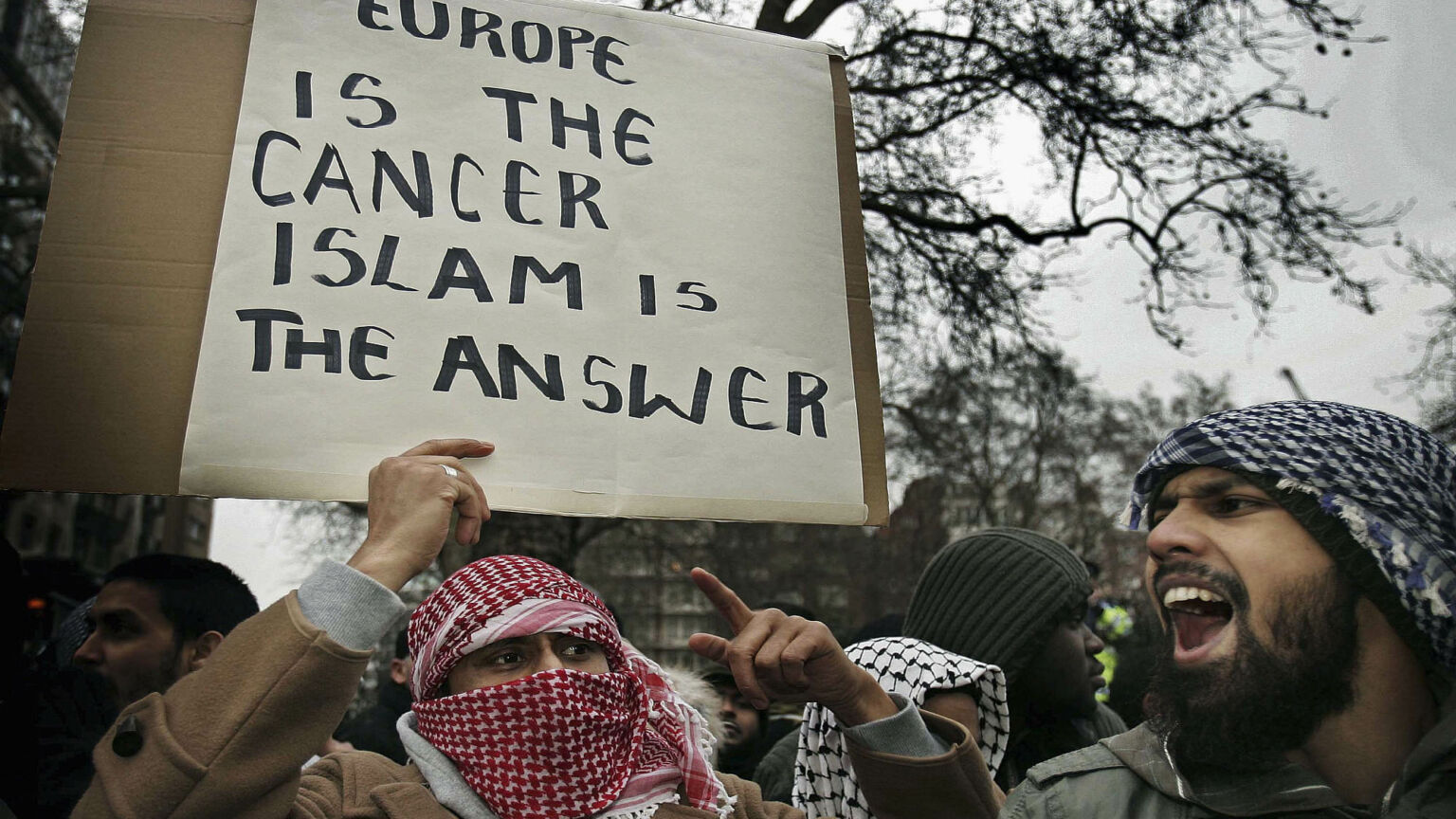 On 11 September 2011, the 10th anniversary of 9/11, there was a mass brawl outside a pub in Marble Arch in London. A bunch of boozed-up members of the English Defence League had a run-in with Muslim youths. It was depicted as typical EDL ugliness. As one eye-witness described it to the Evening Standard, the 'EDL guys' were drinking outside the pub 'when a large group of Muslims walked past'. The EDL thugs 'started hurling racist abuse at the Muslims, who took offence'. '[The Muslims] got angry', the eye-witness said, 'and were yelling back'. Things escalated and two EDL members were stabbed.
The media the next day featured images of snarling, fuming EDL blokes. You know the type: fortysomething, with very trimmed haircuts, wouldn't look out of place in a Danny Dyer documentary. The fascist menace, as they're so often described. Two people from that fight in 2011 did indeed go on to become murderous neo-fascists. They went on to kidnap people they considered to be their inferiors, put them in cages, gave them 'dog names', tortured them, and then conspired in slitting their throats and removing their heads. Only it wasn't any of the EDL guys. It was two of the Muslim youths they were reportedly hurling abuse at.
It was El Shafee Elsheikh and Alexanda Kotey. They were involved in that EDL-Muslim clash. They were arrested over the stabbing of the EDL members but were later released without charge. A few months after the brawl, in 2012, the pair travelled to Syria to throw their lot in with Islamic extremists. They first fought with Jabhat al-Nusra, an al-Qaeda offshoot, and then with the Islamic State. They rose up through the ISIS ranks and, with fellow Britons Mohammed Emwazi and Aine Davis, formed a notorious hostage-taking cell that came to be nicknamed 'the ISIS Beatles'. Their depravity was extraordinary. They abused and tortured their captives. They treated them like dogs. They beheaded them on camera. They did this to aid workers and journalists. Their behaviour was 'egregious, violent and inhumane', in the words of the American judge who gave a life sentence to Kotey in April this year. You still want to talk about the fascist menace?
There is something really striking in the fact that from that battle of identities on the streets of London more than a decade ago, it wasn't any of 'the fash', any of the much-loathed EDL, that went on to become ideological mass murderers and to inflict untold savagery on their supposed racial and social inferiors. No, it was their supposed victims. It was two of the Muslim men. This tells a deeply disturbing story about modern Britain. We obsess over the white far-right while downplaying the rise of a homicidal Islamist extremism. So as observers wrung their hands over those EDL thugs in 2011 and in subsequent years, other Britons were travelling halfway round the world to visit their ideological hysteria on innocent souls in the most gruesome way imaginable. It wasn't the woke elites' least favourite identity group – angry white men – that produced knife-wielding extremist killers. It was one of their preferred, most-pitied identity groups: young Muslim men. We need to talk about this.
Last week, El Shafee Elsheikh was given eight life sentences in a US court for hostage-taking and conspiracy to murder. The court decreed that he was central to the slaughter of four American citizens – journalists James Foley and Steven Sotloff and aid workers Kayla Mueller and Peter Kassig. He has no opportunity of parole. Like his friend Kotey, he will rot in an American jail. The evidence given against Elsheikh, including by French and Italian hostages of his who managed to avoid being killed, was harrowing in the extreme. They said Elsheikh and the other 'Beatles' gave them 'dog names to respond to'. They inflicted 'sadistic torture' on their captives, including beating them until they were unconcious. They made the hostages fight each other until they passed out. Then, of course, they dragged those for whom no ransom payments were forthcoming out into the desert and used a crude knife to decapitate them.
The court system in the US only had the jurisdiction to try Elsheikh and Kotey for their part in the deaths of American citizens. But they helped to kill others, too. Two Japanese citizens: private military contractor Haruna Yukawa and journalist Kenji Goto. Numerous members of the Syrian armed forces. And British citizens Alan Henning and David Haines. Both aid workers. Both beheaded by Emwazi, known as Jihadi John, who was killed in a drone strike in 2015.
There is an important story in that grim meeting in a Syrian desert between Alan Henning and Mohammed Emwazi. Between a 47-year-old dad-of-two and cab driver from Eccles in Manchester who decided to become a volunteer aid worker in Syria and a university-educated radical Islamist who went to Syria to give violent expression to his identitarian impulses. This was the narcissistic particularism of radical Islam versus the universal humanism of a working-class man who wanted to help others. There were two Englands in that desert that day: Henning's England, in which work and solidarity define us, and Emwazi's England, in which identitarian self-pity is all and can sometimes become so intense that it turns apocalyptic. The England of community, and the England of identity.
The EDL clash of 2011 ended up playing a central role in the authorities' identification of the Beatles. The four were 'at great pains to hide their identities' from their hostages. But at one point two of these mysterious masked Britons boasted about having been arrested at an EDL demo in 2011. Freed hostages relayed this information to the British authorities, who scoured police records and found that two men called El Shafee Elsheikh and Alexanda Kotey had been collared by cops on that day in London. Data from Elsheikh's and Kotey's phones, which had been stored following their arrest, showed that they were in contact with a certain Mohammed Emwazi. Emwazi had been interviewed by London cops about a series of thefts in 2012 and they still had the interview on tape. They compared the voice on that tape to the voice in the beheading videos coming out of Syria and decided there was a 'very strong likelihood' it was the same person.
It is important to note that Elsheikh, Kotey and the other youths who clashed with the EDL in 2011 were not your average British Muslims. They were supporters of an extremist group called Muslims Against Crusades (MAC), an organisation that opposed what it viewed as anti-Islamic military interventions overseas and which called for the imposition of Sharia law in the UK. Indeed, the reason they were out on the 10th anniversary of 9/11 was to protest against America. They burnt the US flag near the American Embassy. The EDL had gathered as a counter-protest to MAC. The vast majority of Muslims in the UK have no truck with the likes of Muslims Against Crusades. It wasn't 'Muslim youths' the EDL clashed with – it was Muslim extremists. Elsheikh and Kotey were already well down the path of Islamist identitarianism, of seeing anti-Islamic sentiment everywhere – a conviction that would soon lead them to Syria, to ISIS and to acts of unspeakable barbarism.
They appear to have been 'radicalised' in plain sight. We often hear of susceptible Muslim youths being 'radicalised' by nefarious elements online. Yet Elsheikh's and Kotey's extremism was being expressed in the open, on public protests in which people waved placards celebrating 9/11 as 'the beginning of the end of democracy'. And still we didn't talk about that species of extremism. Certainly we didn't talk about it enough. The media elites have actively discouraged frank analysis of radical Islam, despite the fact that it is responsible for far more violence and injury than far-right extremism. It's 'Islamophobic', apparently, to dwell on this menace. Even using the i-word – Islamist – to describe this ideology that has brought about the deaths of scores of Britons is frowned upon now.
And so our identity-obsessed elites would have looked at that scuffle in 2011 and only seen 'fascism' in the gurning faces of the EDL members, not in the anti-democratic, anti-Western cries of the radical Islamists on the other side. They may even still be blissfully unaware that two of those Islamists went on to become ISIS Beatles. Could they name them? Or their victims? Do they know how many they kidnapped, how many they killed? Perhaps. Perhaps not. For even now, even following the locking away of Elsheikh for the rest of his life, we are not talking about Britain's exportation of the scourge of Islamist extremism around the world. Elsheikh has faded from the headlines. He didn't trend online. His name will be forgotten soon. A British citizen in thrall to religious extremism helped to massacre good people from America, Japan, Syria and the UK itself and we're already acting as if it didn't happen. Move on. Don't look back in anger.
There is an abject moral cowardice in the intellectual class's unwillingness to reckon with the extremism problem. They now actively police discussion on radical Islam to ensure that no one gets too worked up about it. Consider the report published by the Muslim Council of Britain last year, titled British Media's Coverage of Muslims and Islam (2018-2020). It expressly problematised not only racist commentary about the Muslim community but also political condemnation of Islamic extremism. The report implied that I am Islamophobic because I once said on Sky News that we frequently, and rightly, refer to white nationalists as fascists, but 'it is very rare that you hear the word fascism used in relation to Islamist extremists'. I said that in the wake of ISIS's mass slaughter of Christians in Sri Lanka in March 2019, in which more than 250 people were killed, including children attending Sunday school, one of whom had to be identified by his teeth. It's Islamophobic, apparently, to wonder if militants who vaporise children on the basis of their beliefs are behaving fascistically.
The report also rebuked the Daily Mail for prominently featuring the words of a Yazidi woman who had been enslaved and raped by ISIS members. She said: 'They called it Islamic law. They raped women, even young girls.' Apparently such comments, when made into a pull quote in a feature article, come off as anti-Islam. So even the honest recollections of some of the most brutalised women on Earth are problematic if they can be seen as contributing to 'Islamophobia'. On and on the MCB report goes, denouncing as 'Islamophobic' even perfectly legitimate commentary about Islamist violence. In such a censorious climate, it isn't surprising that we've already stopped talking about Elsheikh. Perhaps it would be 'Islamophobic' to draw too much attention to his barbarous behaviour, and the fact that it was motivated by his radical Islamist beliefs.
We are in denial about an evil in our midst. About a very serious problem of religious violence that has caused death and destruction both at home and abroad – some 900 Britons travelled to Syria to assist ISIS. Identity politics has hamstrung the elites. Their identitarian prejudices mean they fear offending allegedly fragile Muslims and inflaming the latent racism of the white masses if too much is said about the problem of radical Islam. This benefits no one, least of all our fellow Muslim citizens, who are as keen as the rest of us to combat Islamist terrorism. Looking back on that brawl in 2011, the question is why weren't liberals and secular leftists and humanists more broadly counter-protesting those radical Islamists who were raging against America and Western democracy? Where were we? Why was it left to hard-right opportunists to stand up to a genuine hate group, two of whose members would go on to inflict extreme ideological terror on scores of people? The silence of the elites scares me far more than the rabble-rousing of a few right-wing fools.
Brendan O'Neill is spiked's chief political writer and host of the spiked podcast, The Brendan O'Neill Show. Subscribe to the podcast here. And find Brendan on Instagram: @burntoakboy
To enquire about republishing spiked's content, a right to reply or to request a correction, please contact the managing editor, Viv Regan.