Joe Biden's 'semi-fascism' comments are shameful
Smearing Trumpists as fascists is a cynical and dangerous game.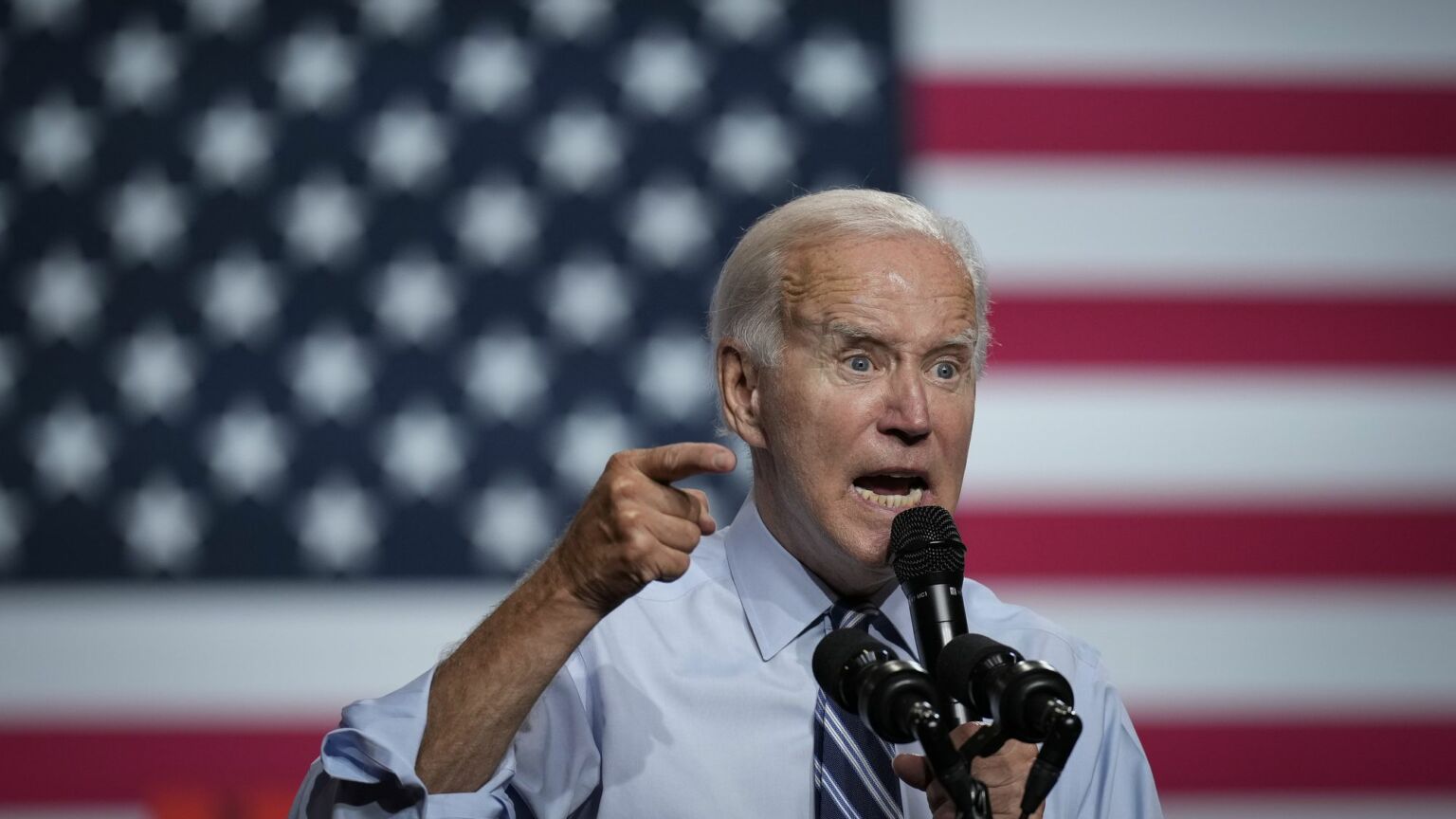 So, President Biden has finally dropped the f-bomb. In many ways, it is surprising it has taken him so long. After all, assorted Democrats, countless commentators and an army of hackademics have been shrilly denouncing Donald Trump and his supporters as 'fascist' for the best part of six years.
At a Democratic fundraiser in Maryland last week, Biden claimed that: 'What we're seeing now is either the beginning or the death knell of an extreme MAGA philosophy. It's not just Trump, it's the entire philosophy that underpins [the MAGA movement] – I'm going to say something – it's like semi-fascism.'
Later that evening at a nearby rally, Biden doubled down on his characterisation of Trump-supporting Republicans as 'semi-fascist'. 'The MAGA Republicans don't just threaten our personal rights and economic security', he said, 'they're a threat to our very democracy. They refuse to accept the will of the people. They embrace political violence. They don't believe in democracy.'
Later this week, Biden is expected to continue talking up the 'semi-fascist' threat to American democracy. In a widely trailed speech, he characterises the upcoming Midterms as a 'battle for the soul of the nation'. It is blindingly obvious what he is doing here. He is trying to position the Democrats as all that stands between America and fascism. A tactic that turns voting in the Midterms from an important but mundane political act into a hyper-moralised choice between Good and Evil, between liberal democracy and fascist tyranny.
It is almost enough to make one forget that there are actual issues at stake. Which is partly the point. Dismissing the challenge to the Democrats as fascist, or even just semi-fascist, removes the need for Biden and Co to defend their actual policies, not to mention the incumbent president's wretched record in office.
It's a deeply cynical piece of political manoeuvring on Biden's part. Of course, the analogy drawn between Trump and the rise of Benito Mussolini in Italy or Adolf Hitler in Germany is neither illuminating nor accurate. But it is used tirelessly and tediously for the simple reason that it demonises Trump and his supporters. It equates support for The Donald with support for one of the most monstrous regimes of the 20th century. And, as such, it delegitimises Trump and his supporters as beyond the pale.
It is also so shallow and empty, too. Biden, when later asked by reporters to explain what he meant by 'semi-fascism', could only say: 'You know what I mean.' And on CNN, White House spokeswoman Karine Jean-Pierre proved equally incapable of saying what exactly 'semi-fascism' is supposed to mean. Pressed by host Don Lemon to give an answer, she just continued to talk about the Republicans' opposition to Medicare and social-security spending. Which hardly sounds like fascism, semi- or otherwise.
This is not a surprise. Claims that Trump is fascist have always lacked substance. There has been no shortage of pundits cranking out books and commentaries claiming that Trump is a proto-, semi-, or even fully fledged fascist. But their claims often amount to little more than historically illiterate hyperbole. The best they can often come up with to substantiate the accusation of fascism is the fact that Trump has said anti-democratic things, such as his claim that the 2020 election was stolen. Yet if that makes Trump a fascist, what does that mean for Hillary Clinton and her Democratic enablers? They spent much of Trump's presidency claiming that he had effectively 'stolen' the 2016 election, with help from Russia.
Or, if anti-Trumpers are really pushing the fascism analogy, they will portray last year's Capitol riot not as an unorganised rampage of assorted malcontents, but as an act of insurrection, a direct and deliberate assault on democracy, a Reichstag Fire for the 2020s.
Even ostensibly 'academic' attempts to draw parallels between historical fascism and Trumpism end up diluting the historical specificity of fascism. Signs of Trump's alleged fascism are said to be found in the fact that he is 'authoritarian', 'illiberal', or 'nationalist'. And so fascism ends up being turned into a label that can be applied to a vast array of political administrations across the world.
The truth is that the specific conditions in which fascism emerged in 1920s Italy bear no relationship to those that prevail today. That was a world ravaged by the Great War. A world in which the old political creeds of the long 19th century lay in ruins. A world in which empires were disintegrating. A world in which Communism loomed as a very real spectre.
That was the environment in which sections of Italian society, militarised by war and led by Mussolini, developed fascism – as a violent response to the political, economic and spiritual crises of the 1920s. And just as the conditions that prevailed after the First World War bear no relation to those of today, so fascism itself bears no relation to Trump-supporting Republicans.
Tim Black is a spiked columnist.
To enquire about republishing spiked's content, a right to reply or to request a correction, please contact the managing editor, Viv Regan.