Labour's politics of the playground
Lucy Powell's 'Never Kissed a Tory' t-shirt shows that even Labour's 'sensibles' are moral infants.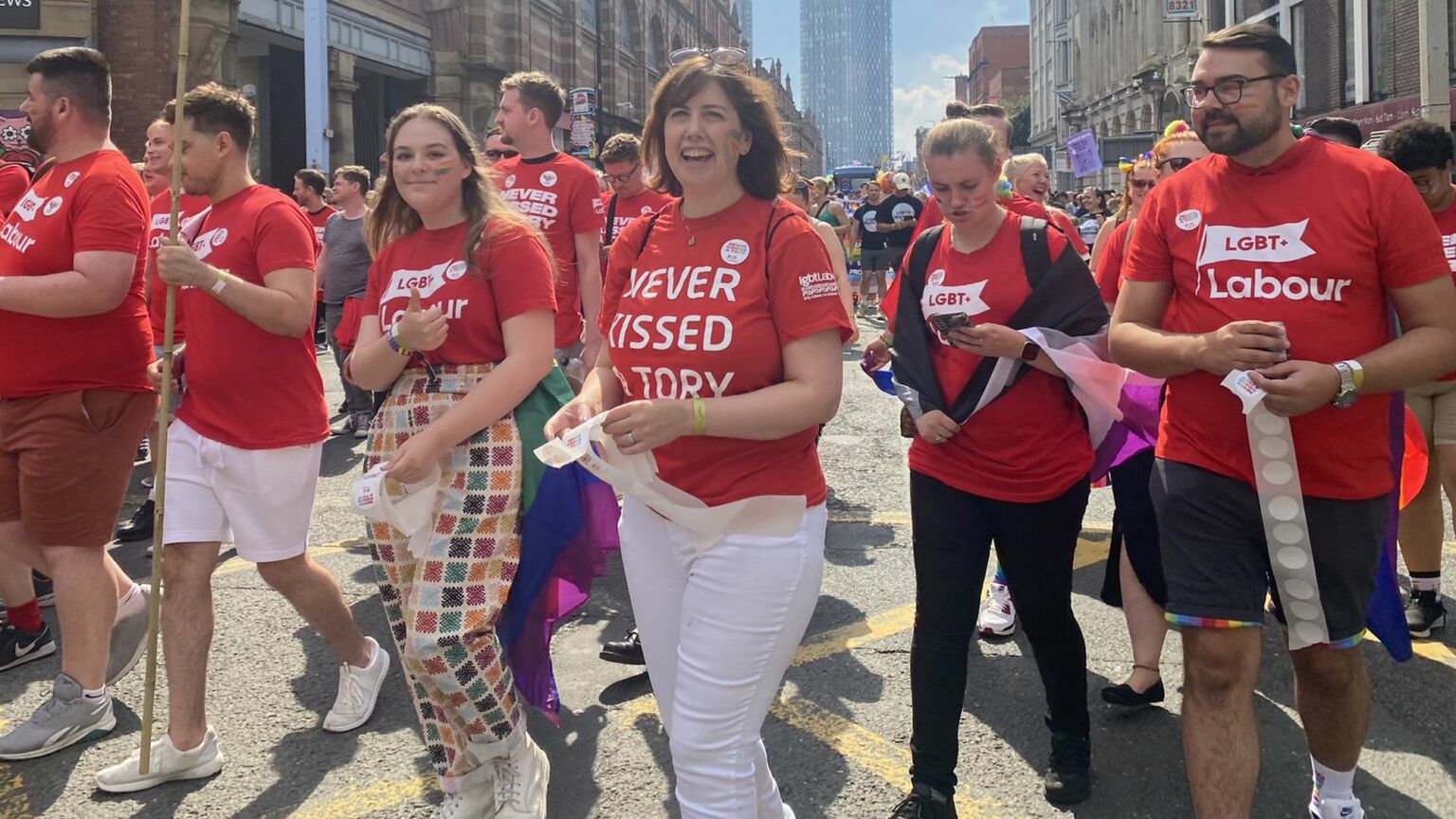 In my youth, I engaged in carnality with supporters or members of all three of the UK's main political parties (plus the SWP, but only the once, next to an unsold stack of party newspapers). I drew the line at the Greens, or maybe they drew the line at me. And it was impossible to kiss any member of the Natural Law Party – that party in the 1990s that believed in transcendental meditation – because they would float away before you could get close enough.
I had to have a very long think and unearth some very old – and very odd – memories to bring you this information. I did not keep a little black book with notes on anyone's political persuasions – 'hot stuff in the sack, against remaining in the Single Market', or 'PHWOARR WHAT A LITTLE RAVER, but worryingly weak on housing reform'.
Some people, apparently, monitor the beliefs of their amours in exactly this peculiar way. Their number seemingly includes Lucy Powell, Labour MP for Manchester Central and shadow culture minister. Powell took to the streets of her constituency on Saturday, joining Manchester's Pride parade (the festival of all things LGBTQIA+ that never ends) in a 'Never Kissed a Tory' t-shirt. Additionally, she sported a fetching rainbow face marking – one of the many accoutrements of the Pride movement that is more commonly associated with people who are seven years old.
The thing is, Lucy Powell is 47 years old. She was the age when this sort of freshers' fair ensemble might – at a push – not have been horribly embarrassing when 'Rhythm is a Dancer' was No1 in the charts.
Until Powell proudly tweeted her Pride 'look', I had, perhaps foolishly, thought she was one of the dwindling number of reasonable, personable MPs, and a potential electoral asset for Labour. She seemed to be considered and intelligent, where so many of her colleagues, across all sides of the Commons, are dull-witted and / or maniacs.
The 'Never Kissed a Tory' t-shirt was a complacent display from a very, very safely seated MP (she has a majority of around 30,000). She has no need to win over any new voters from the other side. And so it seems she can treat whomever she likes with disdain.
Ah, it's all just a bit of fun, you say. This would indeed be the case if Labour didn't take such a po-faced, grimly literal attitude whenever anybody else is smiling. This is the same party that, not so long ago, had conniptions about the figurative use of the word 'surrender' in relation to the Brexit negotiations. And it is the same party that took Nigel Farage's metaphor that he would 'pick up a rifle and head for the front lines' to mean he was literally going to shoot every Remainer dead, if Brexit were not delivered. Labour MPs usually speak in unctuous and sanctimonious tones. They are forever 'appalled' by the 'sheer Tory heartlessness' of something or other. Humour rarely enters into it. Labour leader Keir Starmer's jokes 'land' in the same way an anvil lands at the bottom of a lift shaft.
Imagine if a Tory MP had posed in a similar T-shirt with the reverse message. Labour would have been out of the blocks in seconds, likely spluttering about the t-shirt's 'sinister undertones' or branding it a 'chilling suppression of dissent'. The bizarre Chris Bryant, a long-serving Labour MP, managed to state yesterday that Liz Truss's cancelling of a BBC interview meant that we are living in an authoritarian state, as if being gotcha'd by Nick Robinson were a solemn constitutional requirement, and as if we haven't seen more than enough of Truss on our screens over the past 17 years of the Tory leadership contest. Fun-loving japesters with a sense of proportion Labour MPs are not.
This humourless pomposity is a product of the fact that Labourites are so utterly convinced of their own moral superiority. You would think some of the travails of the Corbyn years might have rubbed off on them, leaving a little tarnish and perspective. But no, that has all been forgotten already. Because Labour people are the Good People and the sun shines out of their behinds. And because so much of our discourse is shaped, mostly unconsciously, by other Good People in the media and our institutions, the sheer awfulness of Labour doesn't often register, while the sheer awfulness of the Tories does.
So Labour governments can bugger up policing and the foundational concept of equality under the law, and can let millions of extra people into the country without public consent, can permanently knacker wages with in-work benefits, can sell off public assets to shonky PFI schemes, can invade countries on a whim if they fancy it, can repeatedly crash and burn the economy causing untold misery and human calamities – but, oh well, unlike the Tories they probably meant well, so that's okay. Labour politicians are nice and they care.
This is a kindergarten-level understanding of politics. Those smelly Tories, who would want to snog one of them? Yuck!
I imagine Lucy Powell made the difficult calculation that it was better to stick around in Labour until the cloud of anti-Semitism around Jeremy Corbyn was gone. That's an icky, adult decision involving queasy trade-offs – the kind that every adult has to make routinely. But you would think it might give her and others in her party some pause before they pass infantile moral judgements about other people.
Gareth Roberts is a screenwriter and novelist, best known for his work on Doctor Who.
Picture by: Twitter / @LucyMPowell.
To enquire about republishing spiked's content, a right to reply or to request a correction, please contact the managing editor, Viv Regan.