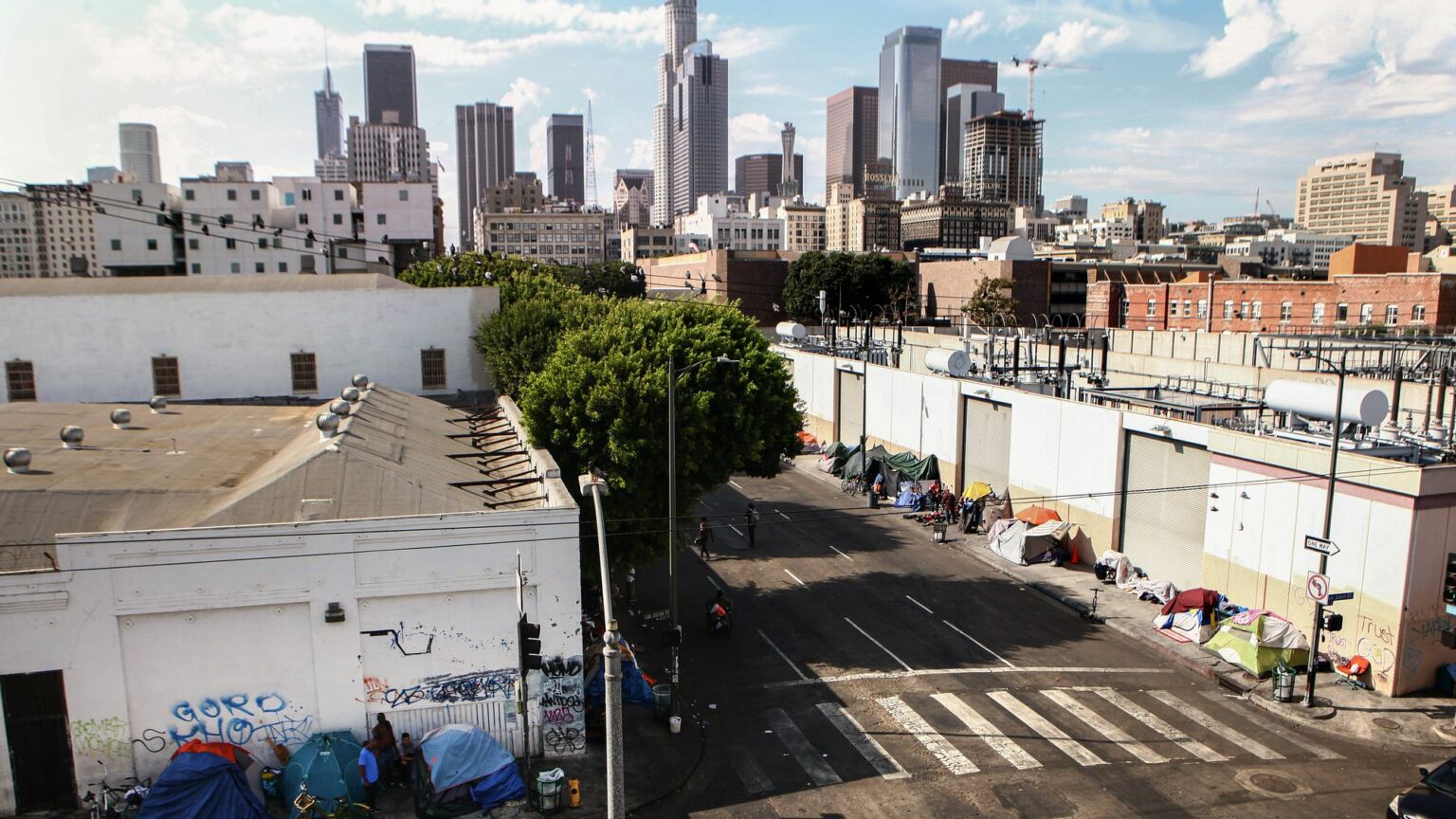 The fall of Los Angeles
The 'progressive' elites have run the city of the future into the dirt.
For much of the 20th century, Los Angeles symbolised the future. Over the course of the century, the population grew 40-fold to nearly four million people.
But now, for the first time in its history, the population of Los Angeles is in decline, falling by 204,000 between July 2020 and July 2021. LA was once a magnet for investors. But recently many of the area's corporate linchpins – including aerospace giant Northrop Grumman, Occidental Petroleum and Hilton Hotels – have left, taking with them high-paying jobs and philanthropic resources.
Worse still, conditions in LA today are bordering on the medieval. Anyone visiting some of the most famous districts of urban Los Angeles – notably downtown, Hollywood and Venice Beach – sees clear signs of destitution, including sprawling homeless encampments, vast numbers of people living in vehicles and rampant crime. Last year, a UN official compared conditions on LA's Skid Row, a poor downtown neighbourhood, to those of Syrian refugee camps. Smash-and-grab thefts at local 7-Elevens and the persistent theft of goods from railyards suggest this is a city that has lost control to the modern version of lawless highwaymen.
So-called progressives have long dreamed of transforming the famously sprawled Los Angeles into a dense, transit-oriented, sun-kissed version of New York. But despite massive corporate and government investment, attempts to do this have failed. Rather than a vibrant hipster paradise, LA's urban core is dominated by the homeless, the poor, government workers and a few creative types – making for an odd juxtaposition of homeless camps and low-rent hotels alongside high-end restaurants and artists' lofts. Meanwhile, newly built luxury apartments have suffered vacancy rates as high as 14 per cent – remarkable in a city so short of housing.
Unsurprisingly, some Angelenos have sought to reverse this disastrous course. Earlier this year, disgruntled residents united around property developer Rick Caruso in his insurgent campaign to become mayor of Los Angeles. Caruso spent over $24million of his own money on the first round of the election in June.
Caruso is the grandson of Italian immigrants, whose father founded the successful LA business, Dollar Rent a Car. And he has himself been a big player in California for years. His real-estate business, founded in 1987, is now worth more than $4 billion. Caruso has built shopping centres all over the metropolitan area, from the iconic Farmer's Market and middle-class San Fernando Valley to the swanky Pacific Palisades. Yet Caruso's mayoral bid appears to have stalled against the well-organised might of the city's public-employee-driven political machine.
This is a powerful machine. Last month, a grassroots movement opposing progressive criminal-justice reform lost its attempt to recall district attorney George Gascón, who has been widely blamed for LA's lax approach to crime. Recall proponents needed 566,857 signatures, but despite collecting 715,000, only about 520,000 turned out to be valid. Thanks to the machine's backing, Gascón's recall bid failed, even though the city last year experienced 397 murders – up 11.8 per cent from the 355 the previous year, and a 53.9 per cent increase from the 258 in the pre-pandemic year of 2019.
Meanwhile, Caruso's opponent in the second round of the election in November, Congressperson Karen Bass, is currently ahead by double figures (roughly a quarter of the electorate is still undecided). Like many in California's ruling political elite, Bass comes from the far left. In the 1970s, she travelled to Cuba with the Venceremos Brigade, an international group of sympathisers with Cuban communism. In 2016, when Fidel Castro died, she issued a praise-filled obituary to 'El Comandante'. More recently Bass has distanced herself from this Castroite past and from policies such as defunding the police. But she can certainly be expected to follow the 'progressive' policy agenda typically backed by the city's public-sector unions.
Los Angeles remains too vital a city to write off entirely. But many things that made LA the premier urban growth centre of the past century are clearly eroding. A city once known for its efficient, at times brutal administration appears unable to curb its most pressing problems, especially homelessness. Despite massive expenditures, the city's streets teem with more than 60,000 homeless residents, including 2,000 along upmarket Venice Beach. In their desperation, the city has proposed legislation that would force hotel owners to surrender spare rooms to the homeless – just the sort of thing that visiting tourists will surely appreciate.
The economy has also stagnated. LA was once the country's most dynamic manufacturing area. But in the past decade it has lost roughly 13 per cent of its industrial jobs – only New York has fared worse among major regions. In business and in professional services, the largest high-wage sector, Los Angeles lags behind not only the San Francisco Bay Area, but also cities like Austin, Nashville, Phoenix and Denver. According to Chapman Business School professor Marshall Toplansky, even the strongest parts of the LA economy, like entertainment, are slowly declining, as companies seek cheaper and safer locales. Even the city's port is in decline, the last stronghold of blue-collar labour, with jobs gradually leaving the West Coast for ports like Houston and Tampa.
LA still has a grassroots entrepreneurial economy, as is evident in the many small shops and restaurants that fill its mini malls. Many of these are owned and run by immigrants. But 40 per cent of the jobs in Los Angeles County – of which the city constitutes roughly half – pay under $40,000. As Toplansky notes, in a high-cost city like LA, this represents a poverty wage. LA's rate of working poverty is far higher than in San Francisco's Bay Area and in neighbouring Orange County.
LA's 'progressive' leaders talk endlessly about social justice, but the results of their policies have been less than inspiring. South LA, site of two of the most devastating riots in American history in 1992, is now poorer in relation to the rest of the city than before those upheavals, partly because of rapid deindustrialisation. In a Los Angeles where almost half of the workforce is low-skilled, there are few opportunities for the poorest to improve their conditions as higher-paid blue-collar jobs disappear.
Critically, the city is also losing its appeal to families and the young. Over the past 20 years, Los Angeles County has lost nearly 700,000 people under 25 – the biggest per capita decline in youth among all large US counties. In contrast, its elderly population has surged by 500,000. The Los Angeles Unified School District, which is mostly inside the city boundaries, has lost over 40 per cent of its student body in just 20 years. Even immigrants, who have restored much of the city's vitality in the past few decades, are no longer coming. Between the 2010 and 2020 censuses, the number of foreign-born residents in Los Angeles County fell.
Veteran GOP pollster and strategist Arnold Steinberg tells me that these economic and demographic trends present major barriers to any reform movement. Today's LA is far less middle class than it was when Steinberg helped Republican Richard Riordan become mayor in 1993. It is also more heavily minority and older. 'The game board has totally changed', Steinberg says. 'Dick was able to use a Republican base and capture a lot more middle-of-the-road suburban voters.' Steinberg does not even expect the November mayoral election to be close.
As the GOP has all but collapsed, the progressive political machine has only got stronger. As leftist writer Harold Meyerson observed years ago, much of LA's remaining middle class is made up of teachers and other public employees. These, with the exception of the police and certain construction unions, provide the bulwark of Karen Bass's support. And this public-sector establishment can mobilise a get-out-the-vote machine that should not be underestimated.
According to Gloria Romero, a former state senator from east Los Angeles, this public-sector political machine has filled the vacuum left behind by weakened neighbourhoods, a decline in local churches and the loosening of family ties. At the same time, turnouts for city elections have been dropping consistently, reaching only 14 per cent in the primary back in June. Meanwhile, practices like 'ballot harvesting', which allows campaign workers to gather ballots at nursing homes and other facilities with little supervision, make progressives all but unbeatable. This proved critical in the first round, as Bass, behind in the early results, ended up with a five-point lead after the late ballots were counted, which included those from harvesters.
To be sure, given his financial resources, Caruso could still mount a comeback. But his campaign is directed almost entirely by professional Democratic campaign consultants, whose focus seems to be on winning over moderate to liberal Democrats. With Democrats in Los Angeles outnumbering Republicans more than four to one (double the two-to-one ratio that held when the city elected Riordan), this seems a natural strategy.
But recent events mean that looking for help from LA's remaining bourgeoisie could be unwise. These voters tend to be traumatised by Trump and the Supreme Court abortion ruling. They fear the country is about to be overrun by far-right nationalists. They tend to get their news from the increasingly strident, ultra-progressive Los Angeles Times, which has endorsed Bass and has attacked Caruso for, among other things, lacking a 'climate plan'.
Bass appears to be making inroads in places like the San Fernando Valley, a suburban-like expanse north of downtown, which was once a Riordan stronghold. It is also home to much of Hollywood's working population. Overall Hollywood, the supreme centre of gentry progressivism, has weighed in largely in Bass's favour, seeing her as an ideological fellow traveller. For instance, Dreamworks' Jeffrey Katzenberg has given Bass $850,000 and has attacked Caruso for having long been a Republican (he registered as a Democrat in January).
This success is somewhat understandable since most leftist liberals live in the city's bucolic enclaves, far from the camps or the smash-and-grab events that other Angelenos endure daily. When crime does emerge in the wealthiest enclaves, the well-heeled celebrities enlist private security firms. LA may be dysfunctional for most, but it still works for the ultra-affluent.
So Caruso's opportunity may lie elsewhere. Much as Riordan did in 1993, he needs to tap into mass disenchantment. According to a 2021 USC survey, 10 per cent of Los Angelenos plan to move out in the near future. Younger Angelenos, according to one UCLA survey, are more dissatisfied with living conditions in the city than the older population. Caruso's internal polling also shows that two out of every three residents believe that the city is in decline.
Romero tells me that Caruso should, instead of focusing on 'white liberals', place his bets on the Latino community, which makes up roughly half of the LA population and one-third of its electorate. Latinos already constitute a far larger population than Bass's African-American base. As demographer Wendell Cox notes, since 2000, LA's black population has dropped by 80,000, shrinking from 11 to eight per cent of the population. South Los Angeles is now majority Latino. Today, Asians and Hispanics together constitute over 60 per cent of residents.
Romero points out that many Latinos and Asians are uncomfortable with the Black Lives Matter agenda espoused by Bass and most Democrats. After all, Latinos now constitute over one-third of the LAPD. Many Latinos and Asians also own or work in the kinds of small businesses that have been targeted by a coddled criminal class.
This means, Romero suggests, that Caruso will need to build a strong grassroots organisation to challenge the public-employee-led machine. He has to spend more time at churches, community gatherings and festivals, in areas that suffer most from progressive excess, which he now shows signs of doing. 'This is where the opportunity is, but you have to do street politics', she tells me. 'Caruso has to get his hands dirty to win.'
Yet right now it seems unlikely that Caruso can overcome the progressive tide. Besides the mayoral race, progressives seem poised to make the city council even more left-wing, placing as many as five members of the Democratic Socialists of America on the 15-member board, which already comprises 14 Democrats and one independent.
Far-left politics is about the last thing LA needs. With the rise of remote work, and the shift of business to Texas, Arizona, Nevada and other states, the ability of LA to keep, much less lure, residents and businesses requires a shift towards the pragmatic middle.
Great weather is, well, great – but it's not enough to build a thriving metropolitan economy or a successful big city. Under current circumstances, it is difficult to see how the city will be able to repeat the success of its 1984 Olympics in 2028.
Unless there is a political sea change, the prospects for LA, like many American cities, are far from bright. Yet they are also far from hopeless. A strong grassroots effort together with business leadership could still turn things around. But if LA and other cities shift further left, or at least what passes for the left these days, the prospects of this happening are beginning to look bleak.
Joel Kotkin is a spiked columnist, the presidential fellow in urban futures at Chapman University and executive director of the Urban Reform Institute. His latest book, The Coming of Neo-Feudalism, is out now. Follow him on Twitter: @joelkotkin
To enquire about republishing spiked's content, a right to reply or to request a correction, please contact the managing editor, Viv Regan.