Welcome to Wrexham: much more than a football documentary
The story of Rob McElhenney and Ryan Reynolds' takeover of a beloved north Wales football club paints a moving portrait of a struggling town.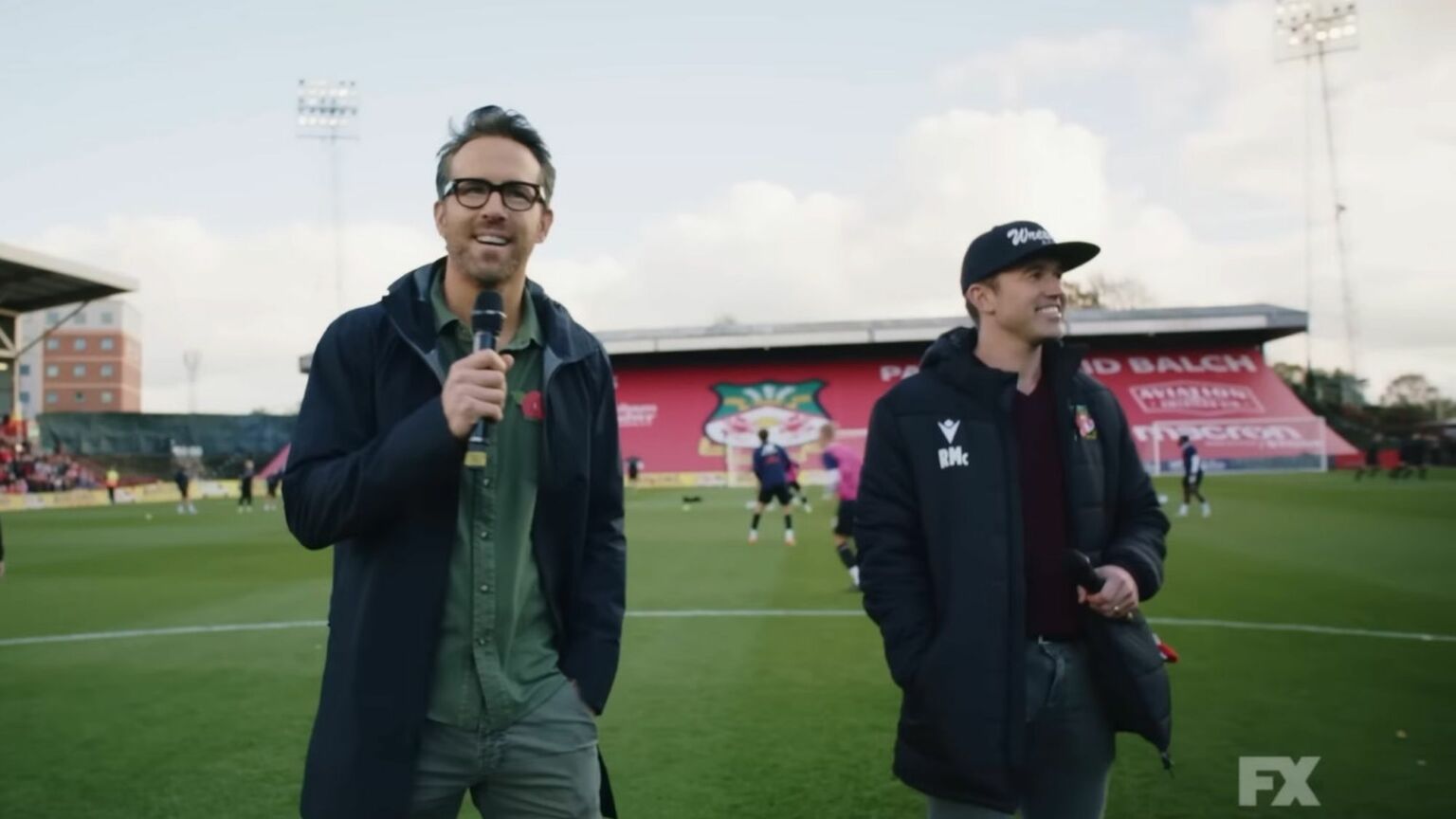 Football documentaries have been enjoying something of a renaissance recently.
We've had Netflix's revealing and entertaining Sunderland 'Til I Die, in which producers thought they were filming a promotion push, only for Sunderland to get relegated for a second season in a row. And we've had several seasons of Amazon Prime Video's glossy All or Nothing series, featuring Premier League giants Manchester City, Spurs and Arsenal, which show what goes on in those half-time team talks.
Yet for all that, none of these documentaries comes close to the heart and charm of Welcome to Wrexham.
Released on Disney Plus last month, Wrexham tells the story of the unlikely takeover of Wrexham football club, in north Wales, by Hollywood stars Rob McElhenney and Ryan Reynolds in 2020. It ostensibly documents the pair's attempts to get Wrexham out of the National League into EFL League Two, the fourth tier of English football. But it does much more than that.
For his part, Hollywood filmstar Ryan Reynolds spends his time on screen much as he always does, telling dry jokes with exaggerated awkwardness, like a kind of Californian David Brent. It's clear that McElhenney, creator of hit US sitcom It's Always Sunny in Philadelphia, is running the show.
McElhenney's story is explored in some depth. At one of his first meetings with fans, one asks the reasonable question: 'Why Wrexham?' In response, McElhenney poignantly describes his childhood in Philadelphia following the Philadelphia Eagles, an American football team. He explains how he feels an affiliation with Wrexham due to its many similarities to his hometown. Both were once lifted up on the back of a large, thriving steel industry, which has now largely disappeared. And since then they have both had to manage the effects of industrial decline, from unemployment to an assortment of social problems.
Welcome to Wrexham explores this social history in some detail. It documents McElhenney's upbringing in a poor south Philadelphia neighbourhood. At one point, he shows his son the tiny childhood bedroom he shared with his older brother. He also describes the Eagles' close connection to the area: if the team was doing well, businesses seemed to boom and the whole neighbourhood had a lift. But when the Eagles struggled the area seemed to suffer, too.
McElhenney clearly felt that something similar had happened in Wrexham. We're shown how before Margaret Thatcher's Tory government of the 1980s Wrexham AFC was on the up, reaching the second division (today's Championship) for the first time in 1978. But after Thatcher's brutal treatment of industry in Wales and the north of England, Wrexham found itself in a slump, and its football club collapsed. Wrexham briefly entered administration in 2004 before dropping out of the EFL entirely in 2008.
Alongside the often moving social history, leavened by Reynolds' wry, awkward interjections, you can also glimpse McElhenney's ruthless Hollywood streak. After Wrexham narrowly miss out on a playoff spot in the 2020-21 season, he sacks the manager and the entire coaching staff and releases several players. He then spends hours on the phone to Phil Parkinson, who formerly managed Sunderland in League One, and persuades him to move down two divisions to take over at Wrexham. He also blows his budget on super striker Paul Mullin, a huge gamble. It pays off when Mullin goes on to score 32 goals the following season – although Wrexham ultimately miss out on promotion.
Welcome to Wrexham is a charming documentary about a bizarre yet inspiring sporting story. It touches on the history of Britain's working-class towns and the importance of football clubs to local communities. It is moving, funny and well worth a watch – even if you don't like football.
Michael P Fitzpatrick is a writer and teacher based in London.
Picture by YouTube / Ryan Reynolds.
To enquire about republishing spiked's content, a right to reply or to request a correction, please contact the managing editor, Viv Regan.