Michael Fabricant and the double-standards over protests
If a Labour MP had been harangued outside a party conference, we would never hear the end of it.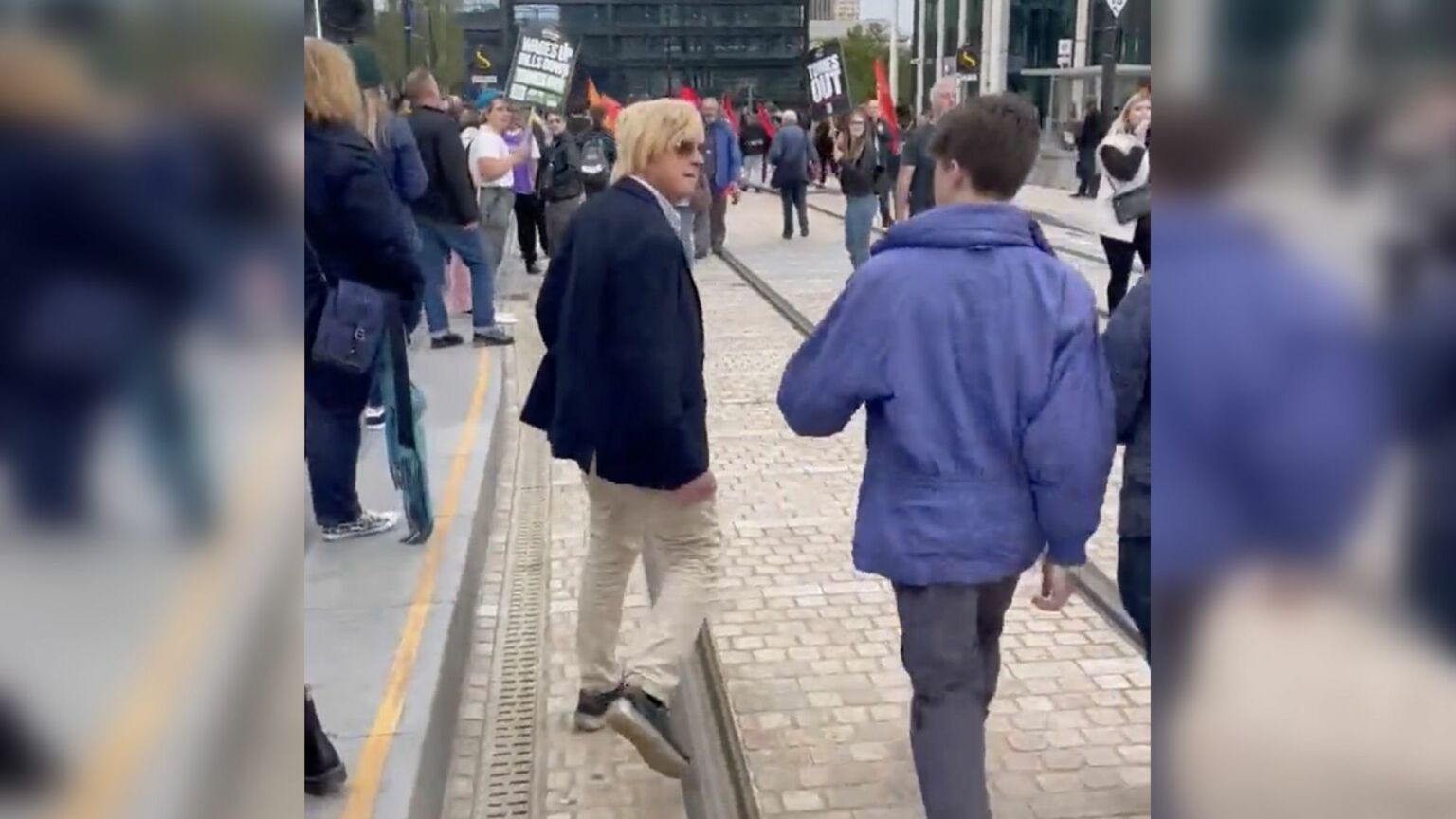 Imagine if a Labour MP had been harassed outside the Labour Party conference last week. Imagine if expletives were hurled at this MP, and he had to be escorted away by police. The pearl-clutching headlines – bemoaning the 'toxicity' in politics and the 'threat' to life and limb faced by our decent, hard-working politicians – would write themselves.
Of course, there has been no such response following the haranguing of Michael Fabricant outside the Conservative Party conference yesterday. Indeed, there hardly ever is whenever a noisy protest targets the 'wrong' side of politics.
Viral footage shows a young man shouting at Fabricant and getting right up in his face. He follows Fabricant, while gesticulating angrily. Boos and other expletives – including 'Tory cunt' – can be heard in the background. Fabricant is then escorted away by a police officer. These are unpleasant scenes. Harassing a 72-year-old MP is never a good look. This is not a brave, noble or even meaningful political protest by any stretch of the imagination.
But it is to Fabricant's credit that he has refused to play the victim. Shortly afterwards, he clarified on social media that he was not attacked. 'No one touched me. Just shouted abuse. They were just loud!', he said. What's more, he was also quick to make clear that, however unpleasant, such non-violent protests are a legitimate part of democratic life. 'We live in a democracy and people have every right to protest', he added.
At the end of the day, none of this is anything to get upset about. A politician was heckled by a member of the public. The protester got a bit too close for comfort, but ultimately no one was harmed. This is all part of the cut and thrust of democracy.
But the contrast with other recent incidents is striking. In February, Labour leader Keir Starmer was heckled by a group of conspiracy theorists. The protesters apparently believed the absurd claim that Starmer had helped to cover up a non-existent Westminster paedophile ring.
Thankfully, Starmer was not assaulted or harmed. But judging from the unhinged media response, you would have thought he'd suffered a near-death experience. The media claimed that the incident was part of a targeted attack by the far right. Worse still, it had apparently been 'enabled and actively encouraged' by then prime minister Boris Johnson. An LBC host even shamelessly compared the heckling of the Labour leader to the murder of Jo Cox in 2016.
This same double-standard was on full display during the Brexit wars. In 2019, a woman was convicted of harrassment simply for protesting against Anna Soubry. The judge ruled that Amy Dalla Mura was motivated by 'anger at Ms Soubry's political views on Brexit' – as if that were itself a crime. Labour MP (and fellow Remainer) Jess Phillips said the protests against Soubry made her frightened for her own safety.
It was not just pro-Brexit protests that were said to endanger the lives of Remainer MPs, but also pro-Brexit rhetoric full stop. In the febrile autumn of 2019, one Labour MP complained in the Commons that Boris Johnson's use of the phrase 'Surrender Act' – to describe an amendment preventing a No Deal Brexit – was 'dangerous'. When Johnson dismissed this suggestion as 'humbug', Labour MPs claimed that this was the kind of language that had led to the death of Jo Cox. The media ran with this line and even claimed Johnson was stoking up the far right.
The hypocrisy is stunning. Those who heckle the Tories are (rightly) understood to be exercising their democratic right to protest. Meanwhile, those who protest against Remain-supporting or left-leaning politicians are treated as far-right menaces, whipped up by lurid rhetoric from demagogic politicians.
Perhaps it's time we took a leaf out of Fabricant's book and started putting noisy protests into perspective.
Laurie Wastell is an intern at spiked.
Picture by Twitter / domhauschild
To enquire about republishing spiked's content, a right to reply or to request a correction, please contact the managing editor, Viv Regan.