The 'Tufton Street nexus' is a conspiratorial fantasy
No, free-market think tanks do not secretly run the country.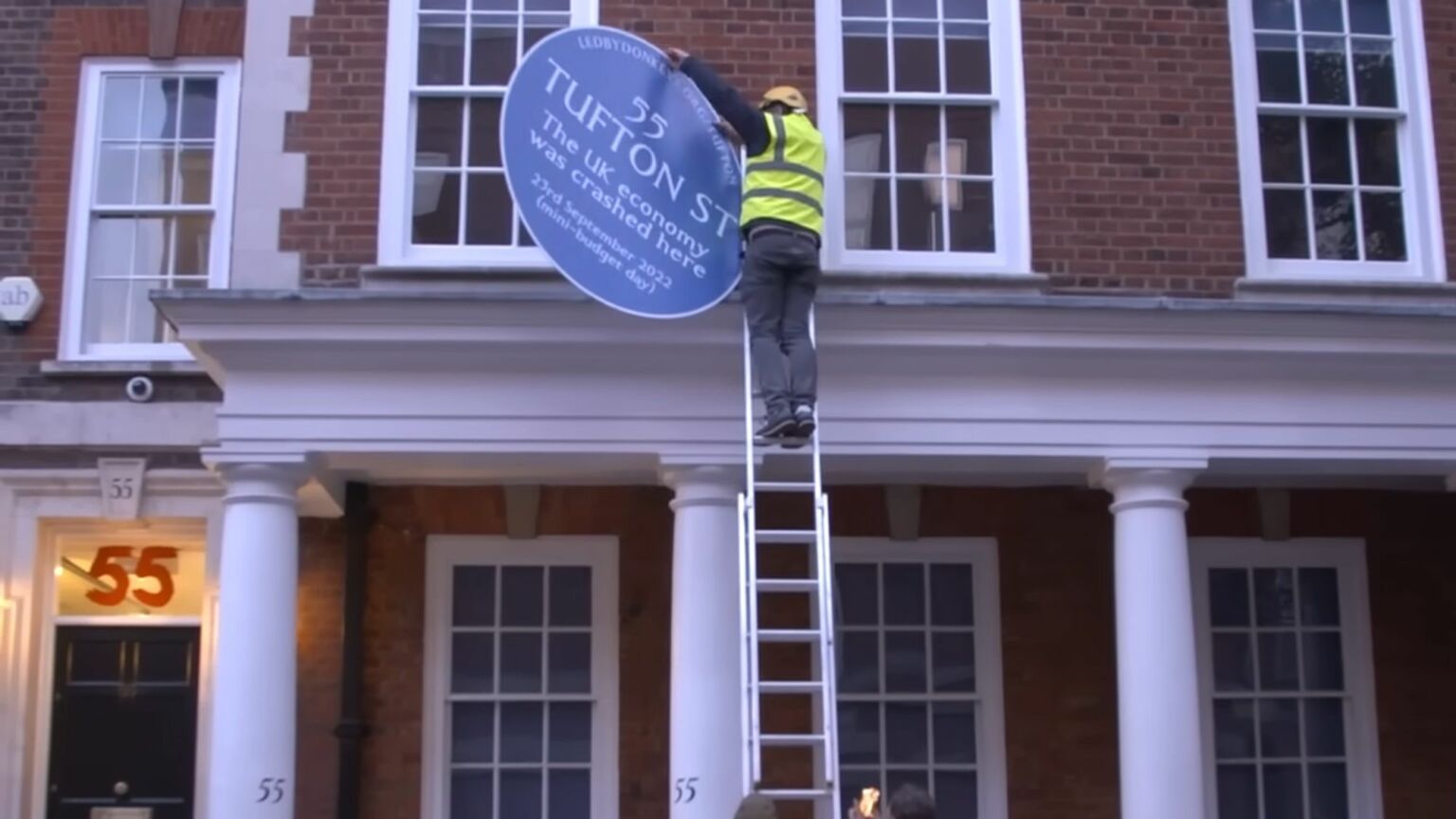 One London address seems to trigger political hobbyists more than any other: 55 Tufton Street. Most normal people have never heard of Tufton Street and could not care less what happens inside No55. But its mere existence sends both EU rejoiners and eco-fanatics into meltdown. Extinction Rebellion has held numerous demos on Tufton Street. And this week, anti-Brexit campaign group Led By Donkeys performed a stunt outside the unassuming Westminster building.
Led By Donkeys is made up of four middle-aged men who bonded over a shared loathing of what they saw as the 'lies, lunacy and hypocrisy' surrounding Brexit. It specialises in publicity stunts designed to be shared on social media for the titillation of the laptop class. The name riffs off a description of First World War soldiers led by incompetent generals. But when applied to Brexit, it is hard not to conclude it thinks the 'donkeys' are the 17.4million Leave voters, rather than any of our hapless political leaders. Led By Donkeys came to prominence in 2019, as the campaign for a second referendum gathered pace. It carried on its campaigns even after Brexit became official.
For this week's stunt, Led By Donkeys erected a huge fake English Heritage blue plaque on the outside of 55 Tufton Street. It declares: 'The UK economy was crashed here, 23 September 2022.' The date references PM Liz Truss and former chancellor Kwasi Kwarteng's disastrous mini-budget. A video, narrated by former BBC presenter Gavin Esler, was also projected on to the Tufton Street building. It explains that: 'From the moment Liz Truss took over as prime minister, Britain was, in a sense, being run from this building. It's home to a group of lobbying organisations that for years have pushed an extreme economic ideology.' Esler goes on to highlight what he sees as dodgy connections between funders, think tanks and government ministers.
I need to declare an interest: I have worked at 55 Tufton Street. Back in 2020, I wrote a series of papers on gender, critical race theory and hate crime for the think tank Civitas, which has offices there. If shady funders are splashing cash in order to dictate a particular agenda then I clearly missed out. Behind the shiny black door, I found dated furniture, terrible instant coffee and electric heaters on extension leads. But it was a great place to work precisely because I was given free rein to write about whatever I liked. Civitas, alas, is not mentioned by Led By Donkeys.
The Led By Donkeys video targets the Institute for Economic Affairs (IEA) and the Adam Smith Institute, which are not based on Tufton Street at all, and the Centre for Policy Studies, which is not at No55. It also names the Global Warming Policy Foundation, which is based at No55, though presumably, it has better coffee than Civitas.
Led By Donkeys may only be a small campaign group, but this view that the think tanks of Tufton Street are secretly running the country is widely held among the pro-Remain commentariat. Guardian columnist Owen Jones criticises Truss for 'Having turned her own citizens into lab rats for an experiment brewed in the boardrooms of opaquely funded right-wing think tanks'. Similarly, George Monbiot bemoans that 'Truss's politics have been shaped by organisations that call themselves think tanks, but would be better described as lobbyists'. LBC presenter James O'Brien has, on several occasions, warned of a 'nexus of… hard-right lobbyists at 55 Tufton Street'.
Led By Donkeys' blue-plaque stunt may be eye-catching. But it is hard to say what exactly is being exposed by it. Neither Truss nor Kwarteng has denied having connections to organisations such as the IEA. On the contrary, Truss has spoken at numerous IEA-sponsored events and has promoted IEA research papers. She has employed several former think-tankers to support her in every government position she has held. None of this has been covered up. And why should it be?
Politics does not occur in a vacuum. Beliefs are shaped and policies honed through discussion with others. Anyone formally involved in politics and who takes themselves and ideas seriously will have a network of comrades they consult, publications they read, journalists, business leaders and – yes – even think tanks they turn to for ideas and inspiration. To suggest otherwise is bizarre. Monbiot, Jones and the Led By Donkeys attention-seekers may not like Truss's choice of advisers, but simply to point the finger and shout 'think tank' is not a reasonable criticism.
Of course, one point Truss's critics return to repeatedly is that some of her favoured organisations are not completely transparent about who funds them. Some think-tank donors choose to go public with their donation, others do not. This is their decision to make and it is well within Charity Commission regulations. Again, we need to ask what exactly the problem is here.
All organisations require money. Just Stop Oil, the group currently causing havoc in London, is bankrolled by the US-based Climate Emergency Fund, founded with money from Aileen Getty, granddaughter of oil tycoon Jean Paul Getty. Abigail Disney, of the Disney family, has since given $200,000 and Adam McKay, director of Don't Look Up, has pledged $4million. No one questions whether Just Stop Oil or Extinction Rebellion activists truly believe what they say about climate change. Yet with think tanks or campaigns that push against certain orthodoxies, there is always the sneering accusation that advocates cannot really believe in what they are saying – they must be mouthing the words of their paymasters.
Today, the word 'ideology' is only ever said with eyes rolled and noses pinched. It's as if being driven by political principles is the very worst thing a politician can be. Truss's free-market thinking is not something I share – and things have not exactly panned out well since her mini-budget. But there is no truth to the suggestion that these views must be bought and paid for, and laundered by influential think tanks. Talk of a 'Tufton Street nexus' is conspiratorial nonsense.
Joanna Williams is a spiked columnist and author of How Woke Won, which you can order here.
Correction: An earlier version of this article said that the Adam Smith Institute is based on Tufton Street. It is based on Great North Street.
Picture by: YouTube / Led By Donkeys.
To enquire about republishing spiked's content, a right to reply or to request a correction, please contact the managing editor, Viv Regan.