The incredible courage of the Chinese protesters
It's high time we in the West reckoned with our own brush with Covid tyranny.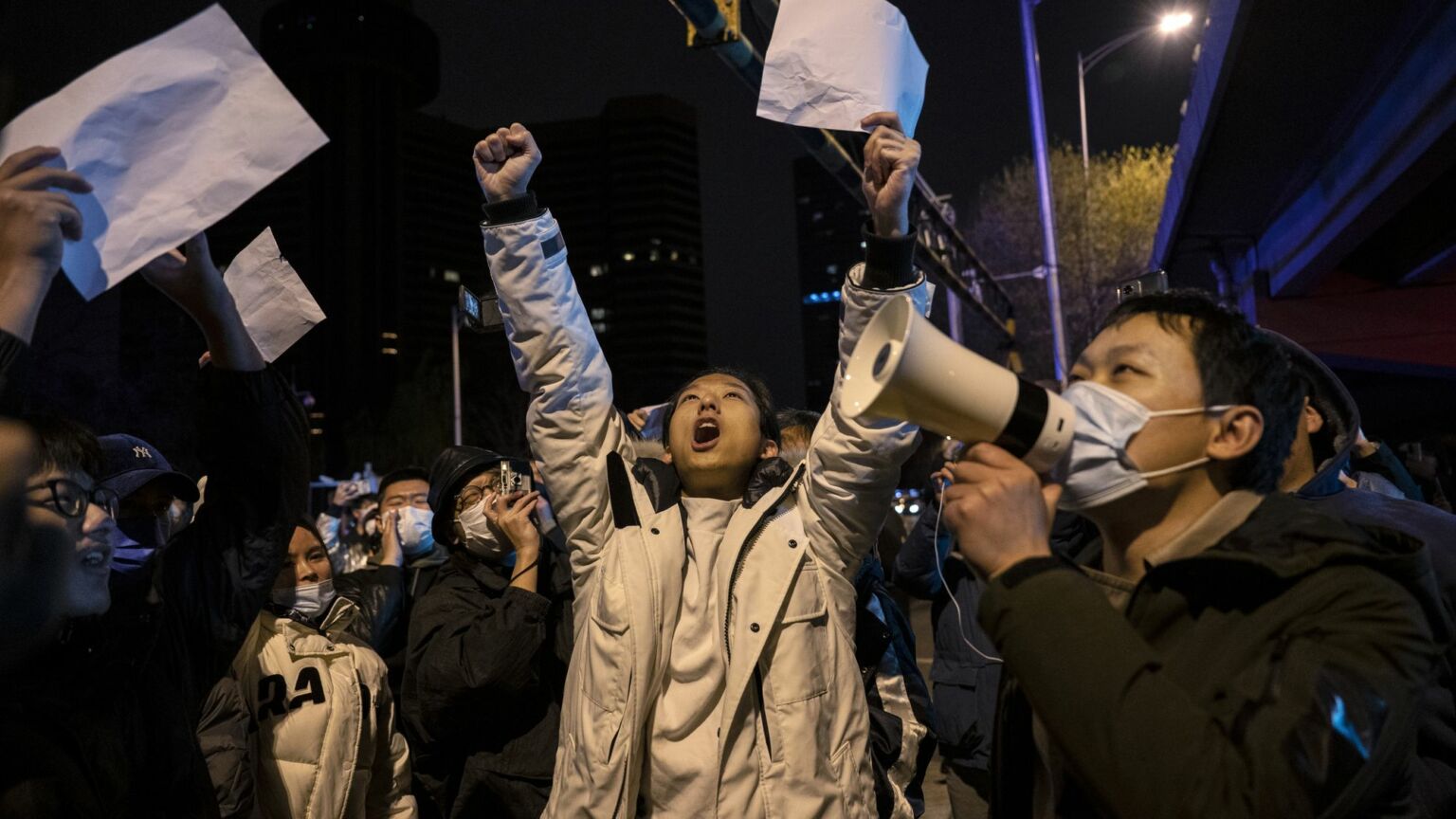 In Britain today, the Covid lockdowns of recent years can sometimes feel like a bad dream. As life has gone back to normal, many of us have memory-holed that awful, illiberal time. But in CCP-ruled China, clinging on to its Zero Covid policy three years on from that first outbreak in Wuhan, lockdown remains a living nightmare for hundreds of millions of people. Citizens still suffer under either lockdown or the threat of it, confined to their homes or workplaces, languishing under draconian, inhuman restrictions that make our own brush with Covid tyranny look almost cute by comparison.
According to Japanese brokerage Nomura, 49 cities, representing a third of China's population and two-fifths of its economic output, were in full or partial lockdown as of the end of November. For Chinese citizens, having suffered under the most punitive Covid regime on Earth, it must feel like there is still no end in sight. Vaccination rates are low, particularly – remarkably – among the elderly. And in recent weeks cracks in compliance have morphed into defiance and unrest, boiling over in cities across the length and breadth of this vast nation.
After the Foxconn manufacturing plant in Zhengzhou was put into lockdown in mid-October, the Taiwanese firm walling off its 200,000 employees, hundreds of workers defied official edicts and fled to avoid enforced quarantine. A few weeks later, in the southern city of Guangzhou, crowds crashed through Covid barriers and took to the streets. A week later, workers brought in to make up the numbers at Foxconn clashed with the police and smashed barricades, infuriated by worse pay and working conditions than had been advertised.
As restrictions tightened, the unrest spread. After being in lockdown for three months, people in Xinjiang took to the streets – their protests fuelled by a blaze in a tower block that killed at least 10 people. Protesters believe the sealing off of the block due to Covid rules slowed the rescue effort and cost lives. Protests have since spread to cities including Beijing, Nanjing and Shanghai. Thousands of students have taken to the streets, many holding up blank pieces of paper, a symbol of their opposition to state censorship online and off.
This is a show of disobedience unprecedented during Chinese premier Xi Jinping's decade in power. The unrest spans regions and classes – from the exploited workers of Zhengzhou, locked in sprawling factories as they produce half of the world's iPhones, to the students of the big cities, coming out of three years of lockdown into a stuttering Chinese economy, all thanks to Zero Covid. Scenes of fans cheek-by-jowl at the Qatar World Cup has sparked fury and scepticism as to why Chinese people are still being kept under lock and key. In some places, the target of activists' ire has shifted from lockdown to the regime itself. Protesters in Shanghai reportedly chanted for Xi and the CCP to go.
As the authorities seek to quash the unrest, with brutal crackdowns sure to come, the courage of the protesters is inspiring. Those in the Western commentariat speculating from the comfort of their offices about the fall of Xi are getting way too ahead of themselves. These protesters are up against a regime of surveillance and repression that has only been enhanced during the pandemic. But these brave people have at least shown that for all the caricatures of a compliant Chinese people, millions of them are sick to the back teeth of a regime that is not only crushing their most basic freedoms but also now dashing their futures, clinging to a failed Zero Covid policy that has left misery, suicides and avoidable non-Covid deaths in its wake.
We in the West can only hope the protesters' day will eventually come. But as Chinese citizens rise up against their rulers, it is worth forcing ourselves to relive our own relatively mild indignities during the pandemic. For while we might have expected authoritarian China to pioneer the Covid lockdowns, it remains remarkable that the supposedly free West followed its lead. That, as Neil Ferguson memorably put it, the authorities could indeed 'get away with it' here. That prominent SAGE advisers responded to the CCP welding people inside their homes not with horror but with thinly veiled respect.
The stunning bravery of those who have taken to the streets in China should inspire us to at least revisit, argue about and reckon with the period we in the now lockdown-free West have done our best to forget.
Tom Slater is editor of spiked. Follow him on Twitter: @Tom_Slater_
To enquire about republishing spiked's content, a right to reply or to request a correction, please contact the managing editor, Viv Regan.