Nicola Sturgeon's woke authoritarianism
There was nothing 'progressive' about the first minister's reign.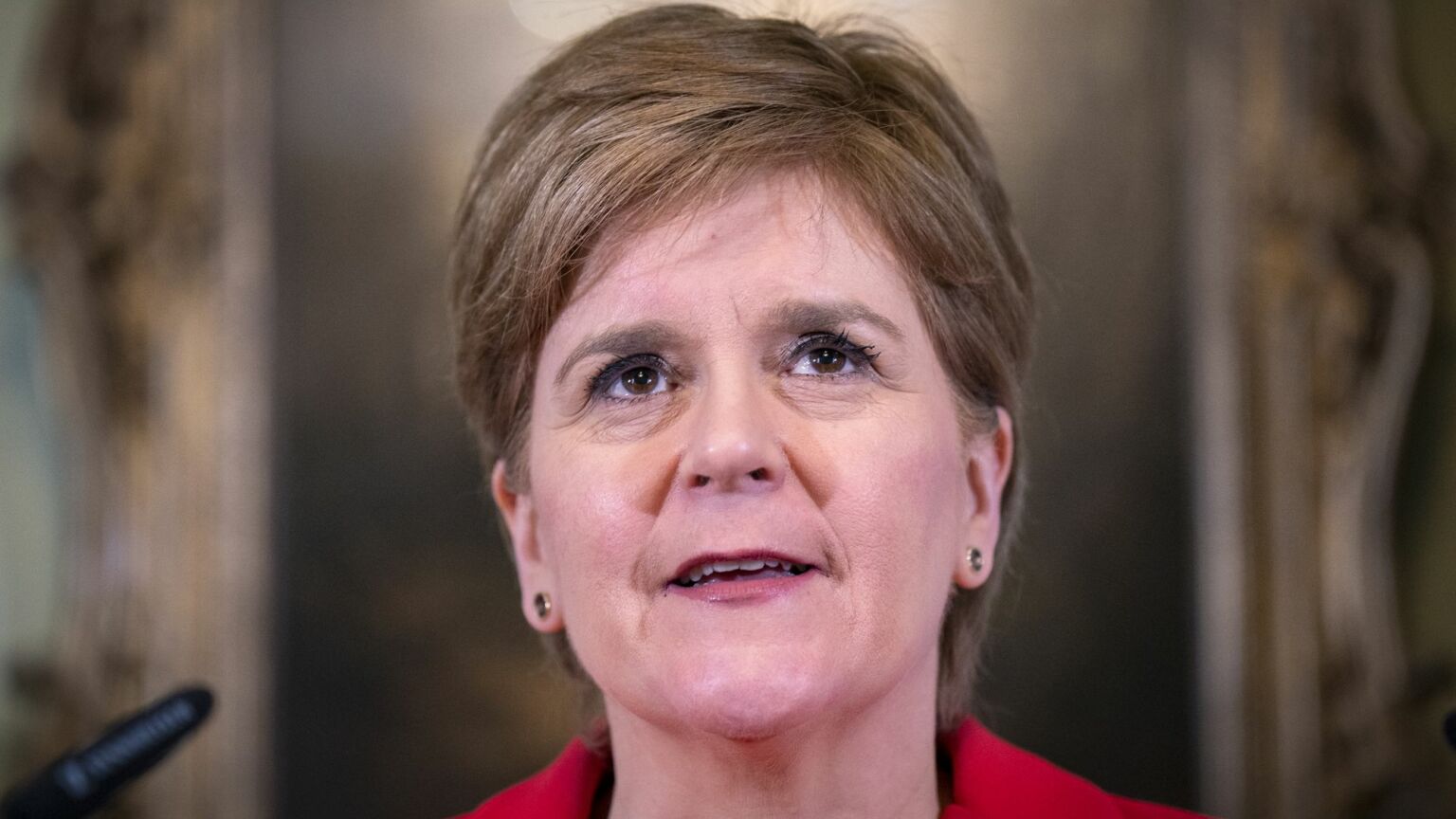 Gradually, then suddenly. That is how the political career of Scottish first minister Nicola Sturgeon – a regrettably towering figure of modern British politics – seems to have crumbled. She announced her resignation earlier today, saying at Bute House that she will step down as soon as her successor is chosen. Her humiliating climbdown over her gender reforms, sparked by the sickening 'Isla Bryson' revelations, was undoubtedly the immediate cause for her downfall. But in truth her political project has been on a collision course with political reality and common sense for some time.
In her resignation speech earlier today, Sturgeon held forth on the state of politics. She said it had become too polarised, unreasoned and irrational – suggesting this is partly why she had to step down. What slipped by the usual supine suspects in the media, who were naturally bowled over by Sturgeon's homily, was the industrial-strength brass neck of it. Here we had a politician who has been campaigning for the right of male rapists to be housed in women's prisons calling for more reason and rationality. Here we had a politician who dismissed her gender-critical opponents not just as transphobes, but as misogynists and racists to boot, calling for everyone to tone down the rhetoric. It was ballsy, to say the least.
The self-styled centrist sensibles of the commentariat, those now mourning Saint Nicola's ascension (no doubt to a plum job in the international technocracy), look all the more clueless in the wake of the Scottish gender debacle. That row has exploded the myth that Sturgeon and the nominally left-of-centre pedigree to which she belongs are in any way sensible or centrist, let alone progressive. These people advocate for ridiculous things and then ignore the blatantly obvious consequences of them. They think they're on the 'right side of history', because they think the hurt feelings of sex offenders should be prioritised over women's safety.
That Sturgeon at first doubled down on her reforms, even though two-thirds of Scottish voters opposed them, underlines just how deranging gender ideology can be to its adherents. She even thought she could pick a fight with Westminster over them, convinced that Rishi Sunak's decision to block the bill under Section 35 of the Scotland Act would drive a wedge between Scots and Westminster, proving Scotland was under the thumb of England. Quite aside from the nonsense of this argument (the bill was blocked because it interfered with GB-wide legislation), it clearly has not landed with the Scottish public. Half of Scots, according to a recent poll, support Westminster's decision to veto the bill. Only a third oppose it. Even SNP voters are split on the bill itself.
What we have in Sturgeon's resignation is woke lunacy colliding with the wisdom of ordinary Scots. And not before time. Indeed, while the gender row may have done it for Sturgeon in the end, it also illuminated all that has long been rotten about the SNP: a faux-progressive, authoritarian party that, despite the Braveheart routine, holds Scots, their views and their values in contempt. Since coming to power in 2007, the SNP has set about trying to manage, surveil and re-educate Scots – as seen with its censorious Hate Crime Act, its locking up of offensive football fans and its thankfully thwarted 'named person' scheme, which would have assigned a state guardian to every child.
All this gets to another core contradiction at the heart of the Scottish Nationalist project. Sturgeon and Co never miss an opportunity to wail about how the will of Scots is supposedly being denied. And yet the SNP doesn't even trust Scots to feed themselves, raise their children or have unpoliced conversations within their own homes, let alone steer their nation. What's more, SNP leaders – having long shaken off their Eurosceptic roots – want to leave an imperfect but democratic United Kingdom so that they can be absorbed into a decidedly anti-democratic European Union. Theirs is a campaign to submit to the will of a modern empire, not to escape an old one.
The independence project is starting to creak under the weight of these contradictions and Sturgeon's collapse in authority. According to research commissioned by Lord Ashcroft, 44 per cent of Scots say they would vote for secession if another referendum was held tomorrow, while 56 per cent would vote to stay in, slightly higher than the 55 per cent who backed the Union in the 2014 referendum. In 2015, in the wake of that defeat, the SNP was briefing that support for secession would need to be polling at 60 per cent for a year for them to push for another referendum. It has never got anywhere near that. And Sturgeon's wheezes have become increasingly desperate and unpopular. After her plan to hold another vote without Westminster's approval was knocked back by the Supreme Court, she suggested pitching the next election as a de facto referendum on independence. Only one in five Scots support this strategy. Even SNP supporters are more likely to be sceptical than in favour of it.
But then this was never really about independence. The rise of the Scottish National Party, and Sturgeon in particular, represented the colonisation of Scottish politics by the new ruling class, by illiberal liberalism, by a layer of faux-progressive technocrats who have become increasingly authoritarian and disdainful of ordinary people. This is part of the reason why the SNP's governance of Scotland has been so woeful – clamping down on ordinary people's liberties while presiding over widening educational inequality and falling life expectancy. And this is why SNP-led 'independence' has come to resemble a campaign to get away from the supposedly bigoted voters south of the border, rather than a campaign to liberate the voters north of it. As its anti-Brexit agitation made clear, the SNP cares nothing for democracy. Or as the party's 2021 Scottish parliament manifesto so negatively described it, independence is an 'escape from Brexit'.
For all this and more, the fall of Sturgeon is to be welcomed. She represented a kind of woke authoritarianism that has come to dominate many Western nations, from Biden's US to Trudeau's Canada to New Zealand under the recently departed Jacinda Ardern. But the ideology Sturgeon represents will not just leave the political scene with her. These values are now embedded within our politics and institutions – not least because, on woke issues as on the question of Scottish independence, the old UK elites have proven themselves utterly incapable of taking these poisonous movements on. But there is hope. The wisdom of the crowd is ultimately what brought down Sturgeon and her madcap gender policies. The chasm that had opened between her and ordinary Scots had simply become unbridgeable. The pushback to woke authoritarianism, to this new elite ideology, has to come from the ground up. And it will.
Tom Slater is editor of spiked. Follow him on Twitter: @Tom_Slater_
To enquire about republishing spiked's content, a right to reply or to request a correction, please contact the managing editor, Viv Regan.