Nicola Sturgeon's Big Sister state
Her government held ordinary Scots in contempt.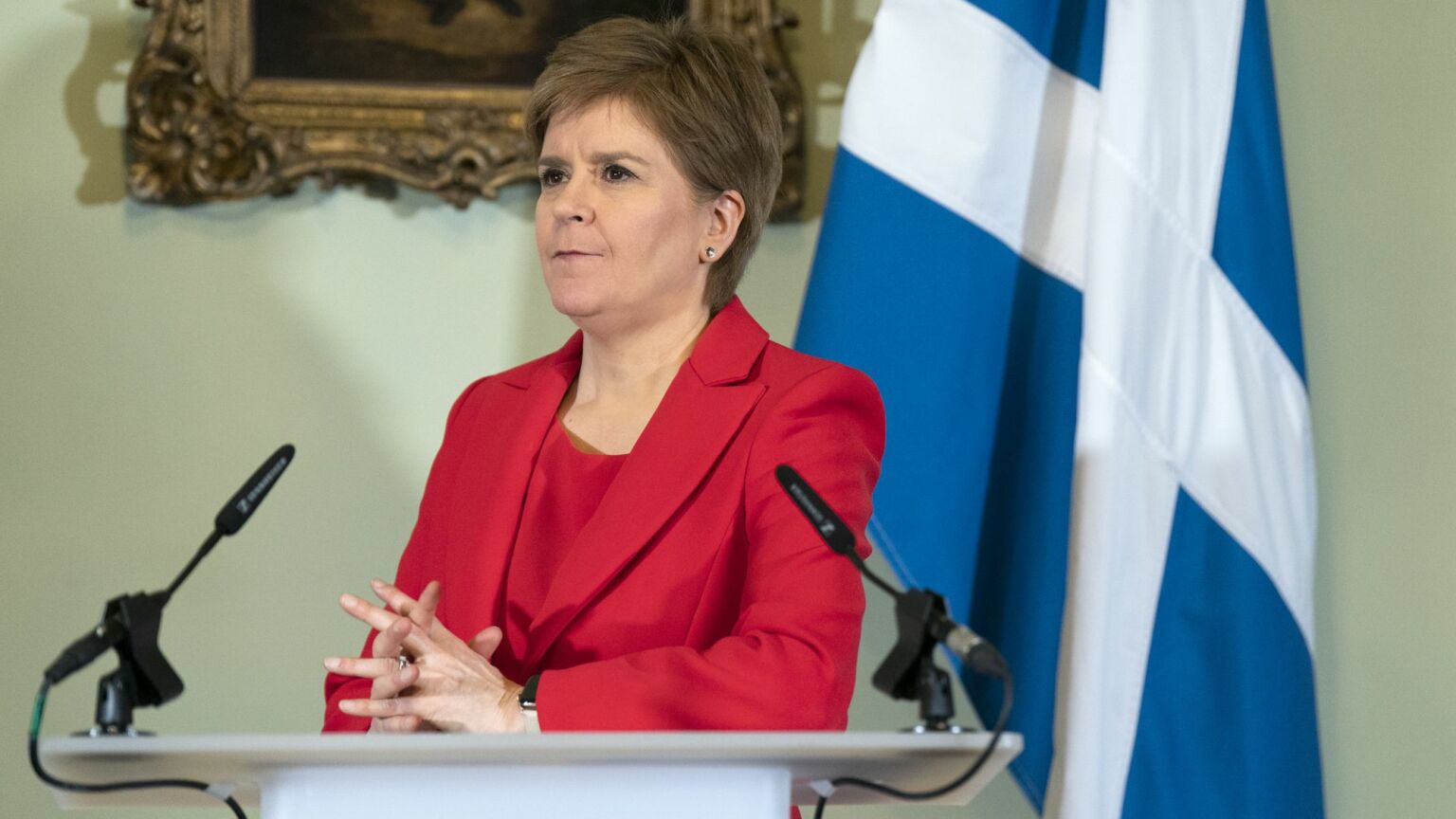 Say what you like about Nicola Sturgeon… or, on second thoughts, don't. Especially if you're tempted to say something contentious or offensive. Because during the outgoing first minister's eight-year rule, Scotland has become the most illiberal nation in the UK. It is now a place where expressing your 'problematic' thoughts can land you with a prison sentence – even if you utter them in the privacy of your own home.
Under Sturgeon's rule, Scotland seems to have become a laboratory for new experiments in authoritarianism. Her SNP government has pioneered restrictions on every area of life imaginable – especially on what was once thought of as the private sphere, from how you can raise your children to the thoughts you can hold in your own head.
Among the most illiberal of Sturgeon's measures was the Hate Crime and Public Order (Scotland) Act 2021. This hate-speech law makes it a crime, punishable by up to seven years in prison, to behave in an 'abusive' manner 'intended to stir up hatred' against certain protected groups. The act extended an existing offence against 'stirring up' racial hatred to cover matters as diverse as transgenderism, religion and sexual orientation. It also abolished the old 'dwelling defence' that in the past would have stopped the police from investigating private conversations in the home.
'Hatred', of course, is an entirely subjective notion. The law thus opens up the door to potentially limitless political censorship. Even after the act was passed, the Scottish government was still unable to clarify how police would decide what speech meets the threshold of 'hatred'. While the act also abolished Scotland's outdated blasphemy law (the last execution for blasphemy took place in Edinburgh in 1697), it has the potential to censor a whole new raft of blasphemies – perhaps including the now unsayable truth that 'men cannot become women'.
Strikingly, it could have been even worse. An early draft of the bill would have covered theatrical performances. Were it not for a last-minute amendment, Scottish theatre producers might have been held criminally liable for putting on a play with a racist or bigoted character.
It's not just what comes out of your mouth that's regulated by the state in Scotland – what you can choose to put in it is, too. Sturgeon has rolled out a raft of nanny-state measures, from minimum-pricing on alcohol to bans on promotional deals for certain supermarket foods. This paternalistic Puritanism has done nothing for public health – obesity rates and alcohol deaths remain unmoved by any of Sturgeon's restrictions. What these diktats have done is deprive Scots of the choice to partake in their favourite pleasures. The bossiness is the point.
Most pernicious of all has been Sturgeon's targeting of family life. The staggeringly misnamed Children (Equal Protection from Assault) (Scotland) Act 2020 made it a criminal offence for parents to administer even the lightest of physical discipline to their children. Though often described as the 'smacking ban', it makes even a tap on the hand or the bottom an act of criminal assault. Government guidelines tell Scots who witness such 'abuse' to contact the police. Primary-school children are told, by government-produced leaflets, to rat out their parents to an adult they can trust (who 'might be a teacher… a nurse or a police officer').
Still, the smacking ban is positively trivial in its intrusiveness compared with the SNP's failed plan to have state officials spy on every family home. The Named Person scheme set out to monitor the 'happiness' and 'wellbeing' of every child in Scotland. To do this, a 'named person', with or without parents' knowledge or consent, would compile dossiers on the minutiae of every child's life – including matters as trivial as when a child is not consulted about what she wants to watch on TV, or how her bedroom is decorated – to share with various state authorities.
Launched in 2014, the Named Person scheme was drawn up before Sturgeon became first minister, but she championed it hard when in office. She even defended it after it was struck down in the UK Supreme Court for breaching the human right to a 'family and private life'. In 2019, the scheme was officially scrapped.
Given Sturgeon's authoritarian instincts, it was perhaps no surprise that she came to relish the Covid pandemic. Although all four nations in the UK entered lockdown at the same time, Sturgeon made sure to keep Scotland in lockdown for longer. She stuck with harsh restrictions even during the summer of 2020 when the first Covid wave was in remission, and again in 2021, despite the rollout of vaccinations.
Loosening of lockdown rules happened only slowly and through gritted teeth. In August 2020, when Scottish youths finally had the chance to gather once more in pubs after months of isolation, Sturgeon expressed her horror, claiming that these scenes of youthful exuberance made her 'want to cry' – and not with joy.
As late into the pandemic as October 2021, Sturgeon told Vogue, the posh fashion magazine, that she hoped she'd never have to shake another person's hand again. Here Sturgeon unwittingly revealed a key driver of her authoritarianism. Her illiberalism is so often presented with a smile – as a sign that she simply 'cares' about Scots' wellbeing. But her revulsion at the prospect of coming into contact with the man or woman on the street betrayed a desire to remain socially distant from the masses. Ordinary Scots, in Sturgeon's view, ought to come with a hygiene warning – and they need to be contained and corralled into adopting state-approved behaviour.
Ultimately, Sturgeon's Big Sister state is a product of an elite outlook that views Scots with contempt – not as democratic citizens deserving of liberty, but as problematic subjects in need of re-education and surveillance. The end of her miserable rule cannot come soon enough.
To enquire about republishing spiked's content, a right to reply or to request a correction, please contact the managing editor, Viv Regan.