The snobbish war on the red tops
All too often, liberal disdain for the tabloids betrays a disdain for tabloid readers.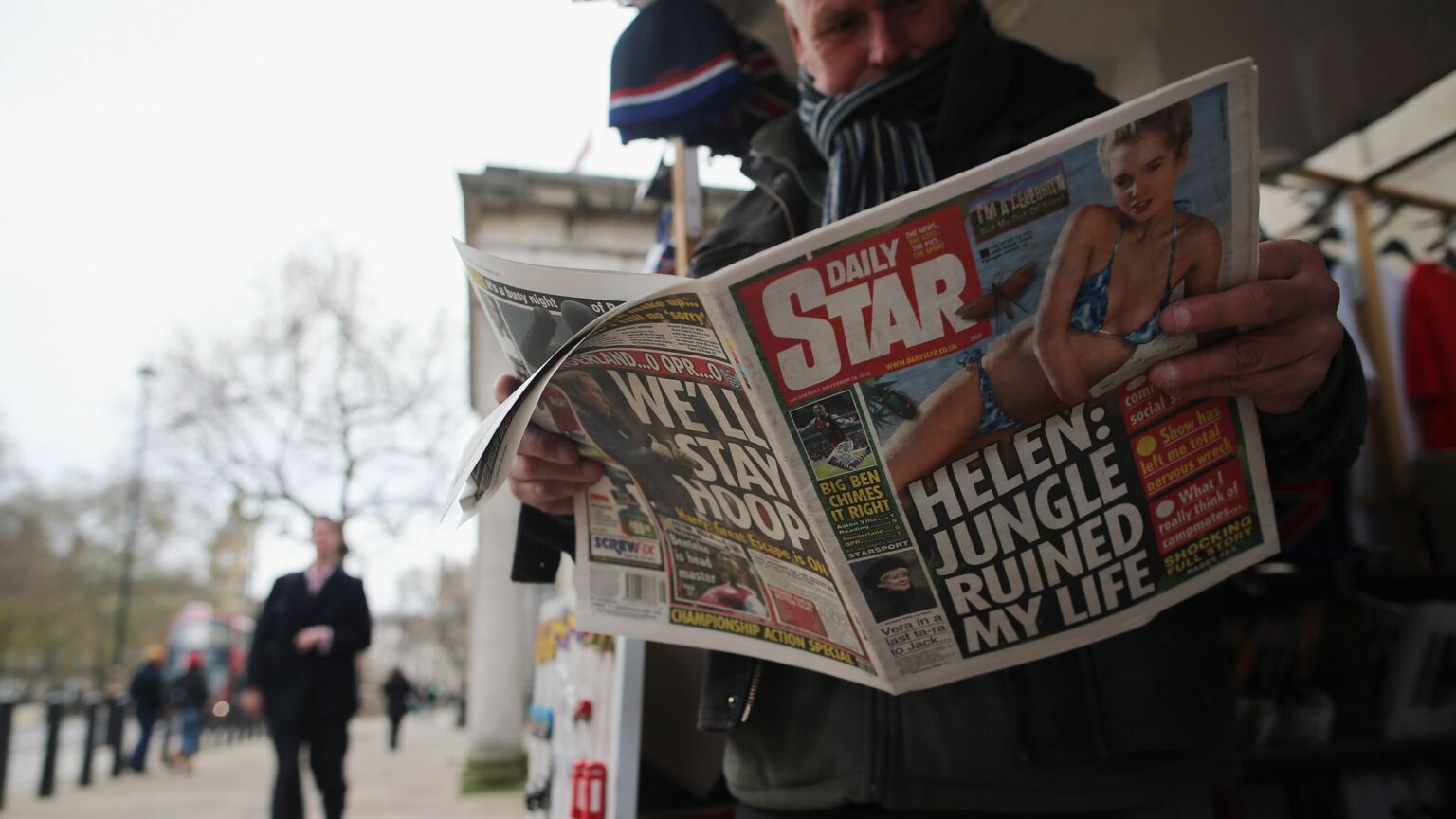 The tabloids and their readers are persistently and unfairly maligned.
The latest bout of tabloid-bashing began following Prince Harry's bellicose remarks when promoting his memoir, Spare, last month. In an hour-long interview with ITV's Tom Bradby, the Duke of Sussex described the tabloid press as 'the devil'. His comments were quickly seized on by liberal media. New York Times opinion columnist Zeynep Tufekci thunders that 'Whipping hatred and spreading lies' is 'a specialty of Britain's atrocious but politically influential tabloids'. In particular, she criticises the tabloids' supposed tendency towards gossiping, citing the red tops' publication of details of Prince Harry's private life. According to Tufekci, the tabloid press is one of the UK's 'most revolting institutions'. Ms Tufekci even says she hopes that Harry 'succeeds in fighting [these] vile forces' in order to bring about 'a greater sense of decency in Britain'.
I have no desire to relitigate the rights, wrongs and reasons for Prince Harry's hostility to the press. My beef is with the idea that the tabloid press is the most wretched collection of blabbermouths on Fleet Street. I also object to the dim view Ms Tufekci takes of tabloid readers, and the tabloids' ability to influence them.
Ms Tufekci's snooty op-ed unwittingly reveals my point. She insists that 'People like [her]' are generally 'uninterested in celebrities'. Then, seemingly unaware of the contradiction, she launches into breathless 'he-said, she-said' speculation over what Camilla thinks, why the royals connived with the press and what makes Harry so profoundly upset. She comes across suspiciously like the local busybody who leans in to whisper: 'Now I don't like to gossip, but…'
We've read it all before, regardless of our paper of choice. This is because tittle-tattle is as well-embedded in the broadsheet press as it is in the down-market tabloids. Broadsheets rubberneck just as much as the red tops do.
Oxford anthropologist Robin Dunbar has long demonstrated how central gossip is to human society. In his 1996 book, Grooming, Gossip and the Evolution of Language, Dunbar compares the column inches devoted to gossip in the Sun and The Times, and finds the total virtually identical. His research in evolutionary psychology has shown that Homo sapiens has an insatiable appetite for gossip: around two-thirds of our conversations pick over the innermost thoughts, feelings and motivations of other people – their highs and lows, successes and indignities. According to Dunbar, the exchange of social information through gossip – 'who is doing what with whom, and whether it's a good or bad thing' – may even be the reason language evolved.
So it is no surprise that, whether we read the FT, the Guardian or the Daily Mail, the technicalities of economics and politics are less compelling to readers than the social voyeurism on offer – whether in politics, society or celebrity culture. Editors of newspapers know this. That's why even 'respectable' papers are filled with the kind of gabbing that would tilt the ear of any good Jane Austen gossip.
Of course, in the so-called quality press, prattle is presented a little differently, disguised as something superior. In the broadsheets, we're more likely to read about Madonna the moral philosopher, Beyoncé the bluestocking or Harry Styles the artistic savant. But make no mistake, all of it is mere window dressing for yet more intimate human-interest stuff. Or to paraphrase Shakespeare: gossip by any other name is just as juicy.
Another unfair criticism of red tops is how their readers are often characterised as feebleminded. Back in the 1990s as a teen, the first newspaper I regularly bought was the Weekly World News, purchased and read during my Saturday job at a local greengrocer's. Among its spectacular scoops were 'Heaven photographed by Hubble Telescope', 'Gluten killed the dinosaurs' and 'Dead woman gives birth in coffin'. It frequently reported sightings of Elvis, aliens and a half-human creature called 'Batboy'. Readers knew to take the slogan of this short-lived American tabloid – 'The world's only reliable newspaper' – with more than a pinch of salt. Yet today, snooty elitist types, like Ms Tufekci, see tabloid readers as far less discerning. 'The tabloids can spread unhinged claims', she frets, 'generating a sense of urgent threat to create a social frenzy'. In this hysterical, censorious worldview, satire and sensationalism appear positively dangerous.
Yet in fact, people are considerably better at clocking nonsense than they're given credit for. And that is not mere opinion. Last month, research by a team of cognitive scientists concluded that 'Unreliable news, including false, deceptive, low-quality or hyper-partisan news, represents a minute portion of people's information diet', and that 'the influence of fake news on large sociopolitical events is overblown'.
What is more, the power of the humble hack to influence our behaviour is not as mighty as many journalists might like to think. One reason is readers tend to know what they're buying and why, and tend to consume information that they're already predisposed to accept. That means, whether it's in the Express or the New York Times, op-ed writers tend to be preaching to the converted rather than warping innocent minds.
Still, Ms Tufekci believes diminishing the power of the tabloids will help restore 'decency' to Britain. She is not alone in having a high opinion of herself and her trade. She and others clearly take themselves and their righteous mission very seriously. Indeed, since 2017, the Washington Post's motto has been 'Democracy Dies in Darkness'.
Meanwhile, in the UK, the slogan of the Daily Star is 'Home of fun stuff'. This reveals an often-overlooked function of the tabloid press, which is to add to the gaiety of the nation.
After all, it was through humour that Britain's wackiest red top carried the country through Liz Truss's turbulent premiership, when the so-called mini budget spooked the markets and sent the pound tumbling. Streaming its 'Live Lettuce Cam' on YouTube, the Star had viewers across the country on tenterhooks: could the PM outlast a 60p Tesco lettuce? Pitting Liz Truss against 'Liz Lettuce' proved a viral hit. To mark the vegetable's eventual victory over Truss, the Star even projected an image of the triumphant lettuce on to the Houses of Parliament – a stroke of genius and a source of much-needed national mirth.
For those journalists today inclined to take themselves too seriously, Liz Lettuce reminds us that there are many benefits to keeping it light.
Charlotte Blease is a research affiliate in digital psychiatry at Harvard Medical School and Uppsala University, Sweden. Follow her on Twitter: @crblease
To enquire about republishing spiked's content, a right to reply or to request a correction, please contact the managing editor, Viv Regan.