The unbearable wokeness of Humza Yousaf
The SNP leadership contender just cannot let gender ideology go.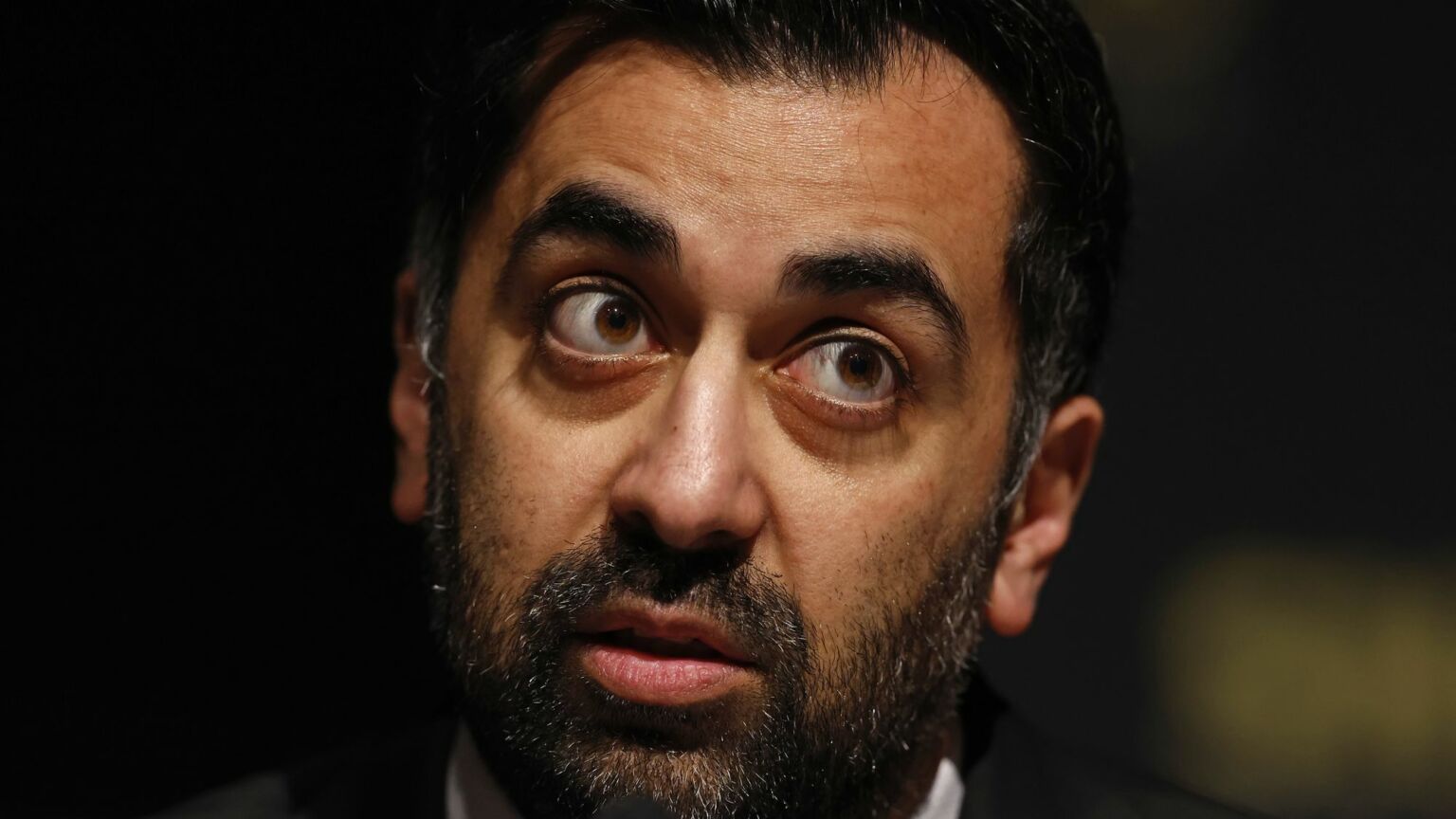 There's something strange going on in Scotland. It's not as weird as The Last of Us, HBO's hit series where fungi hijack people's bodies and make them run around biting the uninfected. That doesn't impress us Scots – worse things happen in Glasgow on a Friday night. But whatever's happening in Scotland has definitely got something of the zombie about it. Take the first of the televised SNP leadership debates on Tuesday night. Policies that were dead on arrival or considered long buried are now somehow walking among us, in the form of candidates to be the next leader of the SNP and first minister of Scotland.
Take Net Zero. The UK emits less than one per cent of the world's carbon dioxide. So given how crippled Scotland's economy is, we'll be lucky to be spewing out a tenth of that. Yet according to the SNPs' potential leaders – Humza Yousaf, Ash Regan and Kate Forbes – we Scots must set an example for the Indonesians and the Chinese by reducing our meagre output even further. They'll happily see us shivering in food queues and fighting for space in a council-run warm space. On the other hand, if we closed down Holyrood we could probably halve the amount of hot air we emit.
Nothing suggests the SNP is trapped in the political equivalent of The Walking Dead quite as much as the commitment of leadership favourite Yousaf to Nicola Sturgeon's old obsession: gender self-ID. It was only a month after Sturgeon's Gender Recognition Reform Bill was voted through Holyrood that the appalling case of Isla Bryson, a male rapist being housed in a women's prison, put a stake through its heart. For some reason, our elected representatives hadn't realised that male sex offenders might be tempted to flutter their eyelashes, put on a wig and claim they were a woman to be afforded access to a women's prison. Who could possibly have guessed?
If MSPs now had any sense, they would launch an inquiry into how that bill ever got signed. They might just discover their canteen was infected during the vote by ergot, or some of that fungus from The Last of Us, temporarily driving them stark raving mad. If only that were true. No one would ever need to hear another word about a female penis (except maybe on PornHub).
Instead, Yousaf is loudly denouncing the Westminster government's use of Section 35 to block the SNP's gender self-ID law. It's an affront to democracy, apparently. This despite the fact that the safeguard of a Section 35 was written into the devolution settlement that was agreed by none other than the SNP. Yousaf insists he'll fight Westminster in the courts over gender self-ID. To which the likely reply of Rishi Sunak will be, 'bring it on, baby'.
So what is Yousaf up to? Can he really be that stupid? In Scotland, we've learned not to ask rhetorical questions like that of SNP ministers. Perhaps, though, his strings are being pulled. He's widely assumed to be the leadership choice of Sturgeon and her husband, SNP chief executive Peter Murrell. In recent years, the couple has ruled the SNP with the same lightness of touch which made the backstabbing Borgias such delightful dinner-party guests.
That said, Yousaf has a stridently woke track record all of his own. He was the man behind Scotland's Hate Crime Bill, passed in 2021. This law redefined heterosexuality and homosexuality according to the new gospel of the LGBT lobby. Heterosexuality no longer means being attracted to 'the opposite sex', as bigoted yobs might imagine, but being attracted to 'a different sex'. There are so many sexes, you see. This of course raises the question of what exactly Yousaf's recent pledge to have an equal number of men and women in his cabinet even means.
Some politicians struggle to disguise their own self-regard. Yousaf seems to think that, in his case, doing so would be a disservice to the electorate. In the current leadership campaign he has proclaimed what he sees as his many achievements. In the STV debate this week, Kate Forbes ridiculed his track record and came close to suggesting he'd earned his moniker of Youseless.
Yousaf's championing of Sturgeon's worst zombie idea only adds an extra layer of strangeness to a contest that already brings to mind the 'uncanny valley', that eerie quality first described by technology guru Masahiro Mori. Mori notes that when robots get close to acting human but don't quite make it, they strike us as downright creepy. We get the uneasy sense that something is not quite right.
Like these almost-human robots, today's leadership contenders, Regan, Yousaf and Forbes, mimic the nods and smiles of normal politicians. They mutter learned phrases about 'growing the economy' as if they really have any idea what an economy is or how it might function. With mounting horror, we realise these clumsy automata actually believe they are leadership quality, and that one of them will actually run the country. The mismatch between their performative displays of what they think is leader-like behaviour and our awareness that they're really not leaders triggers the sort of unease Mori described. Scottish politics is now firmly in the 'uncanny valley'. It seems there's no way out.
Malcolm Clark is a TV producer.
To enquire about republishing spiked's content, a right to reply or to request a correction, please contact the managing editor, Viv Regan.