How not to grow the economy
Both the Tories' and Labour's growth plans could make the depression worse.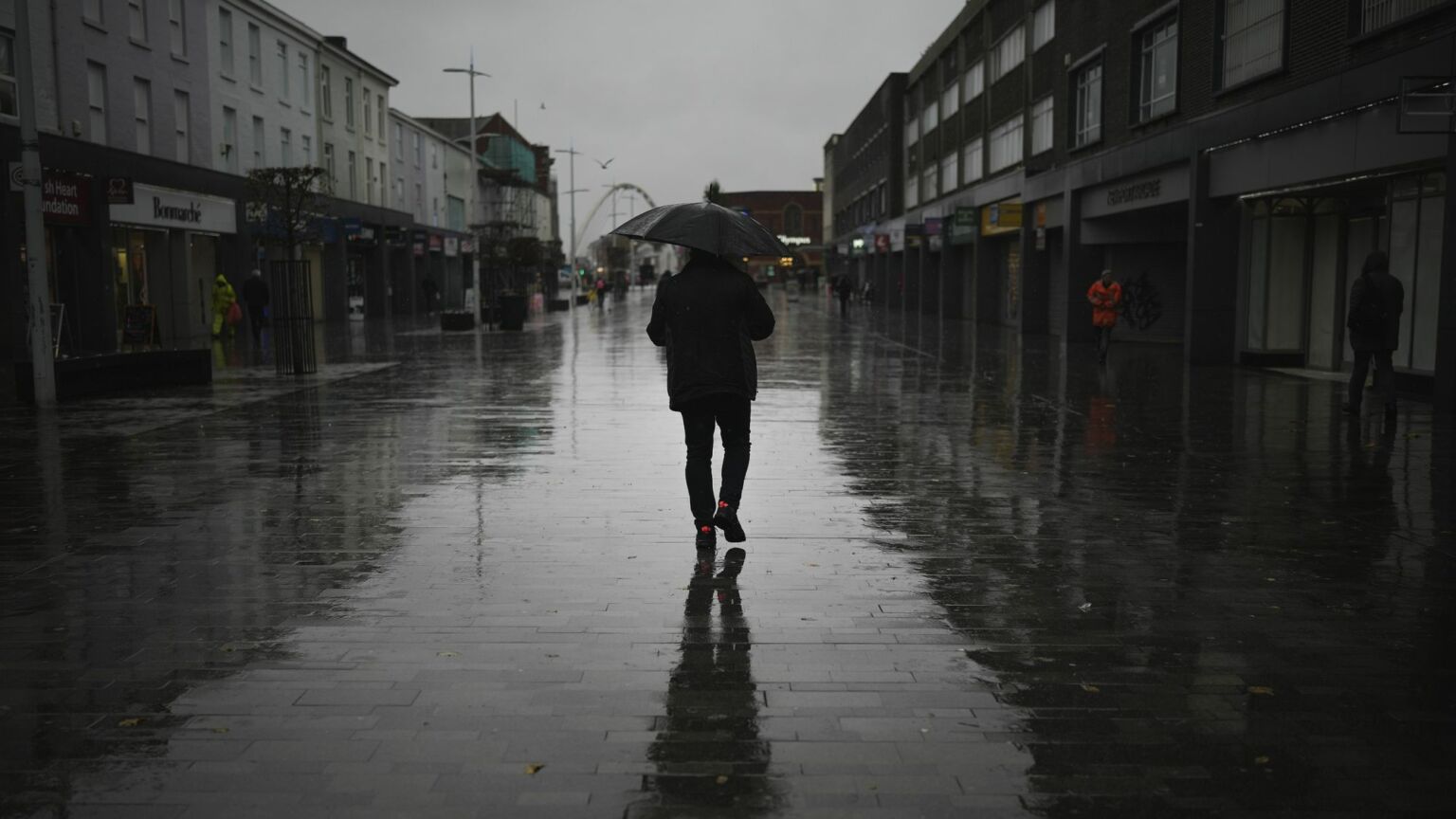 Despite the many legitimate criticisms of the short-lived Liz Truss administration, it did leave one exceptional legacy. It put the question of economic growth, and the importance of raising productivity, back on the mainstream political agenda.
Raising productivity – the amount of value added by people per working hour – is the only sound basis for improving living standards. Without it, there is no potential for durably higher incomes, cheaper goods and functional public services. Strengthening productivity offers us an escape from our high-debt, low-growth economic trap.
What is remarkable is that no government before Truss' talked much about responding to the crisis of productivity. Politicians can't have been unaware of the problem. Productivity started flatlining before the financial crisis, more than a decade and a half ago. And economists had long been pointing out that this productivity slump is unprecedented. Yet still politicians repeatedly claimed that the British economy is robust and fundamentally sound.
It took an extraordinary triple whammy – the pandemic lockdowns, the post-lockdown disruptions to global supply chains, and the war in Ukraine – to finally force the British political class, in the shape of the Truss administration, to acknowledge the dire state of the economy. It put the need for growth back on the agenda.
Hence, over recent months, Conservative and Labour front benches have been talking about the importance of growing the economy. In January, prime minister Rishi Sunak announced five key pledges to address people's 'priorities'. The following month, Labour leader Keir Starmer countered with his 'five missions for a better Britain'. A commitment to economic growth was at the centre of both parties' five-point plans.
Sunak has pledged to 'grow the economy, creating better-paid jobs and opportunity right across the country'. Starmer, in turn, has promised that a Labour government would come up with a 'new model' for economic growth.
Unfortunately, both packages are short on detail about how to achieve any of their objectives. Sunak's promises have been criticised as vague and hard to judge. His pledge to halve inflation is particularly unambitious – given most people expect it to drop anyway. Meanwhile, Labour's former shadow chancellor, Ed Balls, has criticised Starmer's 'missions' as too vague to make an impact on the electorate.
But there is a deeper problem with Labour's and the Tories' approach to the productivity slump. While both parties have bought into the new economic consensus – that is, the belief that low business investment is at the root of lacklustre growth – they also share the belief that businesses need more state financial support. In today's circumstances, though, this would act to entrench the low-growth quagmire.
In Sunak's 2022 'Mais Lecture' as chancellor last February, he emphasised that inadequate levels of corporate investment were a 'longstanding cause of our productivity weakness'. He pointed out that 'capital investment by UK businesses averages just 10 per cent of GDP, considerably lower than the current OECD average of 14 per cent'. Similarly, Starmer's 'growth mission' attributes Britain's poor economic performance to 'chronically low investment'. Starmer has also highlighted that the 'UK invests a lower percentage of GDP than France, Germany and the US'.
Both parties also essentially agree on how to boost business investment. While some specific proposals differ, both Labour and the Conservatives think the government should take an active role – that it should incentivise business investment with state support, tax breaks and additional sources of finance.
Before Sunak became prime minister and started talking of balancing the books, he initially emphasised a reformed business-tax strategy. He said that he wanted to 'cut taxes on business investment'. He wanted the government to play its part in reviving productivity growth. And so he pledged to improve 'access to finance through tax reliefs for investing in start-ups', 'unlock pensions and insurance-industry capital', and reform 'listings rules to make it easier for companies to raise public funding'. The last of these suggestions will probably be accelerated after British microchip designer ARM, tech group WANdisco and several other companies recently indicated a preference for listing on the New York Stock Exchange rather than London's.
Starmer also proposes a package of incentives for business investment. Deploying a 'modern industrial strategy', he wants Britain to catch up with other advanced peers 'across Europe, Australia, Asia and the United States', which are already pursuing 'active industrial and regional policies'. He highlighted providing 'catalytic public investment' to encourage 'private-sector investment'. And, almost identically to Sunak, Starmer has proposed 'unlocking institutional investment so that more patient capital is available to new and growing businesses'. His shadow chancellor, Rachel Reeves, has since mimicked the Tories in announcing a review of business tax to spur business investment.
So, both Labour and the Tories acknowledge that businesses are investing too little, and they believe that additional state help is the way forward. Unsurprisingly, existing businesses are happy to join this crusade. And so company leaders and business groups are lobbying for the government to copy the Biden administration and the European Union, which have both announced huge industrial subsidies and extensions to state aid.
But there is a big problem here: state financial aid to business is self-defeating. It hinders the innovation it is meant to promote. State handouts encourage corporate dependency and reduce the pressure on businesses to become more productive and commercially competitive. They often blunt the incentive for producers to experiment with and develop even better technologies. Businesses often end up concentrating on meeting various government criteria and conditions, rather than focussing on what might be best commercially.
The US CHIPS and Science Act, passed with bipartisan Congressional support last year, illustrates the sort of corporate constraints that can accompany state aid. This legislation directs over $39 billion in subsidies and $24 billion in tax credits towards domestic semiconductor manufacturing. But this support comes with strings attached. These include a 10-year ban on joint research with or investment in any Chinese semiconductor operation, and in any other 'foreign entity of concern'. There is also a prohibition on using any of the money for dividends or share buybacks. Some companies must return excess profits to the US government. And there is a stipulation to provide 'affordable, accessible, reliable and high-quality childcare'.
Not all state-investment measures come with such onerous conditions. But state subsidies are never a free lunch. They are usually prescriptive and they often intrude on normal commercial practices. Whatever their intentions, state incentives often distort business-investment activities.
The contemporary problem for growth has not been too little but too much state support. Sustaining the business status quo with an abundance of subsidies doesn't just distort corporate focus and decision-making. It also helps sustain a zombie economy, by keeping inefficient and even unprofitable businesses afloat.
Zombie firms are those that, without extra support, such as cheap and easy debt facilities or state financial relief, would normally close down due to poor performance. Since the 1980s, this zombification trend has congested the wider economy. It blocks the creative-destructive process by which economies have moved ahead in the past, with lower-productivity, less-efficient businesses giving way to expanding, higher-productivity businesses.
Today, business investment is being held back by a surfeit of the old. Peter Drucker, one of the most influential 20th-century business thinkers, argued that the first step in innovation is to get rid of yesterday. 'If leaders are unable to slough off yesterday', he said, 'they simply will not be able to create tomorrow'. Drucker argued that dying products, services or processes – even if still profitable today – shackle people and resources. This applies not just for individual businesses, but also for the economy in general. An excess of low-productivity firms gums up the whole economy, disincentivising even the healthiest businesses from investing in new advancements.
Instead of letting the old go, a profusion of state policies now sustains what already exists. These policies – monetary, fiscal and regulatory – tend to favour larger, incumbent companies at the expense of smaller, younger firms. And it is those smaller, younger firms that would usually be the ones innovating and driving productivity higher.
The industrial revolutions of the 18th and 19th centuries were powered by businesses investing in new technologies and new methods of production. This was never a laissez-faire 'free' market, since the state was providing an expanding range of public goods. But there were no government industrial strategies or packages of subsidies driving business investment.
In contrast, since the 1970s, state support for business has steadily risen. At the same time, productivity growth has been slowing. Businesses have not been investing, despite the plethora of business incentives in recent years. A rational conclusion to draw from this is that government financial aid fails to reverse economic decline. By sustaining the status quo, state aid has itself become an obstacle to economic renewal. On their current 'plans for growth', both Labour and the Conservatives threaten to make the depression worse.
There are plenty of other barriers to business investment that governments should be breaking down, such as insufficient levels of basic research and science, planning controls that limit construction, and a fixation on decarbonisation that narrows the horizon of economic development.
But perhaps the biggest obstacle is the state's mummification of an already moribund economy. Fortunately, this is probably the easiest one for a government to overcome. It can turn off the corporate-welfare mechanisms that preserve and stultify. And it can start doing so right now.
Phil Mullan's Beyond Confrontation: Globalists, Nationalists and Their Discontents is published by Emerald Publishing. Order it from Emerald or Amazon (UK).
To enquire about republishing spiked's content, a right to reply or to request a correction, please contact the managing editor, Viv Regan.