Joe Biden's dangerous trans zealotry
The US president claims it is 'sinful' to oppose the medical transitioning of children. Has he gone mad?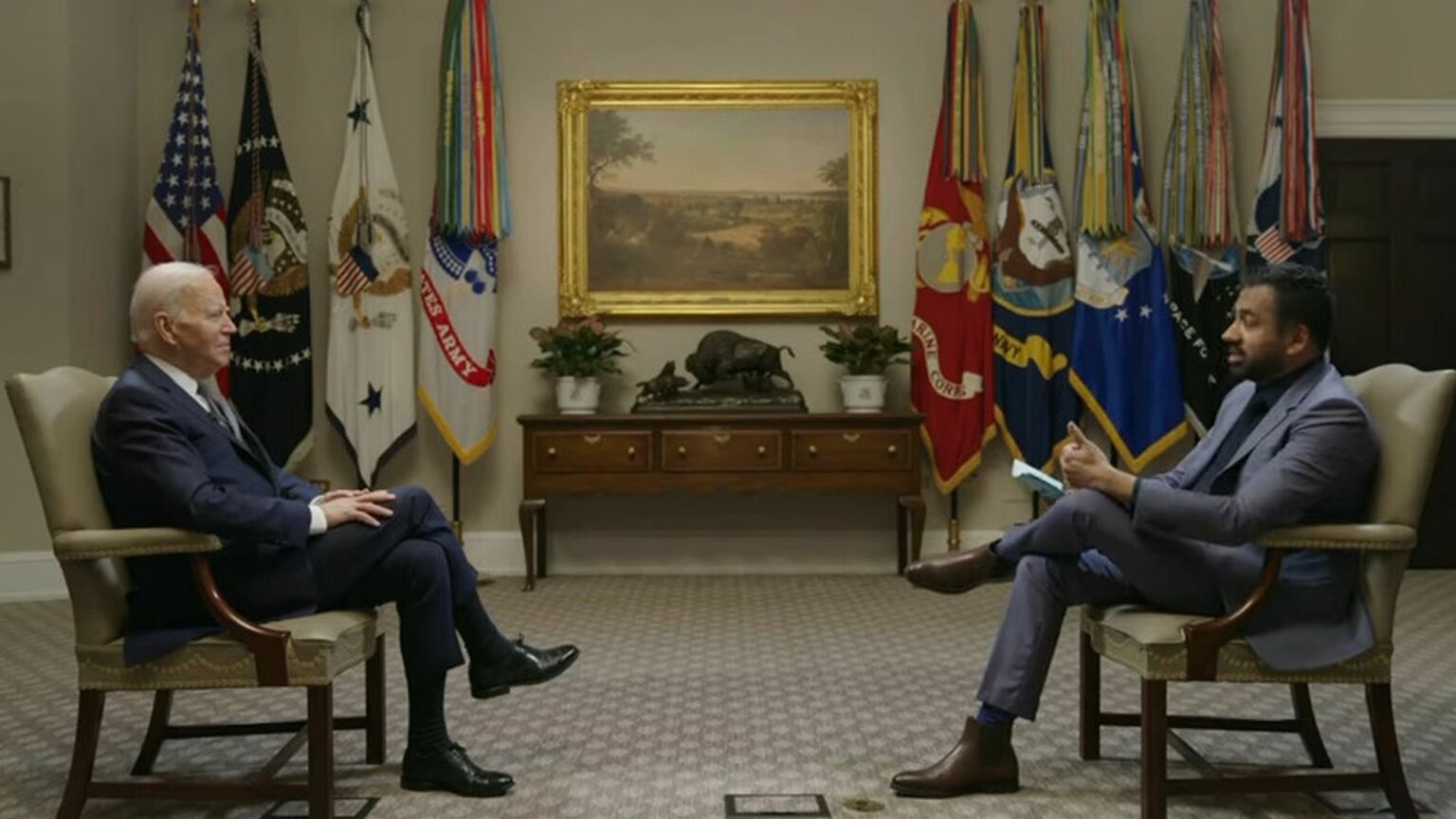 It is hard to tell which was the biggest lie Joe Biden told in his sit-down with Kal Penn, former stoner-movie actor turned Democratic Party lackey, earlier this week on the Daily Show.
Was it Biden's claim that preventing minors from having genital-removing surgeries and harmful cross-sex hormones is 'sinful'? Was it that he characterised as 'cruel' attempts to prevent these irreversible, dangerous and downright grotesque surgeries being conducted on children?
Or was it the outlandish story he told, about the time he was a senior in high school and he saw two 'well-dressed' men openly kissing on the street in Delaware? Or was it perhaps his claim that Biden Sr, a man who was born in 1915, had explained to Biden's confused younger self that the two fellas snogging on the street just loved each other, and that it was no big deal? He even claimed that this scene led him to an 'epiphany' on same-sex marriage and that he has supported it ever since.
Far be it from me to question the veracity of anything that comes out of Amtrack Joe's mouth, but there is literally no way this ever happened. For context, a personal anecdote: a gay family friend kissed his lover on the street in the 1980s, in Greenwich Village, Manhattan, the birthplace of the American gay-rights movement. He was then beaten up so badly by a homophobic stranger that he carried a handgun for years afterwards. Two businessmen kissing, in the early 1960s, in Delaware? And Biden Sr was totally cool with it? No. I call BS. Not even the Washington Post's supine 'fact-checkers' believe him, giving the verdict that there are 'reasons to doubt' Biden's story.
Perhaps the cognitively declining Biden genuinely thinks that this happened (it's a story he has used before). After all, he's not a man at the top of his game, intellectually speaking. At one point, he told Penn: 'My focus is just staying focussed.'
But Biden's use of the words 'sinful' and 'cruel' to describe those who are opposed to giving children chemical and surgical sex changes cannot be brushed away with such generosity.
I'm hardly the first person to point out that the United States is, right now, dangerously politically divided between conservatives and progressives. So what does Biden, in his wisdom, decide to do? Disrespect and offend every American who has any kind of conservative religious belief. The word 'sinful' is a religious word. Sex changes for kids are not approved of by most religions. If I were a practising Catholic, an Orthodox Jew or a devout Muslim, I would be deeply offended at his choice of words. How can this man, with a straight face, claim to be healing the divisions of the Trump era? How is this not playing with fire?
Besides this tone-deaf gaffe, Biden's gabfest with Penn was also a nauseating exercise in smug, liberal-luvvie chit-chat.
Penn wistfully recalls attending a 'very diverse Diwali party' hosted by Biden, shortly after Trump's 2016 victory. Penn says: 'I remember that you described that night as, "an Irish-Catholic vice-president and a Muslim Gold Star family celebrating a reception observing a Hindu holiday… I remember feeling so positive, [there was] so much hope there."'
That sounds nice, Kal. Now ask Biden about the folks in East Palestine, Ohio, where the fallout from a chemical spill last month was summarily ignored by the Democratic establishment. I wonder how they will celebrate Diwali there this year?
To everyone who isn't in the bubble of liberal privilege, it's beyond obvious that those still inside it are hooked, addicted and obsessed with a superficial idea of cocktail-party diversity. They dream of a world where everyone works in the arts, or for a think-tank or at a social-justice tech start-up. A world where nobody gets their hands dirty and nobody reads into the detail of the increasingly insane policies they feel ideologically and socially compelled to push. These people live in cloud cuckoo land and they are becoming more and more strident in their demands that we come and live there with them.
Biden even had the gall to tell Penn that he ran for president because he wanted to 'restore the soul of this country'. Call me old-fashioned, Mr President, but I don't think that giving children sex-change operations is the way to do that.
On the plus side, Kal did tell the president that he and his boyfriend Josh are going to marry and that Cardi B is going to officiate at their wedding. So maybe there is hope for America, after all!
Jenny Holland is a former newspaper reporter and speechwriter. Visit her Substack here.
Picture by: YouTube / CTV Comedy Channel.
To enquire about republishing spiked's content, a right to reply or to request a correction, please contact the managing editor, Viv Regan.