The Dominic Raab 'bullying' saga is a democratic outrage
Civil servants have weaponised their hurt feelings to oust an elected politician.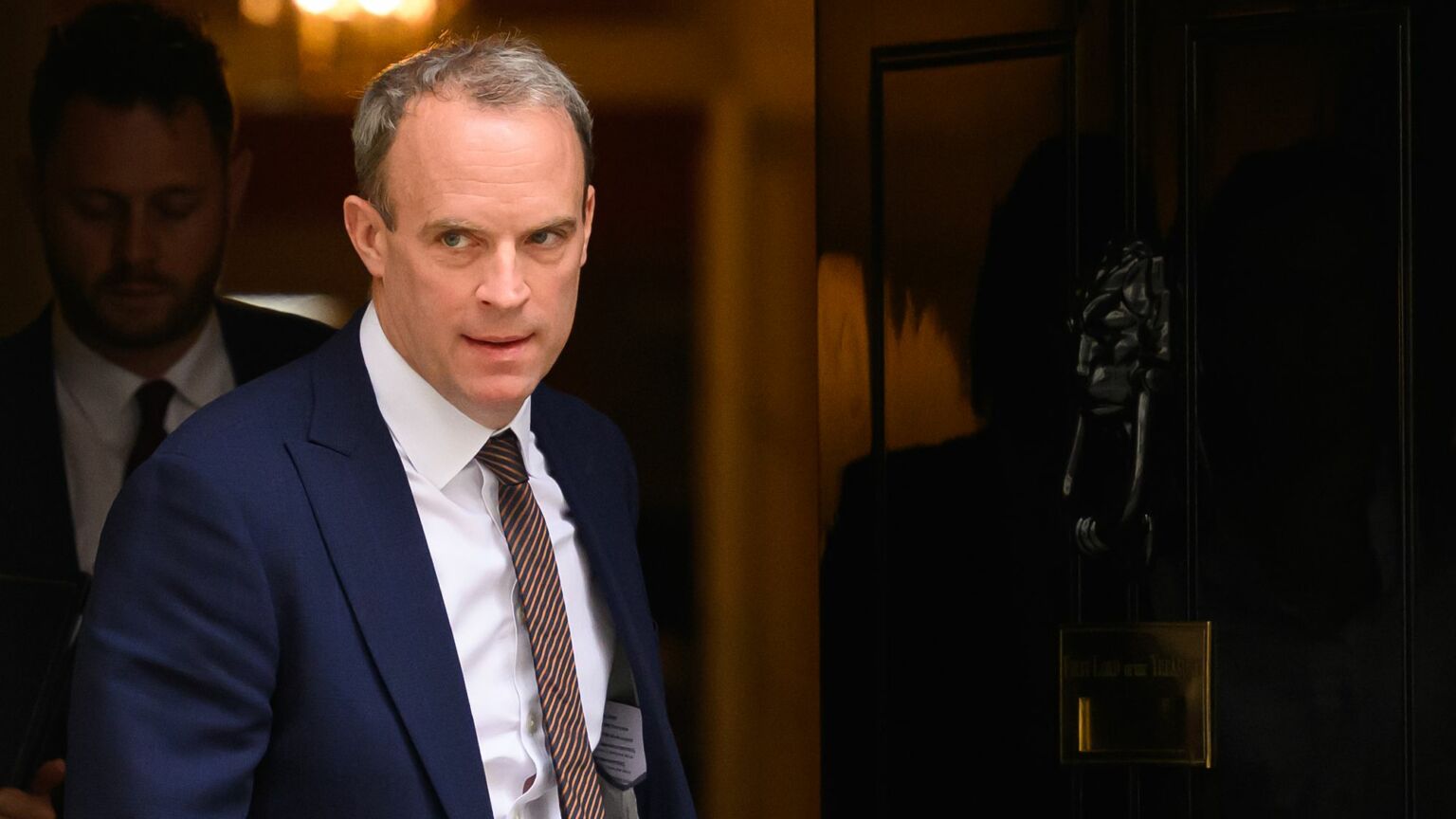 Dominic Raab's resignation as deputy prime minister and justice secretary has hardly come as a surprise.
After a five-month-long investigation into allegations that Raab had bullied civil servants, Adam Tolley KC finally delivered his official report to the prime minister yesterday. A 'Whitehall source' had already been leaking that the report was 'stinging' in its assessment of Raab's conduct. The only question for much of the past 24 hours was whether Raab would resign or be sacked. Many social-media commentators are now cock-a-hoop, gloating that 'the bully' has gone.
The Raab affair shows that Britain has a serious problem with bullying. But it is not the one the political class thinks it is. Bullying is not endemic in politics or elsewhere. And going to work is not trauma-inducing. The problem is that bullying has become an ill-defined and entirely subjective term. More than that, it has become a way for fully grown adults to weaponise their hurt feelings in the workplace.
Bullying used to mean something else entirely. It referred to serious, systematic acts of physical aggression and intimidation by one child against another. The definition then expanded to encompass name-calling and verbal insults, before expanding again to include minor slights – such as a lack of eye-contact or leaving people out of activities. Over time, this ever-expanding definition has migrated from schools to the workplace.
As Raab has now discovered, all it takes for someone to be labelled a bully today is for someone else to declare themselves a victim of your bullying. Evidence is irrelevant. Hurt feelings speak their own truth. The allegation, the accusation, is enough. That's why, from the moment Raab was alleged to be a bully, his fate was sealed.
In a sense, Tolley's inquiry and report into Raab's conduct is superfluous. It doesn't add anything to the case for or against Raab. It accepts that Raab had sometimes upset some civil servants, but that he hadn't done so intentionally. Tolley merely claims that Raab 'ought reasonably to have been… aware' of the effect his sometimes harsh criticism or exacting standards might have had on Whitehall staff.
That Raab does not think he has done anything wrong is clear from his resignation letter. He called for the inquiry into his conduct himself and had promised to resign if any of the complaints were upheld. These are hardly the actions of a guilty man. Moreover, as Raab notes, the report 'dismissed all but two of the claims levelled against' him. And it confirmed that he 'had not once, in four and a half years, sworn or shouted at anyone, let alone thrown anything or otherwise physically intimidated anyone, nor intentionally sought to belittle anyone'.
It would be easy to write off the bullying claims as just the product of a spat between a government minister and his civil servants. But, as Raab spells out, there's a more fundamental question at stake here: who runs Britain? Elected ministers or unelected bureaucrats?
By weaponising allegations of bullying and effectively bringing down a minister, civil servants have well and truly gained the upper hand over elected representatives. This is dangerous for democracy.
Predictably, Labour has been celebrating Raab's resignation as another blow to the Tory government. Labour leader Keir Starmer has claimed that the fact Raab has resigned rather than been sacked reveals 'the continual weakness of the prime minister'. Starmer is partly right. Raab's resignation has indeed exposed Rishi Sunak's weakness, but not because Sunak should have sacked him. Sunak is weak because he should have backed him. He should have stood by his deputy prime minister and refused to accept Raab's resignation. This would have reminded the civil service that power ought to lie with representatives of the people.
All those politicians and pundits lining up to condemn Sunak for not sacking Raab sooner have no understanding of due process. They seem to think that an accusation is always an indication of guilt, and that the accused should therefore be sacked there and then.
Those on the liberal-left are too blinkered to see the consequences of what it is they are demanding. Expecting politicians to step down whenever civil servants complain about them hands unprecedented power over to those unelected officials. This flies in the face of democracy. As Raab has put it: '[This inquiry will] encourage spurious complaints against ministers, and have a chilling effect on those driving change on behalf of your government – and ultimately the British people.'
Labour and many in the media are now calling for Raab to resign as a member of parliament and for a by-election to be held in his Esher and Walton constituency. This further shows that they're not really interested in the ethics of Raab's behaviour, let alone the anti-democratic precedent his case sets. They're only interested in removing power from Conservative government ministers at any cost.
There are plenty of good reasons to be critical of Raab. As foreign secretary, he completely mishandled Britain's withdrawal from Afghanistan. He decided to take a holiday after US troops began leaving Afghanistan in early August, and then delayed his return home as Kabul fell, hampering the UK's evacuation plans.
But for Raab's political career to end over allegations of bullying says far more about the pathetic state of our political class than it does about his competence as a minister. For the sake of democracy, our elected representatives need to start standing up for themselves.
Joanna Williams is a spiked columnist and author of How Woke Won, which you can order here.
To enquire about republishing spiked's content, a right to reply or to request a correction, please contact the managing editor, Viv Regan.