George Osborne's miserable plan for prohibition
The former chancellor's call for an outright ban on cigarettes is illiberal and absurd.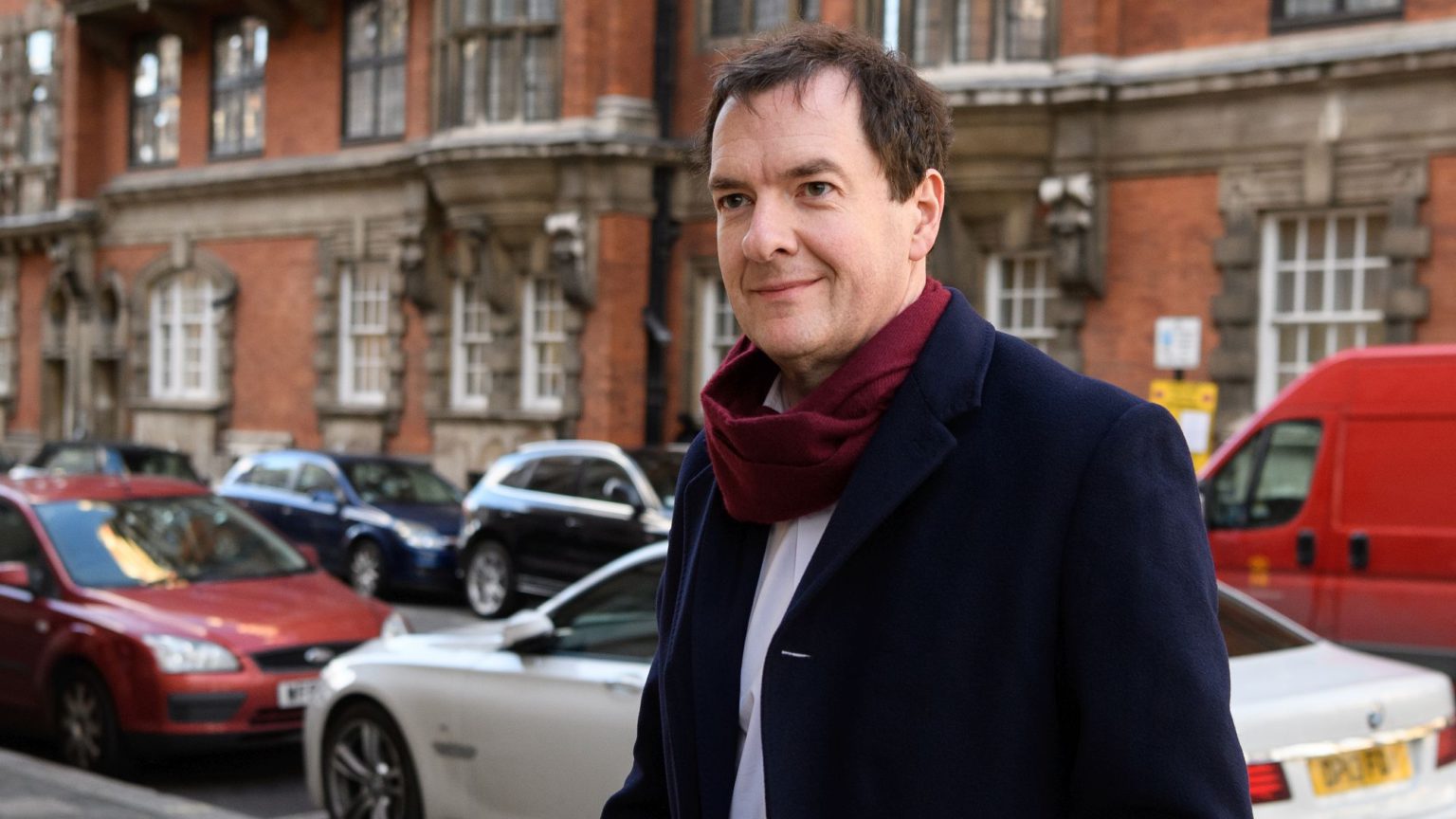 It's all been downhill for George Osborne since he giggled while being booed at the London Paralympics in 2012. Like him or loathe him, the then UK chancellor didn't care what you thought of him. His mission was to balance the books and he was damn well going to do it.
He didn't come close to doing it, of course. By the time of his last budget in 2016, all his economic targets had been missed and austerity Britain was still borrowing almost £80 billion a year. As a diversionary tactic, he announced that he would be taxing sugary drinks. That took everybody's mind off things for a day or two – a rare tax-raising rabbit from the hat.
These days, George Osborne very much cares what you think of him. Now a fervent Remainer and somehow the chairman of the British Museum, he regularly appears alongside Ed Balls, his fellow centrist dad, on The Andrew Neil Show, where they chat amiably about the good old days when sensible people like themselves were in charge. He has retrospectively turned the cynical political manoeuvre of the sugar tax into the defining moment of his career as a 'progressive' politician.
Eager to stress that he has been a health zealot all along, Osborne yesterday called for smoking to be banned outright and for taxes to be levied on orange juice. These are potentially unpopular policies in the country at large, but not at the Times Health Commission, to whom he addressed his remarks. Its members include Henry Dimbleby, who wants to tax all sugar and salt, Lord Darzi, who wants to ban smoking outdoors, and Matthew Taylor of the NHS Confederation, who wants the government to reintroduce nationwide mask mandates every time someone sneezes.
The twist is that Osborne is himself a smoker, or at least he was when the Daily Mail photographed him in 2021 'drawing heavily on a cigarette' and looking 'pensive'. Is he one of those smokers who requires the whole world to change because he lacks the willpower to stop? Or has he become one of those grumpy ex-smokers, living a life of irritable nicotine deprivation?
Whatever the reason, his argument for prohibition is terrible. 'Of course you're going to have lots of problems with illegal smoking', he admitted, 'but you have lots of problems with other illegal activities. It doesn't mean you shouldn't try to ban them and police them and make [them] less readily available.' But the problem is not so much that people will smoke illegally – it is the illegal imports, illegal sales, violence and corruption that will emerge to facilitate this smoking.
You only have to look at Australia to get a taste of what would happen. Cigarettes are still legal there, but they are prohibitively expensive, costing nearly $50 (£26) for a pack of 25. The Australian government introduced plain packaging for cigarettes in 2012 and this week, it doubled down on its ban on e-cigarettes. In 2021, the Australian Border Force seized 879 tons of tobacco and 713million cigarettes. This represents a tiny share of the amount of tobacco that is illegally grown and imported each year. Last month alone, police in New South Wales busted a 20 acre farm growing 16 tonnes of tobacco and, in a single raid in Sydney, the Australian Border Force seized 28million cigarettes and 10,000 kilograms of tobacco worth $49million (£26 million). Australian television networks broadcast stories that are reminiscent of 1920s Chicago.
Meanwhile, unregulated e-cigarettes are widely available on the black market and more 11- to 17-year-olds have tried vaping in Australia than they have in Britain. The Australian government has just announced that it will spend another $234million trying to enforce its utterly pointless and counterproductive ban on e-cigarettes.
This is a policy choice – an unforced error. All this cost and criminality could be avoided if the government simply decided to leave people alone. But the option of allowing individuals to live by their own lights never seems to occur to philosopher kings like George Osborne. He is obviously right that the police have problems enforcing a lot of laws. That is no reason to create yet more laws that will not command the respect of the public and which are bound to be violated. Will we ever learn?
Christopher Snowdon is director of lifestyle economics at the Institute of Economic Affairs. He is also the co-host of Last Orders, spiked's nanny-state podcast.
To enquire about republishing spiked's content, a right to reply or to request a correction, please contact the managing editor, Viv Regan.