Ukraine is raining on Putin's parade
Russia's lacklustre Victory Day celebrations revealed a growing unease with the state of the war.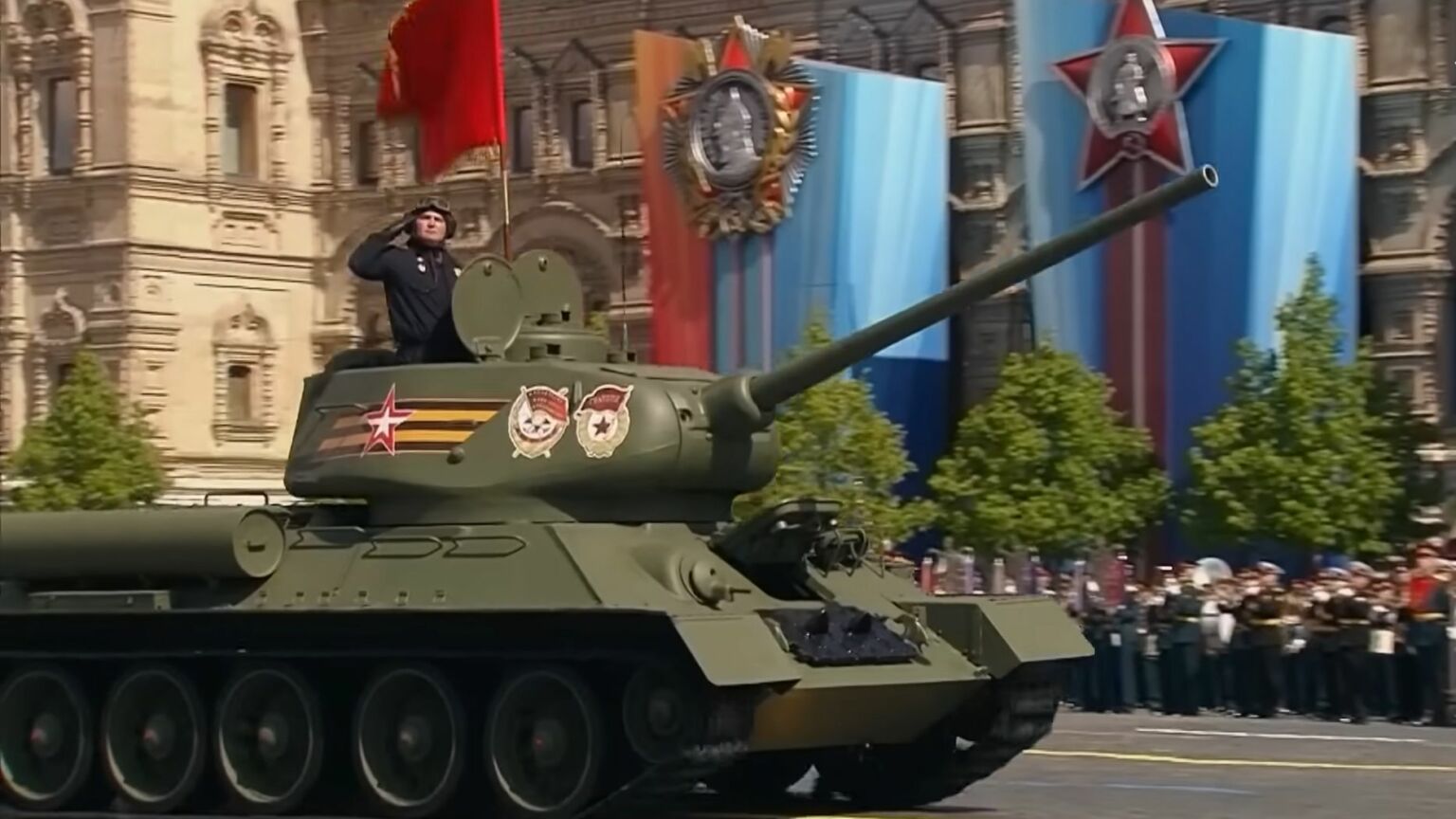 Russia's Victory Day parade was a muted affair this year. The annual parade is supposed to be an occasion to mark the sacrifices of the Soviet troops who helped to defeat Nazi Germany. Yet, over the years, the event has been steadily transformed into a celebration of modern Russian militarism. Long before the invasion of Ukraine last year, Victory Day had become an important propaganda exercise for Vladimir Putin's government. That is why yesterday's lacklustre parade is so significant.
Perhaps the parade's most glaringly obvious shortcoming was the lack of military hardware on display. Russia has lost vast amounts of equipment during the Ukraine invasion, and much of what is left is engaged on the frontlines. So there were simply not enough tanks in Moscow to put on a good show. Already people have compared the sizeable number of modern tanks on display in previous years with the single, lonely Soviet-era T-34 trundling through the streets of Moscow this year.
It wasn't just the tanks that were missing. As internet sleuths have pointed out, Russia's elite airborne forces did not take part at all in the march. The airshow that usually takes place was similarly absent, with no explanation. The number of missile systems was greatly reduced compared with previous years, too. Vehicle numbers had to be made up with some help from Chechen forces.
Of course, Russia is under no obligation to hold a big parade every year. But this is a government that has put a great deal of stock in the celebration of its military in recent years, especially as it has faced economic challenges.
Putin, for his part, delivered a short speech yesterday. It contained the familiar roll-call of Russian grievances – such as his claim that the West is waging a full-scale war on a just and peaceful Russia, in the hope of attacking Russian history and traditional values. More notable, however, was his borderline disinterest in the day's festivities. At times, his speech was emotionless and even dour.
None of this is to say that Putin is on the verge of abandoning the war in Ukraine. On the same day as the parade, Russia launched another significant barrage of rocket attacks on Ukrainian cities. Russian forces may have missed their alleged 9 May deadline to capture Bakhmut, in eastern Ukraine, but the fighting there is nevertheless intensifying.
The lacklustre parade does, however, reflect the broader difficulties Russia is facing in motivating and prosecuting its war. Russians had been promised a swift victory, and the 'return the Russian lands', which they would celebrate from their sofas. Instead, the 'special military operation' has become a grinding, exhausting war, which is demanding ever-greater sacrifices from Russian society, including the mobilisation of increasing numbers of people. The consequences of this will be far-reaching and perhaps out of Putin's control.
Yesterday, almost 500 miles away, European Commission president Ursula von der Leyen joined Ukrainian president Volodymyr Zelensky in Kyiv to give a speech of her own. If the ideals of nationhood, family and history rang hollow in Putin's speech, so did the 'European values' on the lips of von der Leyen. She spoke of 'solidarity lanes', of 'grain transit' going 'seamlessly' and of Ukraine's 'path towards [EU] membership'. Stirring stuff this was not. Clearly, European leaders also face challenges in motivating and mobilising their society as the war rumbles on.
In the middle of all this remains Ukraine, which is doing far more to give meaning to the values of solidarity and nationhood than either the Eurocrats or the Russians who like to claim those values as their own. In Zelensky's own address, shortly before Putin's parade, he promised that 'very soon there will be two Victory Days in Ukraine. And someone will not have even one left.' Now that is a future worth fighting for.
Jacob Reynolds is partnerships manager at the Academy of Ideas.
Picture by: YouTube / Telegraph.
To enquire about republishing spiked's content, a right to reply or to request a correction, please contact the managing editor, Viv Regan.