Has Putin's war arrived in Russia?
Assassinations, acts of sabotage and drone strikes on Russian soil could prove deeply destabilising.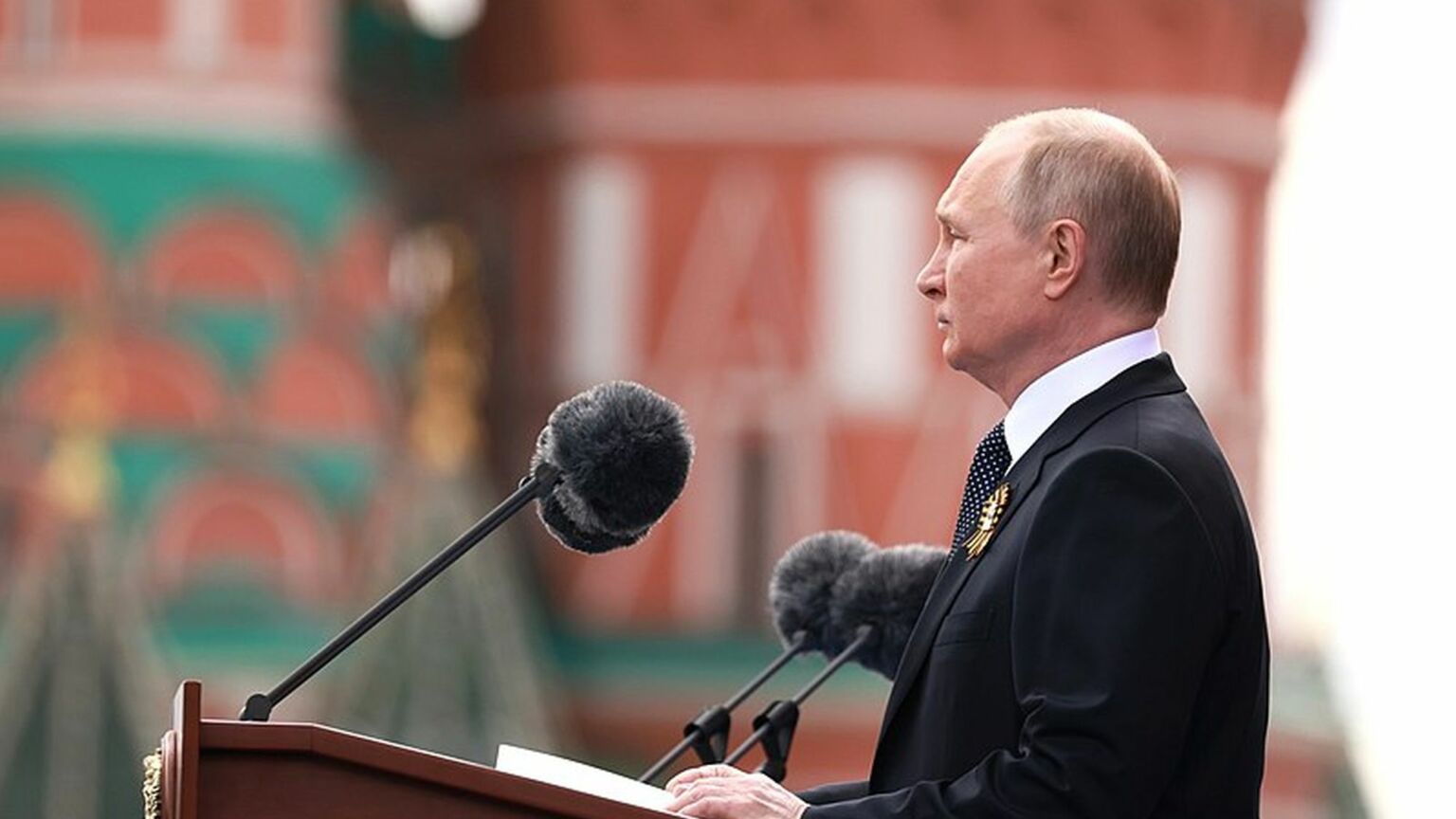 The thwarted drone strike on the Kremlin may have been the incident that grabbed all the international headlines. But this was just one of a spate of apparent attacks in Russia in recent weeks. The war in Ukraine, it seems, is increasingly making itself felt in Russia itself.
On 6 May, an author and blogger, who goes by the name Zakhar Prilepin, became the latest Russian nationalist to be targeted by assassins. As he told it from his hospital bed, he was driving outside Nizhny Novgorod, a city more than 400km east of Moscow, when his car was struck by a bomb. His friend, sitting in the passenger seat, was killed. Prilepin survived, albeit with serious injuries. Social media showed pictures of the crater which had apparently been left by the explosion. Prilepin said a second bomb had been planned as well, but the presumed assassin had taken flight.
Over the past two weeks, small-scale shelling and acts of sabotage have also been reported, mostly in parts of Russia close to the Ukraine border. Four people were killed in the shelling of a village, Suzemka, just a few kilometres inside Russia. Then, two goods trains were derailed on successive days in the west Russian region of Bryansk. The railway authorities blamed these incidents on 'illegal interference in the work of railway transport'. The regional governor blamed them explicitly on explosive devices. The same week, there were two drone attacks on an oil refinery in the Krasnodar region of southern Russia, and reports of power lines being destroyed south of St Petersburg, again by explosive devices.
It is not clear how more frequent these incidents have become in recent weeks, as many may go unreported. This may be because they are too small or remote to be judged newsworthy, or because local or national authorities prefer to keep them under wraps. However, the impression, from both official responses and from social media, suggests that these kinds of incidents are indeed becoming more frequent. And impressions can matter as much as reality when it comes to influencing morale.
Taking these incidents together, there seem to be three broad types of attack. The first strand concerns high-profile targets such as the Kremlin, or the Kerch Bridge linking mainland Russia to Crimea. The Kerch Bridge was attacked in October, apparently with a bomb hidden in a lorry, although some reports have suggested underwater sabotage. The destruction of the Nord Stream gas pipelines under the Baltic Sea could also fall into this category, as both were majority-owned by the Russian government.
The second concerns smaller-scale sabotage of Russian infrastructure, including railways, oil refineries, power stations and ammunition dumps. These acts are seemingly becoming almost routine in certain border areas.
The third involves assassination attempts on cultural figures, mainly those who propagate a brand of Russian nationalism that claims Ukraine as an integral part of Russia. Prilepin survived, but others were not so fortunate. Another nationalist blogger, who went by the name of Vladlen Tatarsky, was killed last month by a bomb contained in a statuette that had been presented to him in a St Petersburg café. Twenty-four others were injured in the blast. In August, Daria Dugina, was killed by a car bomb in Moscow in an attack thought to have targeted her father, Alexander Dugin, a well-known nationalist ideologue.
Just as it is hard to gauge whether attacks on Russian soil are becoming more frequent, so it is equally hard to establish who might lie behind them, and how organised they might be. For obvious reasons, Russian officials tend to blame anything untoward on Ukraine, maybe with Western assistance – as they did with the Kremlin drone strike and the Kerch Bridge attack. Ukraine and its Western allies, for their part, generally deny any responsibility. Where possible, they blame Russia. For instance, they have claimed that the drones over the Kremlin and the sabotage of the Nord Stream pipeline were 'false flag' attacks, orchestrated to justify a ramping up of Russian attacks on Ukraine.
Nor can it be ruled out that some attacks – on Russian infrastructure, for instance – could have been launched by Russians who oppose the war. The case of Darya Trepova, the woman arrested for delivering the bomb to Tatarsky, could be a case in point. She has been described as an activist for the imprisoned Russian opposition figure, Alexei Navalny, and a supporter of Ukraine. Then again, we shouldn't forget that the Russian authorities have an interest in linking these two causes inimical to the Kremlin.
Similarly, a one-time soldier, fighting for pro-Russian forces in eastern Ukraine, is reported to have confessed to blowing up Prilepin's car, as well as to arms smuggling. He apparently said that he was recruited by Ukraine's intelligence services in 2018. Again, the veracity of this 'confession' could be questionable.
The killing of Dugina, on the other hand, has been laid at Ukraine's door by no less an authority than US intelligence, although it took two months to reach this conclusion. US sources have also indicated that Ukrainians had a part in the Nord Stream affair, although this could be seen as an attempt to deflect blame from Washington.
There is evidence, too – including from the recently leaked Pentagon documents – that the United States has tried to curb the further reaches of Ukrainian ambitions. US officials are said to have discouraged any attack on the Kerch Bridge for fear of how Russia would respond. They are also said to have expressly forbidden a planned drone attack on the Kremlin on the anniversary of the Russian invasion. Last week's drone incident might even be seen as an act of defiance on the part of Ukraine, or a sub-group of Ukrainians.
There are two things we might mean when we're talking about 'Ukraine'. There is President Volodymyr Zelensky and the Kyiv government, which has denied any responsibility for the Kremlin drones and any intention to target Putin. How far it would discourage such a mission, or turn a blind eye, however, might be open to question. Deniability is key here.
Then there are Ukraine's military and civilian intelligence services, which have long had a reputation for being the very opposite of cautious. And there are also relatively autonomous groups of Ukrainian partisans, including some with origins on the far right. Russia has its own reasons for exaggerating their influence, but this does not mean they do not exist, or have no offensive capability. After all, they have been involved in fighting in the east of Ukraine since 2014.
At the start of the war, even the US and the UK, the more adventurous of Ukraine's Western allies, were concerned to keep hostilities contained inside Ukraine's borders. Attacks into Russia were discouraged, even as Ukraine argued that military bases and ammunition stocks could be legitimate targets. There were also grey areas for the West, if not for Ukraine, such as Crimea and those parts of eastern Ukraine occupied by Russia since 2014.
As the war has gone on, Ukraine appears to have become bolder in targeting both those grey areas, including Russia's naval base at Sevastopol in Crimea, as well as infrastructure across the border in Russia (although mostly not far into Russia). Kyiv said it authorised an attack on an oil refinery near Sevastopol last month, for instance.
But many operations behind enemy lines, which target both infrastructure and individuals seen as enemy collaborators, seem to be conducted by autonomous partisan groups of the sort that multiplied during the Second World War. There are indications that their operations are now coordinated, to a certain extent, by a body called the National Resistance Centre, which is under the aegis of Ukraine's Special Forces. It has its own training manuals, YouTube channel and social-media pages.
As partisan operations have spread into areas occupied by Russia more recently, and even into cross-border areas, allied misgivings have become more muted. It has also become known that US and UK special forces are on the ground in Ukraine, although what part, if any, they play in sabotage against Russia and Russian interests may never be known.
As of now, Ukraine is engaged in a conventional defensive war against Russia, as well as a state-of-the-art information war. Attacks inside Russia proper or on Russian interests elsewhere remain limited. They also appear uncoordinated, for the most part. So far, their capacity to disrupt has been mainly local, although some operations, such as the assassinations and the Kremlin drone, have drawn national and international attention. As such, they have the potential to be unsettling, contributing to a broader sense of insecurity in Russia. If this starts to hit morale, could it even change the outcome of the war?
Mary Dejevsky is a writer and broadcaster. She was Moscow correspondent for The Times between 1988 and 1992. She has also been a correspondent from Paris, Washington and China.
To enquire about republishing spiked's content, a right to reply or to request a correction, please contact the managing editor, Viv Regan.