Stop this unholy meddling in democratic life
Migration policy must be set by elected representatives – not kings, courts or the Archbishop of Canterbury.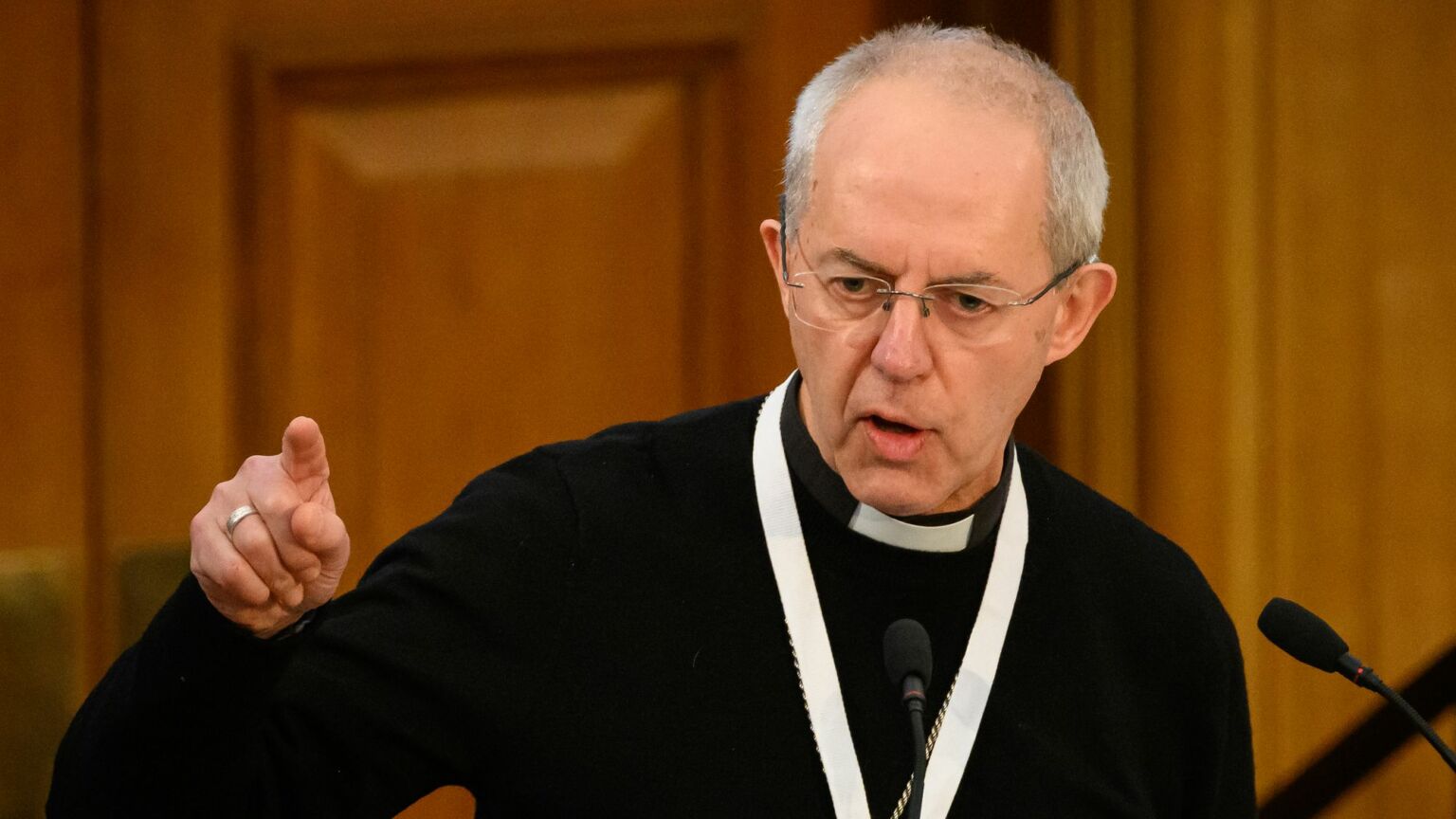 Just when you thought Britain's immigration debate couldn't get any more sanctimonious – the bishops have weighed in. Yesterday, in the House of Lords, none other than the Archbishop of Canterbury, Justin Welby, spoke out against the Tory government's Illegal Migration Bill, calling it 'isolationist', 'morally unacceptable' and 'impractical'. In this, he was backed up by the Bishops of Durham and Gloucester, who also sit in the Lords as part of the unelected chamber's quota of Church of England bishops, also known as the Lords Spiritual.
The bill – which would detain and remove those who arrive in the UK illegally, stopping them from ever claiming asylum – is now in the Lords, after it passed through the House of Commons last month. It has sparked outrage among commentators and NGOs, as well as the clergy, apparently. In the chamber, Welby said the bill would 'damage the UK's interests and reputation at home and abroad'. 'Even if this bill succeeds [in stopping illegal migration] – and I don't think it will – it won't stop conflict or climate change', he added, sounding more like a Lib Dem lord than a man of the cloth. Welby says he intends to table amendments to the bill at committee stage.
This isn't the first time the archbishop has voiced his political opinions. Last December, he hosted a Lords debate on asylum policy, slamming the government for its 'cruel' approach and 'harmful rhetoric' – taking a swipe at home secretary Suella Braverman for likening the small-boats crossings on the south coast to an 'invasion'. Last April, he called the Rwanda scheme – under which Britain will deport illegal entrants to the Central African nation – 'ungodly'. Apparently, the almighty Himself has had enough of those awful Tories. Welby hasn't limited his meddling to this particular issue, either. His previous interventions include rallying to the defence of the Northern Ireland Protocol, pledging to 'decolonise' the Church of England in the wake of Black Lives Matter, and comparing politicians who fail to act on climate change to those who 'ignored what was happening in Nazi Germany'.
Welby isn't the only unelected creature of the establishment who feels he has a God-given right to meddle in democratic politics. His fellow eco-nutter and our newly crowned monarch, King Charles III, has previously made his objections known about the Rwanda policy: in 'leaked' comments, made back when Boris Johnson was still prime minister, the then prince reportedly damned the scheme as 'appalling'. Shortly after, the European Court of Human Rights intervened at the 11th hour to block the first UK deportation flight to Rwanda – an outrageous act of external interference in our affairs, which in part inspired the new Illegal Migration Bill. All the while, human-rights lawyers have been doing their bit to bung up the Tories' migration plans in our own courts.
This has all been an infuriating reminder of just how much trouble unelected elites can cause an elected government. And it should worry anyone who believes in democracy. spiked is no fan of the Tories' cack-handed and illiberal attempts to 'stop the boats'. The Illegal Migration Bill and the Rwanda scheme smack of a government that is resorting to blunt, illiberal instruments because it has lost control of the situation at the border, riding roughshod over fairness, due process and generosity towards those (genuinely) fleeing conflict in the process. But migration law should be set and shaped by our elected representatives – not kings, courts or the Archbishop of Canterbury. Whether or not you agree with Welby is utterly irrelevant. The point is that no man or woman should meddle in legislation without first winning an election. Welby is a walking argument for why we should abolish the antiquated House of Lords for good.
The migration debate has been inflamed for so long precisely because it has been had out over the heads of the public. Before Brexit, policy was set by Brussels bureaucrats or duplicitous Westminster politicians who would happily promise one thing and do another. After Brexit, we need to properly take back control of our borders and make sure ordinary people's voices are heard. This is just as important to those of us who want to argue for a more liberal approach to migration as the opposite. Despite the standard Remoaner caricature, the British people are not inherently hostile to immigration. What they want is control and fairness and to be taken seriously – and for the dangerous, untenable situation on the south coast to stop. What they definitely do not want is another sermon from an unelected God-botherer who thinks he knows best.
Tom Slater is editor of spiked. Follow him on Twitter: @Tom_Slater_
To enquire about republishing spiked's content, a right to reply or to request a correction, please contact the managing editor, Viv Regan.