Just Stop Oil and the climate class war
Environmentalism is a bourgeois cult that wants ordinary people to put up with less. No wonder workers are fighting back.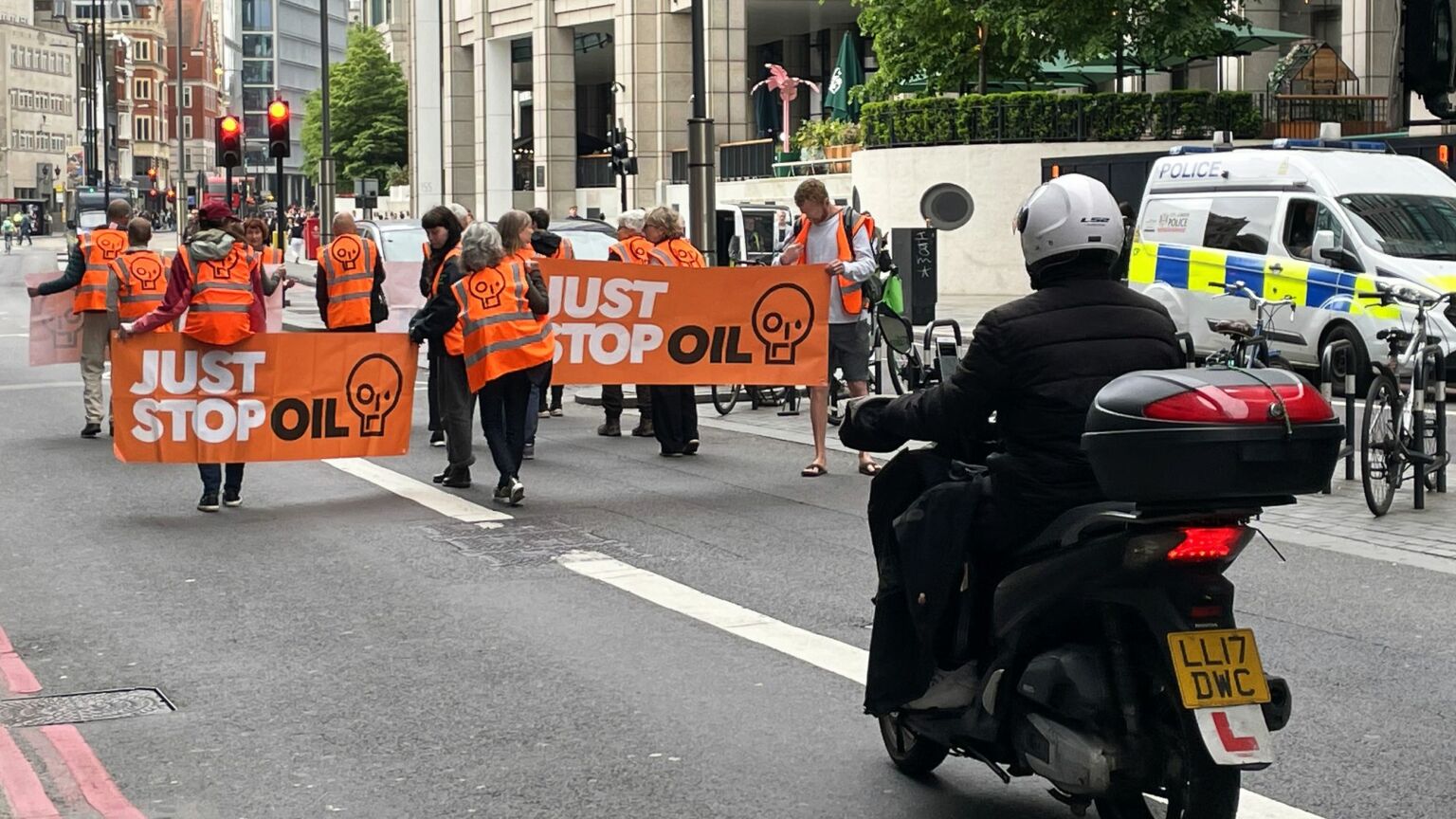 I'm starting to think that Just Stop Oil is a Big Oil plant. What else could explain these campaigners' phenomenal ability to turn the public against them and confirm their critics' worst prejudices. Namely, that this environmental activism / amdram troupe is stuffed with upper-middle-class irritants who couldn't give a damn about working-class people. Surely, this has got to be on purpose?
Take their recent 'slow marches' through London, aimed at bringing traffic to a standstill. The whole point of these stunts seems to be to force cab drivers, delivery men and builders to sit in traffic so that these protesters can preach their miserable little gospel. And as Edred Whittingham's (don't laugh) deranged antics at the Crucible recently showed us, you now can't even escape these bourgeois millenarians during your leisure time.
That this new generation of environmentalists are almost uniformly posh is an established empirical fact. An academic survey of those involved in Extinction Rebellion – the mothership organisation from which Just Stop Oil and Insulate Britain were spawned – found, to the surprise of precisely no one, that they were overwhelmingly middle class, highly educated and from the south. A full 85 per cent of them have some form of university degree.
So what we have here is the comfortably off classes – those with sufficient free time to glue themselves to roads on a Wednesday mid-morning – forcing their weird hangups on everyone else. Time and again, when they are criticised for making people's lives a misery, they offer only patronising lectures. 'We're so sorry that we have to disrupt the lives of ordinary people', said Just Stop Oil's Eben Lazarus (I know) to Vice last year, but 'hopefully people will see, further down the line, that the disruption we're causing is microscopic compared to the disruption that we're going to face because of the climate crisis'. Translation: we know better, you cretins.
No wonder that so many now respond to these cunning stunts with instant, visceral fury. First there was the Battle of Canning Town in 2019, when east-London commuters pulled two Extinction Rebellion people down from the top of a Tube train. And as police have failed to deal with these protests – they now seem to escort rather than stop these 'slow marches' – motorists have increasingly decided to take matters into their own hands. Several clips of workers clashing – sometimes physically – with Just Stop Oil activists have gone viral in the past week alone, including one of a man shoving JSOers on Blackfriars Bridge, before promptly being arrested.
Environmentalism has always been class warfare by other means. Net Zero – the deranged dream of greens and our political class – is essentially austerity on steroids. People will be forced to put up with paying more to do and consume less. And as everyone involved knows – but rarely admits – the financial burden will fall disproportionately on the working class. Plus, the cycling and locally sourced jam utopia envisaged by well-to-do crusties might make sense to them, but it really doesn't to those for whom driving is a necessity and their energy bill is a monthly gut punch.
This class dynamic plays out on the global level, too. As Fraser Myers has argued on spiked, the international climate-change racket is essentially a campaign to force developing nations to deny themselves the cheap and reliable energy that rocketed the developed West to new heights of human prosperity. The crocodile tears at each COP get-together about the plight of the world's poor, brutally exposed to the impact of extreme weather, are sickening, given the obvious fact that developed nations are infinitely better equipped to protect their citizens from the brutality of nature than those which are yet to enjoy their own industrial revolutions.
Just Stop Oil may not be in the pay of the fossil-fuel industry – although, amusingly, it is partially bankrolled by oil heiress Aileen Getty – but it does reflect a crystal-clear set of class interests. These are people with the luxury of thinking about the end of the world, the privilege not to realise that graft and industry and abundant energy are what makes their plush lives possible, and the knowledge that their madcap plans won't impact their lives anywhere near as much as they will the lives of working-class people.
Is it any wonder workers are fighting back?
Tom Slater is editor of spiked. Follow him on Twitter: @Tom_Slater_
To enquire about republishing spiked's content, a right to reply or to request a correction, please contact the managing editor, Viv Regan.