Trump has brought this on himself
Yes, his enemies are weaponising the law – but his reckless behaviour has made it all too easy for them.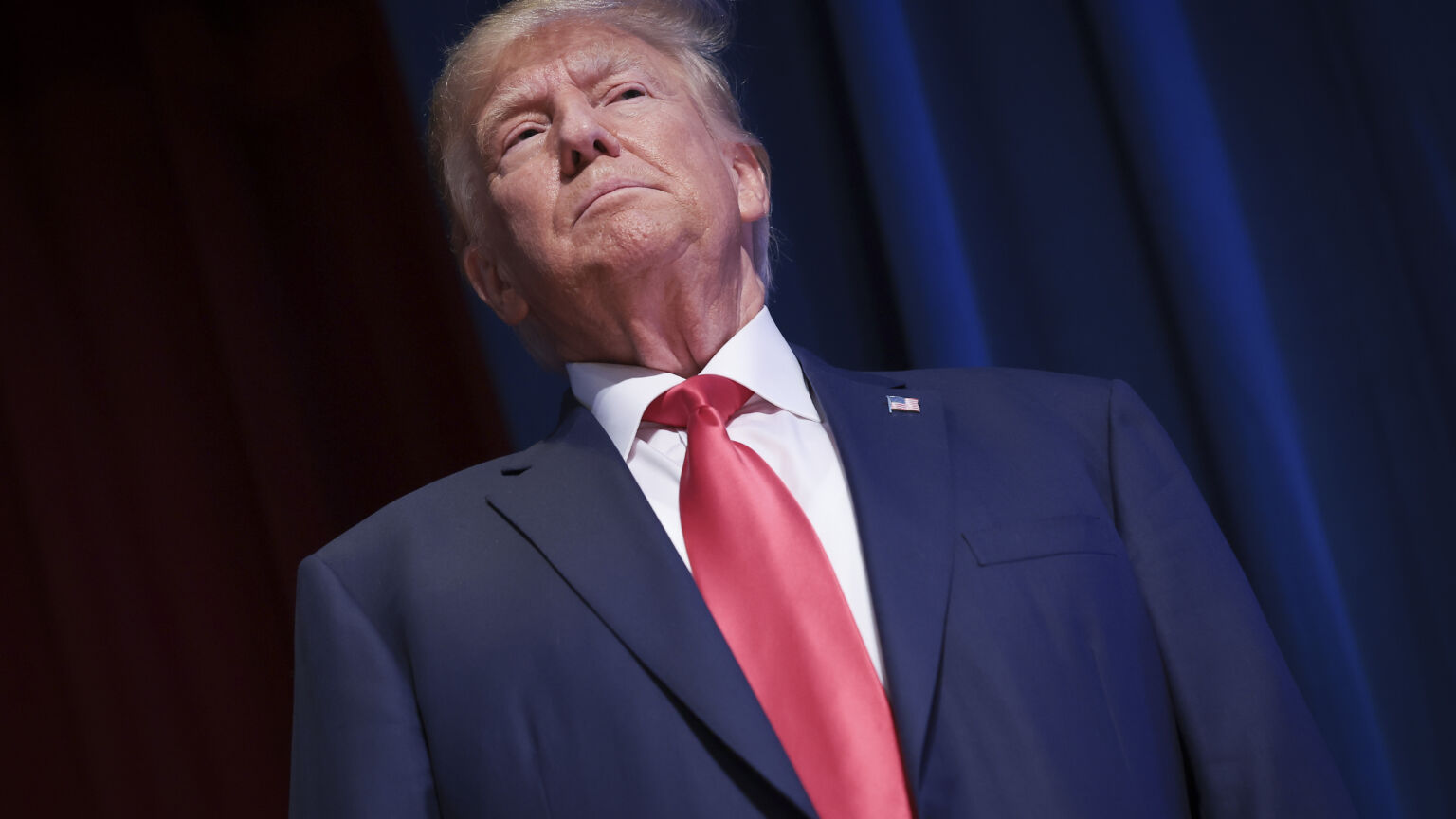 Later today, Donald Trump will surrender to the authorities and be arraigned at a federal courthouse in Miami. He has been charged with mishandling White House documents that were recovered at his Mar-a-Lago estate in Florida. For the first time in US history, the federal government is bringing criminal charges against a former president and current presidential candidate. And from what's disclosed in the indictment, the charges are pretty devastating for Trump.
Since his election in 2016, Trump's opponents have sought many times to stretch the law or break democratic norms to undermine him. As the Durham report recently outlined, an alliance of Democratic Party officials, the FBI and the media used dirty tricks and levied false claims of Russian collusion ahead of the 2016 election in the hope of bringing down Trump. And it's clear that when the Department of Justice appointed Jack Smith as special prosecutor last year, and blessed the raid on Mar-a-Lago last summer, that prosecutors were going to extra lengths to target Trump over the possession of classified documents.
But two things can be simultaneously true. One, that Trump's opponents have never accepted him as legitimate, and have often resorted to illiberal means, including legal overreach and the weaponisation of the state bureaucracy, to try to nail him. And two, that in this case of handling classified documents, Trump behaved recklessly and irresponsibly, and is possibly guilty of the crimes alleged against him.
To be clear, these latest charges against him are not like the ones brought in April by Manhattan district attorney Alvin Bragg, which relate to hush-money payments made to pornstar Stormy Daniels. Bragg's indictment is a transparently partisan ploy to 'get' Trump on flimsy evidence. In contrast, the charges detailed in special counsel Smith's indictment have substance. And the most damning evidence against Trump comes from his own words, which were recorded on tape.
In a nutshell, Trump retained hundreds of classified documents after leaving the White House, including highly sensitive materials concerning nuclear weapons and other national-defence secrets. Photographs in the indictment show boxes of documents carelessly scattered across Mar-a-Lago, including 'a ballroom, a bathroom and shower, an office space, his bedroom and a storage room'. When faced with demands to return the classified documents – first from the National Archives, then from a grand-jury subpoena – Trump stonewalled before sending back only a portion of those he retained at his Florida estate.
According to the indictment, Trump allegedly took actions to conceal the documents, including when he is said to have ordered his assistant to move 64 boxes from a storage room to his residence, apparently to hide them from his attorneys. After its search last summer, the FBI found more than a hundred more documents marked as classified. The indictment cites this back-and-forth and alleged deception, which went on for more than a year, to bring charges of obstruction against Trump.
More than once, says Smith in the indictment, Trump showed highly classified material to visitors without security clearances. At his Bedminster golf club in New Jersey, in the summer of 2021, he allegedly showed a 'classified map related to a military operation' to 'a representative of his political-action committee'. Also that summer, Trump shared a Pentagon-prepared 'plan of attack', most likely on Iran, to a writer and three others. 'See, as president, I could have declassified it', Trump says of the plan on audio tape. 'Now I can't, you know, but this is still a secret.' These words of Trump are damning, and bolster the government's case that he knowingly possessed and shared secret documents.
In charging a former and potentially future president with crimes, federal authorities have certainly crossed a rubicon. But reading the indictment, it is hard to see how the feds could have avoided bringing the charges, given the sensitivity of the materials and the evidence of misconduct and obstruction.
In throwing the book at Trump, the Department of Justice and the FBI can certainly be criticised for applying two standards of justice. When Smith said 'we have one set of laws in this country and they apply to everyone', many will have scoffed. It's maddening to think how former FBI chief James Comey let Hillary Clinton off the hook for her basement email server (and infuriating to see Hillary gloating about the Trump indictment on Twitter, posting a photo of herself donning a 'But Her Emails' cap). And it seems that the federal authorities are slow-walking an investigation into Joe Biden's similar case of carelessly retaining classified documents, in his garage, among other places. But just crying double standards isn't a persuasive argument for giving Trump a pass – it's an argument for pursuing Clinton and Biden with as much intensity as Trump is being pursued.
Trump really has no one to blame but himself. He has been subject to legal overreach many times before, but he's not a hapless victim this time. After all, what was the point of retaining the documents? To brag to his fellow golfing buddies? The intrusion of the government, using criminal law, into electoral politics raises very serious constitutional questions. But it's crazy to think this crisis is happening over something so petty – essentially because Trump decided to throw a tantrum, snub the authorities and carelessly spread classified documents all over his estate. At any point over the 18-month battle with the feds, Trump could have returned the documents and ended all of this.
Now American politics, as it enters the long 2024 electoral season, is at risk of being consumed by all things Trump. His core supporters will rally to his side, while his opponents will feel vindicated in their anti-Trump obsessions. A much-needed debate about Biden's shortcomings and how to move the country forward will be sidetracked by Trump-mania.
As I've argued before on spiked, the 'respectable' authoritarianism of the Biden administration has been much more effective and dangerous than the amateur authoritarian moves made by Trump when he occupied the White House. The Department of Justice, the FBI and other state agencies are now far too politicised. But that doesn't mean Trump is worth defending. Even if he's not found criminally guilty over the classified documents, he has certainly been reckless and proven himself unfit to be president. Clearly, Trump is no match for Biden's authoritarianism – indeed, his self-destructive habits makes him an easy target for his political enemies.
Populist politics in the US needs to grow up and move on from Trump. Those who remain anchored to Trump will only sink with him.
Sean Collins is a writer based in New York. Visit his blog, The American Situation.
To enquire about republishing spiked's content, a right to reply or to request a correction, please contact the managing editor, Viv Regan.