Greta and the green war on the working class
Every act of green activism seems designed to make life harder for working people.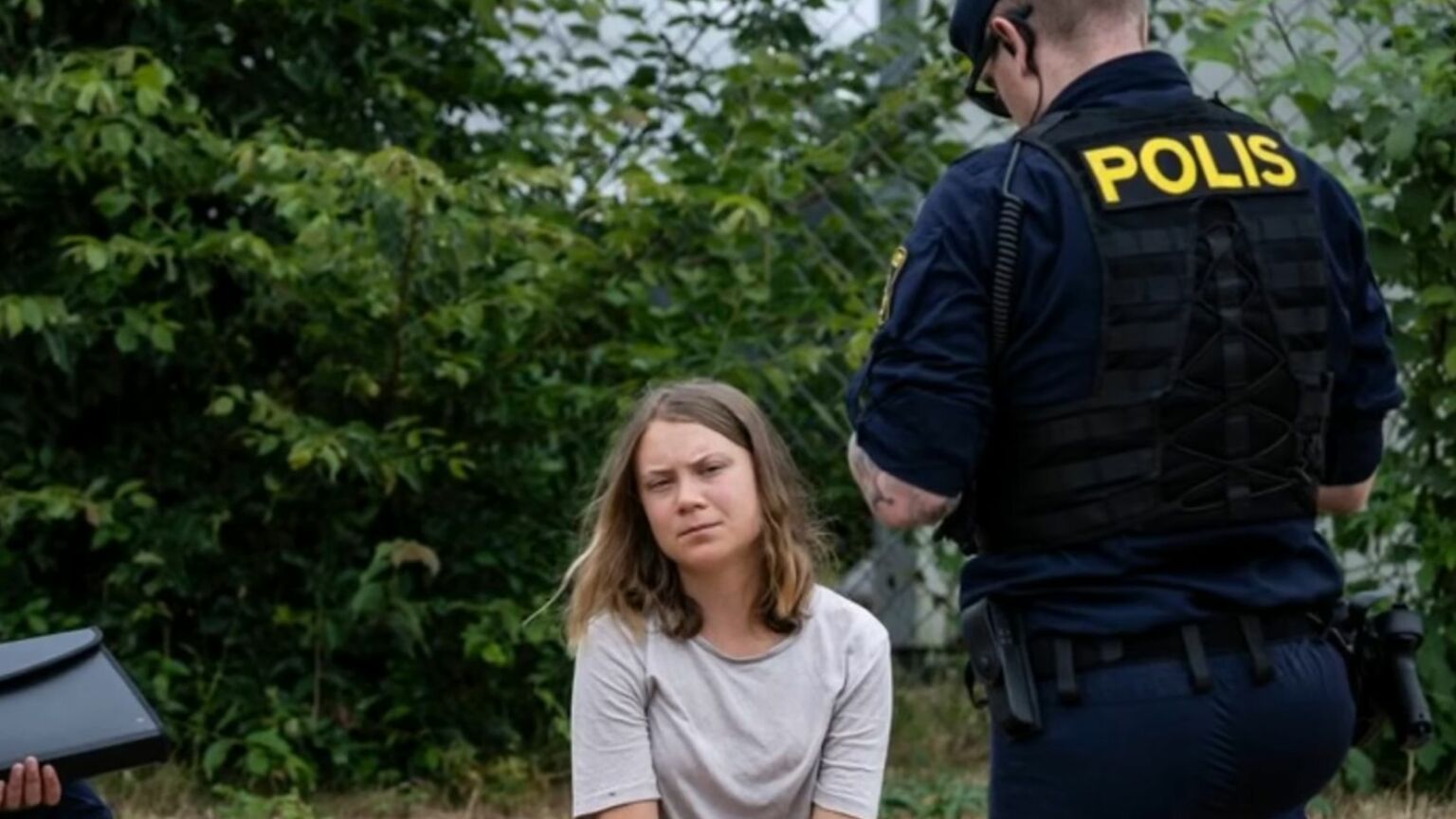 Picture the daughter of an opera singer preventing working-class men from doing their jobs. A young woman so well-connected that she probably has presidents on speed-dial physically blocking truck drivers from doing what they do. A child of privilege gathering with her similarly comfortable pals to stop working people from working.
Well, shorn of all the fact-lite bluster about 'saving the planet', that's exactly what Greta Thunberg's latest eco-stunt adds up to. The pint-sized prophetess of doom is back in the headlines. This time for getting arrested in Malmo harbour in Sweden, where she and other members of the End is Nigh cult have been holding a sit-down protest to stop oil tankers from leaving and delivering their life-giving cargo to the good people of Sweden and beyond.
The photographs from this temper tantrum disguised as a political protest tell a fascinating tale of the classism and narcissism in green politics. In the middle of the road are the smug-looking youths. One has green hair. Others sport beanie hats. None has ever driven a truck, clearly. Their banners speak of defending Earth from man's evil burning of the toxic sludge of oil. And in the background are the supposed agents of this evil – the truckers; working men idly standing by their tankers while the world's media get shots of Greta looking sad for Gaia.
What an apt snapshot of the hierarchy of virtue in what passes for radical politics today. Working-class people reduced to background actors, non-player characters, in a drama feverishly focussed on the jumped-up angst of the privileged. Working men as mere backdrop to the eco-neuroses of the comfortably off. In the moral universe fashioned by eco-influencers and their legion fawners in the political and media elites, the irrational fears of the upper-middle class carry more weight than the living standards of the working class.
It's a story we see repeated across every act of eco-agitation today. In the UK, the plummy activists of Just Stop Oil, all called Poppy or Edred, block roads and prevent builders, scaffolders, deliverymen, mums and others from carrying out their essential work. The fightback of working men against this imperious imposition on their right to earn a living – witness scaffolders pushing eco-irritants out of the road – has been heartening to see. As a worker at Smithfield meat market in London put it a few years back when Extinction Rebellion types stormed in to speak up for animal rights or something, why should I allow this 'happy-clappy mob' to stop me from being 'able to pay my bills'?
Greens openly campaign to deprive working-class communities of well-paid work. They're trying to prevent the building of a coalmine in Cumbria in north-west England that will create 500 good jobs and produce 2.8million tonnes of coal a year. Well, what do the rights of coal miners matter in the face of the graduate set's religious conviction that the End Times are near? These people make Thatcher look like a rank amateur when it comes to packing coal miners off to the Job Centre. 'Coal not dole!', leftists cried in the Eighties. 'Keep coal in the hole!', greens cry today.
EU-imposed eco-regulations in the Netherlands threaten to put thousands of farmers out of work. Irish farmers fear 56,000 jobs could be lost to the irrational demands of the Net Zero cult. Danish truckers are fuming about a new green fuel tax that could shrink their pay packets. The eco-clerisy's ceaseless war on the car is making it more and more expensive to drive. As author Michael Lind says, the '15-minute city' – where local councils enforce new rules and infrastructure to discourage driving – is a 'working-class nightmare'.
When they aren't interfering with working people's right to work, they're attacking their leisure pursuits. Anyone who thinks it's a coincidence that the eco-toffs so often target sporting events beloved of working-class people – the snooker, horse racing, football matches – hasn't been paying attention. Even the two-week getaway is under threat: the less well-off are being priced out of the skies by, you guessed it, Net Zero targets that threaten to make cheap flights a thing of the past.
And now here's Greta, 'smirking', according to one report, as she prevents Swedish men from doing their work. Maybe next week she'll be blocking the airports from which such men jet off for a much-needed break. If there's one upside to the cost-of-living crisis, it's that it has made clear as day something some of us long suspected – that environmentalism is class antagonism in drag. That green weeping over man's 'toxic' footprint on the planet is a rehash of the old aristocratic contempt for the Industrial Revolution. That it is mass society and the masses who inhabit it – workers, consumers, drivers, holidaymakers – that really repel the vicars and Eton kids who block roads for Mother Earth. That in the velvet glove of 'saving the planet' lurks the iron fist of 'forcing the plebs to live on less'. How else do we account for the fact that in an energy crisis they're making demands that would make energy even more expensive?
That image of Greta and friends exuding eco-virtue while working men wait frustrated in the background shows how warped society's priorities have become. The truth is that those men – nameless, uncelebrated, looked upon with derision by the eco-correct – make a far more important contribution to society than Greta and the rest. Greta's only commodity is fear – harebrained claims that we have just a few years left to save the planet from a hellfire of man's own making. This adds nothing to the social good. Those tanker drivers, in contrast, deliver the wondrous liquid of oil to people and businesses far and wide, who ingeniously free the trapped sunlight contained within and use it to propel vehicles, heat homes and produce energy. One of those working men is worth a thousand eco-moaners.
Brendan O'Neill is spiked's chief political writer and host of the spiked podcast, The Brendan O'Neill Show. Subscribe to the podcast here. His new book – A Heretic's Manifesto: Essays on the Unsayable – is available to order on Amazon UK and Amazon US now. And find Brendan on Instagram: @burntoakboy
Picture by: YouTube / Sky News Australia.
To enquire about republishing spiked's content, a right to reply or to request a correction, please contact the managing editor, Viv Regan.