There's nothing rebellious about Glastonbury
Every politician, broadsheet hack and nepo baby now insists on being seen there.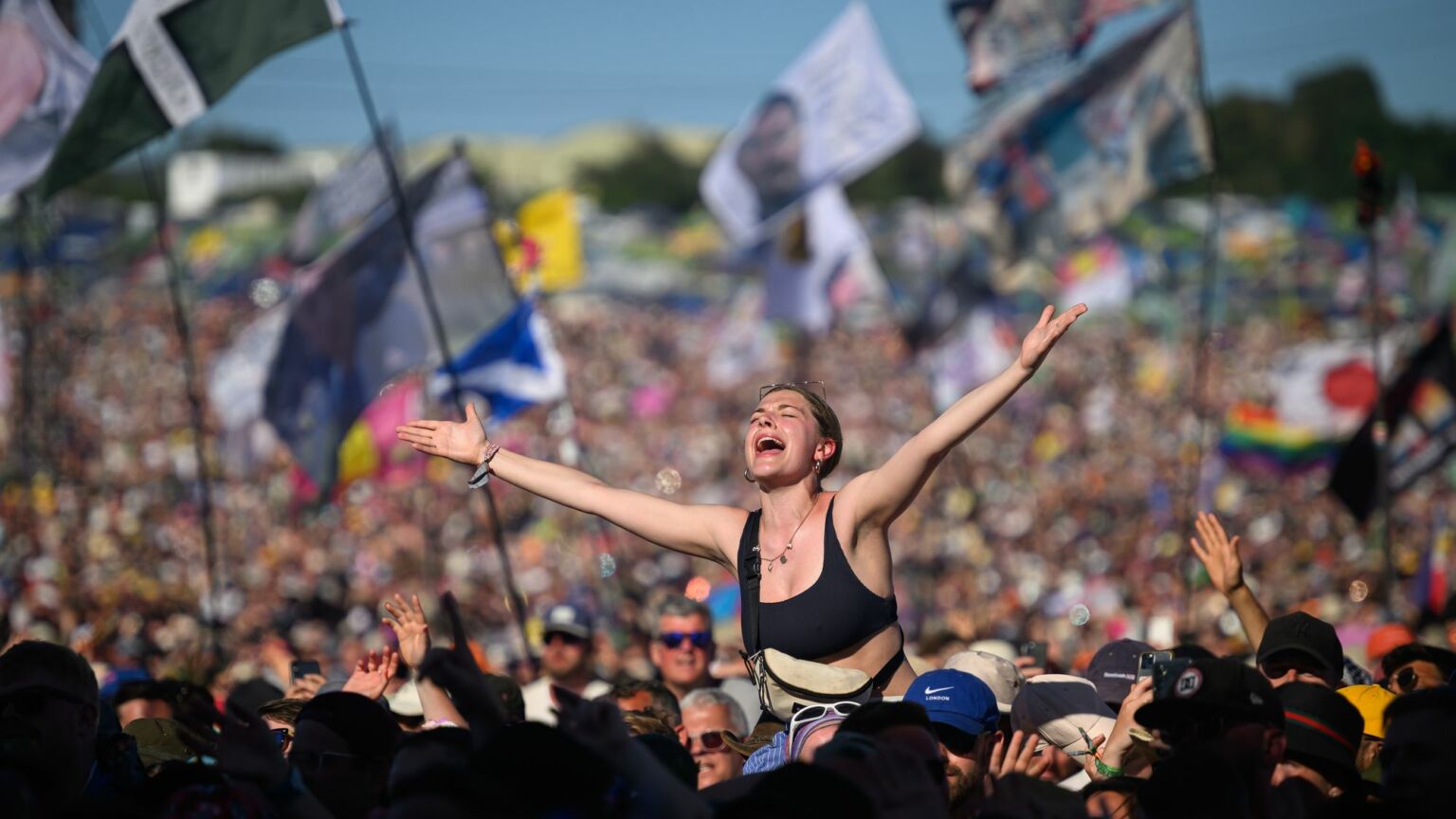 I've never been keen on festivals – not even when I was a teenage music reporter, and was sent to the 1977 Reading Festival for cheeking the editor. I took one look at the toilets and headed straight back to London to make up my report. How I hugged myself when a credulous colleague told me that my write-up was so atmospheric he could smell the crowd! So could I, the dirty beggars, and I'd only been there for 10 minutes.
Glastonbury, the UK's biggest and most gushed-over music festival, which finally wrapped up yesterday, is now as establishment as Glyndebourne – just another way for the bourgeois to play, but with added skid marks and dream catchers.
Just look at this from Politico, noting all the politicians who attended this year:
'Employment minister Guy Opperman revealed how his experience of Glastonbury had evolved… business and trade committee chair Darren Jones praised a panel he took part in on the climate… Shadow culture secretary Lucy Powell was impressed with Rick Astley and Blossoms… SNP MP Stewart McDonald declared what a "class act" Lewis Capaldi was… Mayor of Greater Manchester Andy Burnham said he was enjoying the "agony of the culture warriors who can't bear the sheer positive joy of it".'
I'd say 'pass the sick bag' if the hygiene standards of 'Glasto' didn't render such niceties totally superfluous.
The Left Field section of the festival sounded like an editorial meeting at the Guardian: 'This year, in the "Left Field" area, there will again be a series of events curated by Billy Bragg. These include: "One Minute to Midnight: Can politics deliver on Climate Action?", featuring Ed Miliband.' Excitably, the website burbled: 'As the shape of the post-pandemic world begins to form, it's clear that people are more willing to stand up and be counted… Whether it's radical perspectives or great music you want, stand up and be counted at Left Field.' I'd wager that after 24 hours ingesting the dubious fungi so popular at Worthy Farm, the punters were not in any fit state to count to 10, let alone stand up.
Caitlin Moran, the Vera Lynn of Glasto, reminded us in The Times what a big heart the organisers, the Eavises, supposedly have, with '£2million being donated to Oxfam, WaterAid and Greenpeace'. 'But apart from being the only big festival that annually makes massive charitable donations out of its profits', Moran simpers, 'its (for want of a more complex word) goodness is practical, and radical. The week before the festival opened, Gary Lineker travelled down to officially open 20 new social homes in the nearby village of Pilton, adding to the 32 the festival had already funded.' How nice of Saint Gary to show up, glowing with virtue and that £1.35million a year he earns, squeezed from the pockets of hard-working licence-fee payers.
At one point, Moran noticed 'overhead, the BBC News helicopter'. There was more than one, I bet, seeing as one estimate by the Daily Mail put the BBC presence at Glastonbury this year at between 500 and 1,000 staffers: 'Four hotels, all believed to be four- or five-star, [were] booked up… many were staying in the Charlton House Hotel, where rooms cost up to £400 per night.' But 'the party spirit pervading the corporation's Glastonbury coverage is by no means shared by everyone', says the Mail, in light of 'swingeing cuts and job losses' at the BBC. 'We are all fuming that the money is so free and easy for these luvvies while they cut millions from local radio', one 'insider' told the paper.
Was there ever such an odd yet perfectly suited couple? Glasto is the BBC's work outing and the BBC is Glasto's wet nurse. Last month, the BBC director of music, Lorna Clarke, boasted that the BBC would 'present more Glastonbury coverage than ever before' this year, following an extension of the corporation's exclusive deal with the festival. Hilariously, in 2017, the BBC refused to reveal the cost of that coverage, claiming it would breach European human-rights laws. So your guess is as good as mine as to how much money changes hands.
The rest of us are clearly not getting our money's worth from the BBC. But when did we ever? It's not a public service but a propaganda machine, pumping out the opinions of the ever-more irrelevant liberal establishment, preaching inclusivity and diversity – like Glasto – while marginalising anyone who doesn't mouth the same stale mantras on everything from immigration to Israel. And most of all, on Brexit. Indeed, watching the gurning hordes last week, I recalled the Glasto of 2016, when the reaction to Freedom Day was sour to say the least. I couldn't help smirking remembering how the Eavises had warned punters to register ahead for a postal vote as there were no voting facilities at the site. It's delicious to think that Glasto might have swung the vote even slightly. On-site Remainers will have woken up knowing they'd forgotten something, before putting it down to leaving a third of their brains in the Healing Field after caning the shrooms too enthusiastically.
Smugness is the overriding characteristic of Glasto goons and this year's lot was no exception. It featured superannuated and super-reactionary performers such as Elton John (who once yelled at a journalist that he hoped she'd die of cancer of the clitoris) and Yusuf / Cat Stevens (who once hoped that Salman Rushdie would die of the fatwa). As for the crowds, no occasion is now complete without the standard nepo babies, like Romeo Beckham and Rafferty Law (son of Jude). There was even a band performing called the Entitled Sons, featuring the four sons of television presenter Sarah Beeny.
The Glastonbury crowds remind me of the DH Lawrence poem, 'How Beastly the Bourgeois Is', especially the ending:
'How beastly the bourgeois is!
Standing in their thousands, these appearances, in damp England
what a pity they can't all be kicked over
like sickening toadstools, and left to melt back, swiftly
into the soil of England.'
But that's just a beautiful dream – and, I fear, one as elusive as Elton John finally meaning what he says about retiring, and going away and never coming back, for real.
Julie Burchill is a spiked columnist. Her book, Welcome To The Woke Trials: How #Identity Killed Progressive Politics, is published by Academica Press.
To enquire about republishing spiked's content, a right to reply or to request a correction, please contact the managing editor, Viv Regan.