The Covid inquiry is whitewashing the lockdown
Why is no one challenging the biggest disaster of the pandemic?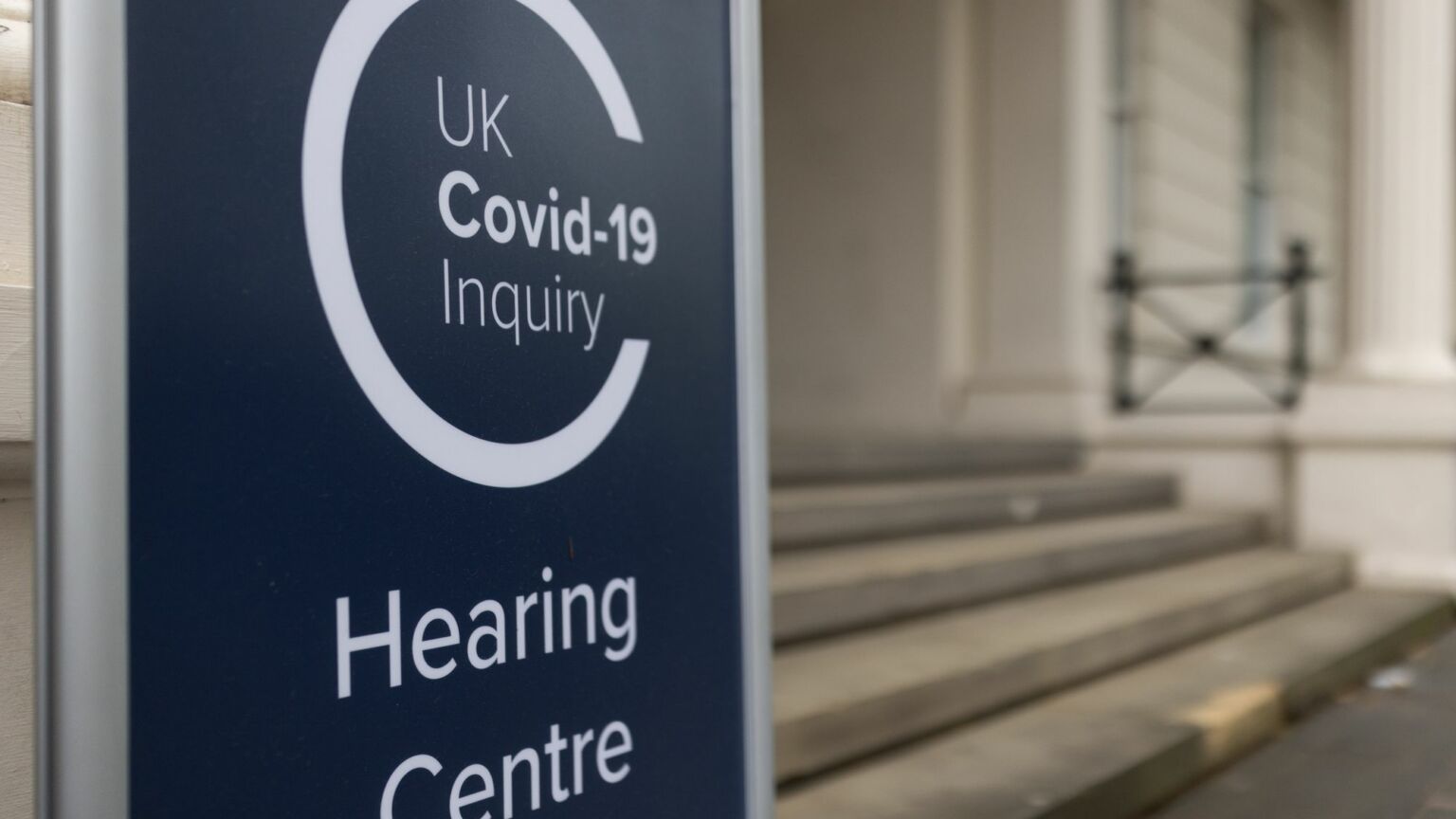 Even before the UK's Covid inquiry started hearings last month, it had already racked up a total cost of £114million. If you thought that should be enough to buy some rigorous legal cross-examination into how exactly we were led into one disastrous lockdown after another, you'll be sorely disappointed.
The first hearings began on 13 June. So far witnesses have included chancellor Jeremy Hunt, chief medical officer (CMO) Chris Whitty, former health minister Matt Hancock and former Scottish first minister Nicola Sturgeon. Many of them took the opportunity to grandstand and faced little opposition while doing so. The only exception has been Hugo Keith KC, lead counsel to the inquiry, chiding Nicola Sturgeon last week for blaming Scotland's Covid travails on Brexit and on Westminster. 'This is a witness box, not a soapbox', he reminded her. Sadly, there were many more witnesses who deserved similar treatment, but got off unscathed.
Let's begin with the British Medical Association (BMA). Ahead of former prime minister David Cameron giving evidence on 19 June, the BMA released a statement. It blamed the deficiencies of the UK's pandemic preparations on Cameron's austerity policies. This is hardly surprising, given that the BMA's answer to any problem is 'Give us more money'.
But would more money have really made any difference? Nations with better-funded health systems than the UK also decided that their hospitals couldn't cope with the virus, and so they went into lockdown. The outlier was, of course, Sweden. Ironically, Sweden has the fewest hospital beds and ICU beds per capita of anywhere in Europe. And yet, unlike the UK, it remained open. This shows that it was not a lack of health funding or hospital capacity that led to a lockdown to 'protect the NHS'. Rather, it was a panicked political decision.
Also speaking at the inquiry in June was Jeremy Hunt, former health secretary and now chancellor. Hunt claimed that we planned for the wrong type of pandemic – for influenza, rather than a coronavirus. Chris Whitty concurred. The inquiry didn't challenge this claim, but it should have.
The difference between a coronavirus pandemic and an influenza pandemic is not as great as Hunt or Whitty are making out. Some coronaviruses, like SARS-CoV-2 and OC43 (still with us as a common-cold virus), are highly transmissible but rarely fatal, and behave more like influenza. For example, the Omicron variant of Covid recently spread through China at the speed of the fastest influenza. Other coronaviruses – like SARS and MERS – are less transmissible, but more lethal.
In 2011, the Department of Health published an Influenza Preparedness Strategy that acknowledged these similarities. The report states: 'A pandemic is most likely to be caused by a new subtype of the Influenza A virus, but the plans could be adapted and deployed for scenarios such as an outbreak of another infectious disease.' In short, preparing for the 'wrong' pandemic is hardly an excuse for the authorities' response to Covid.
Hunt also claimed that we could have suppressed Covid if only we had followed the lead of South Korea, which pursued a Zero Covid strategy, mainly through the aggressive testing and isolation of Covid cases and their contacts. Of course, he made no mention of how Zero Covid turned to tyranny in Australasia. Melbourne was put in lockdown for 200 days and New Zealand's overseas citizens needed to compete for quarantine hotel rooms if they wanted to return home. Zero Covid also ended spectacularly badly in China.
The intrusiveness of South Korea's testing policies also needs to be spelled out. Following a May 2020 outbreak linked to gay bars in Seoul, 41,620 tests were performed on nightclub visitors and their contacts to identify 246 cases. This included contacts that were five or six steps removed from the original cases. The Korean authorities 'used multiple forms of advanced information technology, including location data from mobile devices, credit-card payment history, GPS data… public-transportation transit-pass records, and CCTV'. Is this the kind of heavily surveilled society our chancellor wants?
It is not even clear that this authoritarian intrusion actually helped South Korea to suppress Covid. Japan also managed to keep cases down, despite few restrictions and no oppressive surveillance.
Hunt isn't the only one who has been baying for more and harder lockdowns. Former chief medical officer Dame Sally Davies made a similar point in her hearing. I know and respect Davies and she was right to stress that 'Lockdown damaged a generation'. Yet despite her concerns she still defended the decision to lock down 'the first time', and even suggested we should have done so 'a week earlier'.
How would that have helped? Analysis by Johns Hopkins and Lund Universities suggests that the first lockdown in spring 2020 saved just 1,700 lives in England and Wales. That's around the same as the per-week tally of excess non-Covid deaths during the recent winter. An extra week in lockdown would have had only a trivial effect. Meanwhile, Czechia, which congratulated itself for apparently reducing the first-wave toll with an early lockdown, went on to have one of the largest Covid waves in the winter of 2020-21. It now ranks ninth worldwide for per capita Covid deaths.
A few days after Davies gave evidence, Chris Whitty, her successor as CMO, also spoke to the inquiry. Whitty claimed that planning for such an 'extraordinarily major social intervention' as lockdown would not have occurred unless a minister had requested it. But there is a reason why no minister would have requested it. The scientific community had long largely agreed that lockdowns were an ineffective way to tackle a potential pandemic. Starting in 2006, the US authorities discussed lockdown after a scare over avian flu. They also feared the possibility of a bioterror attack. But lockdown was roundly debunked as a strategy. Donald Henderson, who had led the successful global smallpox-eradication programme, was a particularly notable critic of lockdowns. In 2006, he wrote:
'There are no historical observations or scientific studies that support the confinement by quarantine of groups of possibly infected people for extended periods in order to slow the spread of influenza… It is difficult to identify circumstances in the past half-century when large-scale quarantine has been effectively used in the control of any disease. The negative consequences… are so extreme… that this mitigation measure should be eliminated from serious consideration.'
This explains why lockdown doesn't feature in the Department of Health's 2011 plan, the WHO's 2019 'non-pharmaceutical interventions' plan or in Chris Whitty's 2018 Gresham College lecture on managing pandemics. Lockdown was rejected around the world until it was adopted by China in 2020. Then, on the hoof, it was picked up by the panicked West. Neil Ferguson, the epidemiologist and some-time government adviser, admitted as much to the The Times back in December 2020: 'If China had not done it, the year would have been very different. It's a communist one-party state… We couldn't get away with it in Europe, we thought. And then Italy did it. And we realised we could.' So just like that, with no risk-benefit analysis, lockdown became the main strategy of the UK government. The Covid inquiry witnesses are yet to be challenged on this.
A week after Whitty, it was Matt Hancock's turn to face the inquiry. He opined that we should have locked down sooner and harder. And he also did so without being challenged. Surely Hancock can't believe that an even tougher lockdown was the answer. There is now overwhelming evidence that lockdowns took a wrecking ball to the economy, education, mental health, civil liberties and the backlog-swamped NHS itself.
Again and again, those called to give testimony have defended the decision to lock down. And again and again, they have asserted that the only mistake was not to have locked down earlier and harder. These claims need to be challenged. But the inquiry is singularly failing to do so.
This brings us back to whether the Department of Health's 2011 plan – very much 'Keep Calm and Carry On' – was really so bad. Sweden acted in a broadly similar way. There were limited restrictions, but social life remained as normal as possible. Despite low hospital and ICU bed numbers, Sweden's hospitals were not overwhelmed. Citizens' work ethic was not eroded. Children's education was not disrupted. GDP was reduced by less than in other countries. Sweden racked up debt of £3,000 per citizen versus £8,400 in the UK. And viewed across the entire three-year pandemic, Sweden has around the fewest excess deaths in Europe.
Sweden also finished its own Covid inquiry a year ago. There were criticisms to be made, particularly of care-home outbreaks, but ultimately, the inquiry's conclusion was positive. It found that several countries that did impose lockdowns had 'significantly worse outcomes' than Sweden. Meanwhile, it found that the restriction of civil liberties was 'hardly defensible other than in the face of very extreme threats'.
Sweden really ought to serve as a counterpoint to the broad enthusiasm for lockdowns on display at the Covid inquiry. There's little point holding an inquiry if no one is willing to push back on the decisions that were made. There has been no discussion of the egregious infringement on our individual freedoms. No one has asked whether lockdowns were even effective. So far, the Covid inquiry has proved a tremendous waste of time and money. The reckoning we need with lockdown will have to come from elsewhere.
David Livermore is a retired professor of medical microbiology.
To enquire about republishing spiked's content, a right to reply or to request a correction, please contact the managing editor, Viv Regan.