How does Julia Gillard not know what a woman is?
Australia's first female PM has become the latest politician to pander to gender-identity dogma.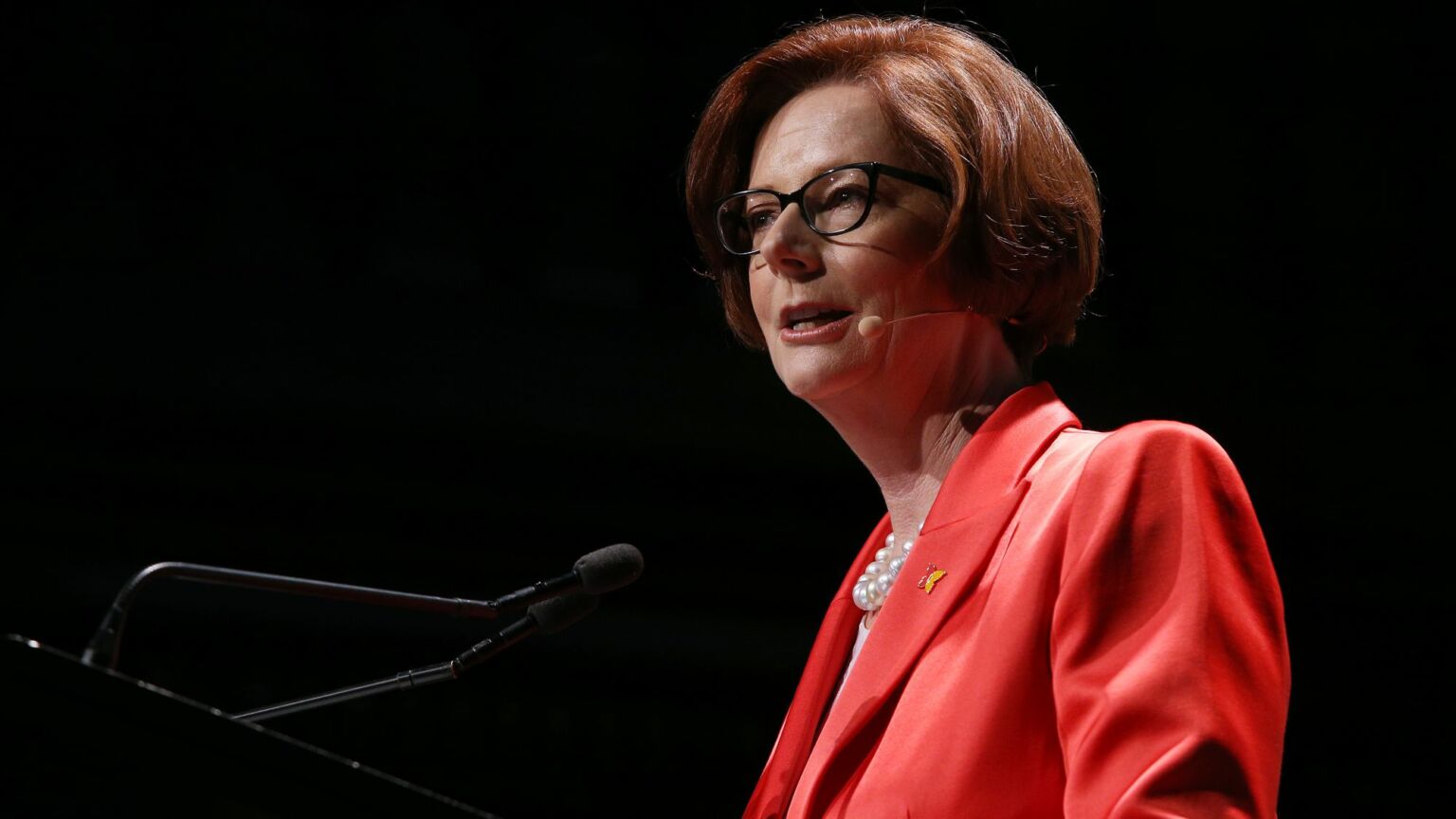 Australia's first female prime minister, Julia Gillard, has become the latest politician to struggle to answer the simple question: what is a woman?
Last Friday, the 'woman question' was posed by Biddy O'Loughlin, a member of Women's Rights Network Australia. 'What is a woman?', she asked. 'Do you agree with Queensland's [former] attorney general, Shannon Fentiman, that "transwomen are women", and with the leader of the UK Labour Party, Sir Keir Starmer, that "some women can have a penis"?'
Gillard was speaking at an event in Adelaide about 'women's advancement', so defining what a woman is should have been a relatively easy task. But instead of giving a straight answer, the former PM waffled for about four and a half minutes. Scrambling to concoct a coherent sentence, she accused those who are concerned about women's rights amid the rise of gender ideology of 'trying to create these gotcha moments'. She rambled on about people who believe they are a certain sex in 'their mind and soul'. And she tried to explain how people can change from one sex to another. 'It goes both ways', she said. 'People who have transitioned from being men to being women and women who have transitioned to being men.'
As she tried to duck the key question, Gillard revealed herself to be indifferent to the concerns of millions of women about women's spaces and women's rights:
'Most people in their lives won't end up playing elite sport. Most people in their lives won't end up in prison. Most people in their lives will encounter, at some point, someone who is a transsexual person and I think what really counts is the openness and spirit of inclusion about the way that you encounter them.'
You can always tell whether a politician feels confident or insecure about what they are saying. Back in 2012, Gillard delivered a speech to the Australian parliament accusing then opposition leader Tony Abbott of sexism. The speech would go on to define her premiership. When delivering that speech, Gillard appeared forceful and projected her body outwards. Yet last week, when pretending not to know what a woman is, she struggled to look people in the eye. She held up her hands as if using them as a barrier.
What's more, back in 2012, Gillard clearly knew what a woman is. 'I was offended when the leader of the opposition went outside, in front of parliament, and stood next to a sign that said "Ditch the witch". I was offended when the leader of the opposition stood next to a sign that described me as a man's bitch', she said. She also raised past comments of Abbott's, where he had spoken about making 'an honest woman out of the prime minister', in an apparent reference to the fact that she was living with her partner while unmarried. Gillard felt these comments were demeaning precisely because they would only have ever been directed at a woman.
Yet now, Gillard has become the latest in a long line of politicians pretending to be confused by human biology. I say pretending because she very obviously knows that women are adult human females – everybody does. Only the most committed gender ideologues believe that a man can become a woman simply by pronouncing the incantation: 'I identify as a woman.' Certainly, trans activists have succeeded in getting cowardly politicians to toe the line in public, but everyone surely knows this is mere theatrics.
Perhaps Gillard has more to worry about than most politicians from those uppity women insisting on defending their rights and upholding the dictionary definition of woman. After all, in recent years, her record on women has come under renewed scrutiny. Long before she was ambushed with questions about whether women can have penises, in 2013 her government promoted an amendment to the Australian Sex Discrimination Act 1984 to enshrine the concept of gender identity – that is, how a person feels about their biological sex – into law. As Australian lawyer Katherine Deves wrote last year in the Spectator Australia:
'The definition of a "woman" meaning "a member of the female sex irrespective of age" was repealed to instead accommodate the demands of men who want to be women. The Sex Discrimination Act now makes it unlawful to discriminate against a person not only because of their sex, but also their gender identity, intersex status or sexual orientation.'
The policy was barely debated at the time, but it was passed nevertheless at the behest of trans activists, setting in motion the erasure of women's sex-based rights in Australia.
Gillard may once have posed as a 'Girl Boss' on the international stage, but Australia's first female PM was clearly no friend to women. Now she even claims not to know what one is.
Raquel Rosario Sanchez is a writer, campaigner and researcher from the Dominican Republic.
To enquire about republishing spiked's content, a right to reply or to request a correction, please contact the managing editor, Viv Regan.