The man is for turning
David Cameron's incredible, and revealing, list of policy u-turns.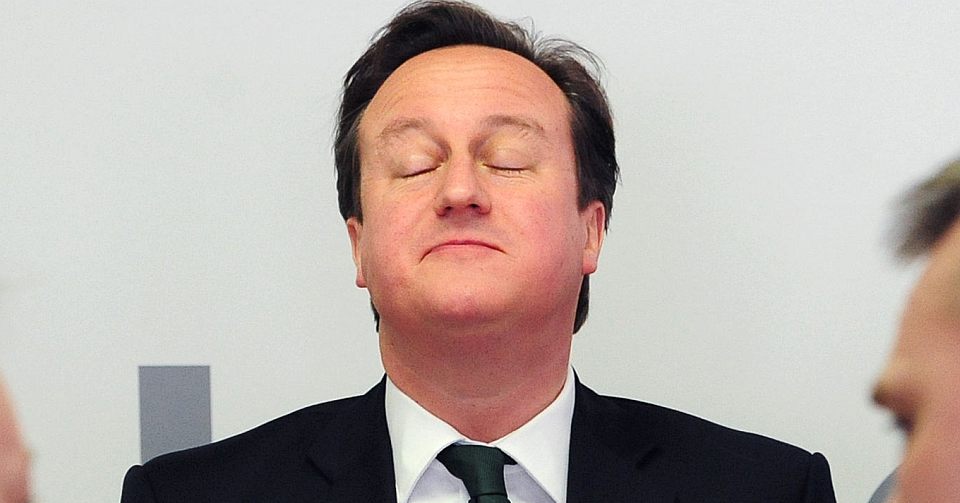 At the Conservative Party conference in October 1980, with the economy faltering and the Winter of Discontent of 1978-79 all too fresh in the public imagination, prime minister Margaret Thatcher remained steadfast in her commitment to Tory economic policy. It was a conference speech that was to help define her as a strong, dare I say, iron leader. 'To those waiting with bated breath for that favourite media catchphrase, the "U-turn", I have only one thing to say: "You turn if you want to. The lady's not for turning."'
How things change. The worst traditions of New Labour policy-un-making, where PR-driven announcements were followed by perfunctory public consultations, and eventually a subtle shelving of said policies, have been embraced by the Lib-Con coalition government as some sort of genius electoral strategy. If you ain't done anything, you ain't done anything unpopular, seems to be the magical thinking.
Examples of mainly Conservative policy-reversal abound. There was, for instance, the plan to sell off 258,000 hectares of state-owned woodland in England. 'It's time for the government to step back and allow those who are most involved with England's woodlands to play a much greater role in their future', said environment secretary Caroline Spelman at the beginning of 2011. A few weeks later, the plan had been abandoned. 'I'm sorry. We got this one wrong', said Spelman.
Or take the money-saving plans to scrap free school milk for the under-fives. With the Cameron milk-snatcher backlash in full swing, the government promptly dropped the plan, albeit without telling Tory minister David Willetts who continued to defend the plan on TV while No.10 was busy briefing that it had been dropped. Then, of course, there were the repeated budget climbdowns during 2012, from the axing of a tax-relief cap on charitable donations, to the abandonment of levies on pasties and static caravans.
But perhaps most striking of all has been the recent rowing back on high-profile public-health proposals, be it minimum pricing for alcohol or plain packaging for cigarettes. This, after all, was an area on which the Conservatives in particular have been keen to make a stand.
And at the start of their period in office, they certainly looked liked they wanted to be seen as the party committed to changing our boozing and smoking ways. In November 2010, then health secretary Andrew Lansley seemed almost determined to ban branded cigarette packs: 'The evidence is clear that packaging helps to recruit smokers, so it makes sense to consider having less attractive packaging. It's wrong that children are being attracted to smoke by glitzy designs on packets.' The following year, Lansley reiterated his commitment: 'Health ministers across the UK have a responsibility to look closely at initiatives that might encourage smokers to quit and stop young people taking up smoking in the first place.'
The Tories' approach to national alcohol consumption was, if anything, even more strident. Following Cameron's admission in August 2010 that he would view Manchester council plans to introduce a 50 pence per unit minimum price 'very sympathetically', in 2011 the Lib-Cons announced a consultation on plans to introduce a nationwide minimum price per unit of alcohol, which would supposedly price so-called problem drinkers out of their behaviour. Cameron himself clearly loved posturing on the issue. 'Every night, in town centres, hospitals and police stations across the country, people have to cope with the consequences of alcohol abuse. And the problem is getting worse', he intoned darkly in February 2012. 'Whether it's the police officers in A&E who have been deployed in some hospitals, the booze buses in Soho and Norwich, or the "drunk tanks" used abroad, we need innovative solutions to confront the rising tide of unacceptable behaviour', he said. And the innovative solution of choice seemed to be 45 pence per unit of alcohol and, with it, the eradication of cheap booze.
The gallery of public-health lobbyists and campaigning organisations were delighted by the Tories' performance. 'This is a once-in-a-lifetime opportunity to save lives, to save the country money. Both of those are very good deals for [Cameron]', said the British Medical Association's Vivienne Nathanson. And this presumably was what the Tories wanted to hear. They were doing the 'right' thing, they were 'improving' and changing our behaviour. Whether it was to be achieved through nannying or nudging hardly mattered; what did matter was that the Tories were positioning themselves as a party committed to telling us how best to live our lives: smoke-free and low alcohol, as it happened.
And yet over the course of the past month or so, these two flagship proposals, these two markers of the government's righteous concern with our health, and by default our everyday behaviour, have been, if not dumped, then certainly plonked on the back burner in some far away kitchen, with a sign instructing ministers not to approach until after the next General Election.
This ought to be a good thing, right? We at spiked have always been opposed to the nasty politics of behaviour and snobby lifestyle preaching of New Labour and now the Lib-Cons. So you'd think the abandonment of these two illiberal policies, both of which are underpinned by degrading assumptions about people's capacities to make their own decisions about how to live their lives, ought to be something to be welcomed.
But it's not really a good thing at all. In fact, if there's one thing worse than a petty authoritarian government, intent on regulating autonomy out of our existence, then it's a government with no authority at all. Because that is what this Conservative-dominated government is: a ruling force with neither reason nor conviction to rule. Policies are chucked out into the public realm as little more than press releases. The plans and proposals themselves are weightless, without consequence. But then, this is hardly surprising given that actually acting on plans or proposals is far less important than appearing to act, than the press-released posture.
The reasons for postponing any decision on either minimum pricing or plain packaging are revealing, too. They are not born of a change in principle, or a strong political argument. No, in both cases the government claims there is not enough 'evidence' to say that either policy will improve public health. Which is no doubt true. But it's also irrelevant. Politics shouldn't be guided by some spurious notion of 'evidence'; it should be informed by ideals, by a sense of how things ought to be. But lacking these ruling ideals, these reasons for being in government, Cameron and Co. are outsourcing responsibility for decision- and policymaking to experts and evidence gatherers. 'The evidence made me do it', runs the mantra of the age. Has the government actually changed its view on whether minimum pricing or plain packaging is the right thing to do? Who knows.
At least a government committed to the idea of a nannying and nudging state is committed to something. At least it attempts to govern, to rule as it feels mandated to. You might not like it – and we at spiked certainly don't – but disagreement is the lifeblood of political argument. The current mess of an administration, however, does not seem committed to anything. Instead, it seems slippery, soft, and utterly ungraspable, its political commitments extending little further than the possibility of not doing anything too unpopular before the opportunity to get re-elected comes along. As such it degrades government and politics alike, reducing it to something without consequence or seriousness. And it therefore further depoliticises today's already emaciated political life.
Cameron, Clegg and the other interchangeable faces of the political class are not only for turning. They can see no reason why they ought not to. And that is the really dangerous thing.
Tim Black is deputy editor of spiked.
Picture by: Anna Gowthorpe/PA Wire/Press Association Images
To enquire about republishing spiked's content, a right to reply or to request a correction, please contact the managing editor, Viv Regan.