Standing up for fans' free speech
A new book helps to explode the myth of sectarianism in Scottish football.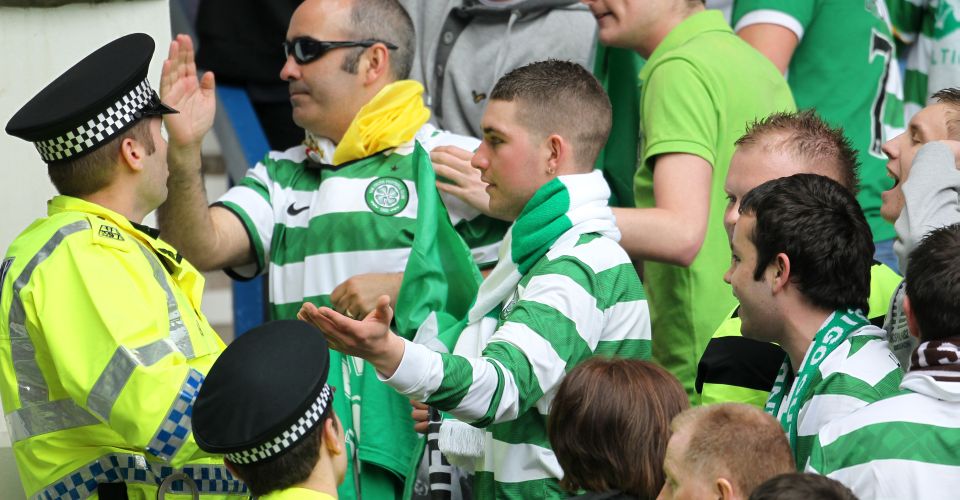 Given how much time has been devoted to debating sectarianism in Scottish football in recent years, it seems incredible to suggest that there is little agreement on what it is or whether it even exists. But that is exactly what jumps out from the pages of a new book of essays on the subject, Bigotry, Football and Scotland, edited by John Flint and John Kelly.
For some years now, there has been a consensus among the Scottish media, politicians and football authorities that sectarianism is the scourge of Scottish society and must be tackled. But many contributors to Bigotry, Football and Scotland question the assumptions underpinning the bewildering onslaught of campaigns, rules and laws that have characterised the issue in recent years.
Edinburgh academic Michael Rosie is one of several who argue that sectarianism as a social force in Scotland is a thing of the past. He writes: 'A generation ago, Steve Bruce argued that relatively rare public displays of sectarianism are not the visible tip of a submerged mass of ice, but rather all that is left.' Drawing on evidence from the 2001 census through to the 2010 Social Attitudes Survey, Rosie claims that the decline of sectarianism is even more pronounced today. One survey published by Glasgow City Council shows that while two thirds of people in Glasgow think sectarianism is a major problem, less than one per cent admitted to any direct experience of it, leading Rosie to suggest that politicians are obsessing about sectarianism at the very time that it is disappearing from Scottish life.
But what is perhaps most striking about this book is the number of contributors who have redefined sectarianism as an attitudinal or identity problem rather than a material or social one. In her chapter, Irene Reid from Stirling University criticises those who dismiss sectarianism as a non-issue and claims they are just looking in the wrong place. Reid concedes that sectarian practices are no longer to be found in the realms of structural discrimination, so she introduces the concept of a 'dysconsious sectarianism', which means that some people are sectarian without knowing about it. 'Many press actors may be consciously unaware of the ideologically laden nature of their constructed narratives concerning football, ethnicity and religion.'
This line of argument echoes the post-Macpherson debate about the concept of 'institutional racism' in which people and institutions can be unwittingly racist – indeed, Reid tends to merge racism and sectarianism. She points to the vilification of Celtic manager Neil Lennon in 2011 as proof of an underlying anti-Irish racism, noting 'the persistence of an underlying intolerance towards the ethno-religious difference directed against those in Scotland who have Irishness and Catholic faith as part of their identity and which coalesces around Celtic Football Club'.
Others also argue that sectarianism is inextricably linked to the cultural identity and traditions of the football teams involved. In his interesting chapter on 'History and memory in Scottish football', Joseph Bradley documents the association of Celtic Football Club and its fans with Irish nationalism and republican politics. Today's Celtic officials distance themselves from this part of the club's history and, to their shame, collaborate with the police to ensure fans singing Irish rebel songs or chanting pro-republican slogans are banned from the stadium. 'The culture around Celtic', writes Bradley, 'is a site of struggle for ethnic and political identities that provides the Irish descended in Scotland with a space to express and celebrate their Irishness, to resist hostility against Irishness in Scotland, and to remember people and events that have partly shaped who they are and where they are'.
The editors of the collection, John Flint and John Kelly, subscribe to this notion of cultural identities and argue against the authorities who depict these as sectarian and seek to sweep them into the dustbin of history: 'We need to state categorically that particular religious and political identities are not in themselves bigoted and should not be conflated with forms of sectarianism.'
While Scotland's politicians think that a 'modern tolerant Scotland' has to be cleansed of sectarian identities, Flint, Kelly and other contributors in this book feel that a tolerant Scotland would respect cultural differences and even celebrate them. 'Recognising the legitimacy of these identities is challenging, necessitating as it does difficult questions about diversity, multiculturalism, the plurality of Scottishness.'
In their conclusion, Flint and Kelly succeed in reframing the question of sectarianism and football in new and refreshingly honest ways. Nowhere is this more apparent than in the chapter by Stuart Waiton (a regular contributor to spiked), who takes on those who want to reject notions of sectarianism in favour of identities.
Waiton not only rages against the authoritarian bans on free speech in Scottish football justified on the grounds of 'anti-sectarianism'; he also takes on those like fellow contributor Reid who argue that attacks on the Irish Catholic identity are a form of racism.
Waiton argues that those who argue in defence of the rights of football fans on the grounds of their culture and identity are unwittingly creating new divisions – he calls them the 'new sectarians'. 'The shift towards understanding people as part of a "culture" rather than as individuals with ideas and beliefs', writes Waiton, 'has escalated in the last two decades and could potentially develop much further in Scotland creating a new divide'.
Waiton echoes my own concerns about the language of the peace process in Ireland. Far from agreeing the peace on the basis of shared universal values of equality and freedom, the Irish peace process was based on celebrating and institutionalising diversity and separate traditions. While Ireland is now free from violence, many surveys have shown that the two communities are more polarised and separate than ever.
The irony at the heart of the current debate about sectarianism in Scotland is that far from overcoming differences and tensions in Scottish football, the desire to frame the debate in terms of cultural difference, diversity and the politics of identity runs the risk of making things worse rather than better. All sides of the debate about sectarianism seem to be reinforcing differences at a time when the big issues that divided Scottish football fans in the past – the Irish war and devotion to separate religious beliefs – are both largely a thing of the past.
The outrageous campaign against younger Celtic fans singing Irish rebel songs as part of the spirited 'Green Brigade', has strengthened the arguments of those looking for further evidence of anti-Irish racism. But I don't think the attacks on Celtic – or, indeed, Rangers fans – should be viewed as racism or an attack on separate cultural traditions; they should be clearly and simply viewed as an attack on freedom and free speech. Look outside Scottish football and you can see campaigners' attacks on Rangers and Celtic fans as part of attacks on free speech and civil liberties throughout the game of football. It would be much more fruitful to frame the debate about sectarianism in football in the context of tolerance/intolerance and the increasing predisposition of previously robust individuals to be easily offended. Tolerance is not about being nice to each other. In the context of Scottish football, tolerance is about defending the right of fans to be rude and downright nasty to each other, if they so choose.
Instead of reporting rival fans for being 'offensive', Celtic and Rangers fans would do far better to join together to defend their collective right to say what they want. Fans from all sides should start to argue that a 'tolerant' Scotland should mean tolerating football fans and our right to express ourselves as we see fit. In the meantime, we should all just get back to watching football rather than lip reading rival fans and players in order to report them to the authorities. As Waiton writes: 'Respecting difference is not usually the first thing on supporters' minds as they unfurl their banners and take on local rivals.'
I might not agree with everything here, but Flint and Kelly are to be commended for what is a genuinely thought-provoking book. Bigotry, Football And Scotland is essential reading for anyone interested in the politics of anti-sectarianism and the demonisation and criminalisation of Scottish football fans.
Kevin Rooney is a writer and teacher based in London.
Bigotry, Football and Scotland, edited by John Flint and John Kelly, is published by Edinburgh University Press. (Order this book from Amazon(UK).)
Picture: Lynne Cameron/PA Archive/Press Association Images
To enquire about republishing spiked's content, a right to reply or to request a correction, please contact the managing editor, Viv Regan.