Cereal Killer controversy: in defence of hipsters
It's official: hating hipsters is now more annoying than hipsters.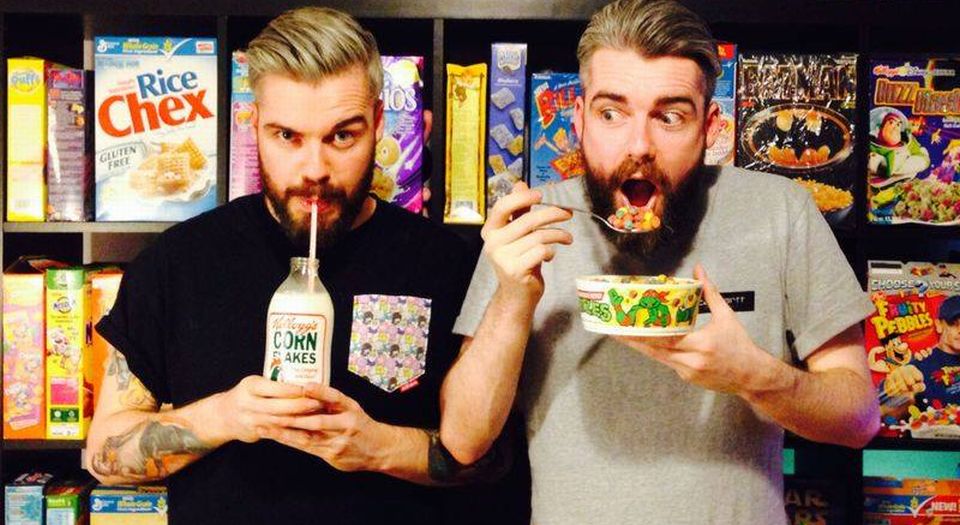 Hipsters living in London's East End have become a group of people it is acceptable to despise. On the surface, there are plenty of reasons to find them an irksome bunch. For a start, their sartorial style choices are irritating exercises in attention-seeking. There's the overgrown beards and lumberjack clothes, the tap washer in the ear lobe and knee-length skinny jeans. And they are unafraid of the three major sins of the modern age: camp, kitsch and irony. Young, good-looking people will always be irritating to older folk, but the Shoreditch/Hackney hipster has become the gold standard of youth in need of a slap.
Over the past six months, though, the charge against the Hackney hipster has turned unduly serious. They're now being accused of gentrifying areas, making them unaffordable for poorer residents to live in. This is the accusation Channel 4 News levelled at the owners of a new café, Cereal Killer, last week. Belfast-born twins Gary and Alan Keery came up with the idea of selling nothing but a variety of cereals, with different flavoured milks and toppings, as the basis for a café. George Costanza in Seinfeld was the first to have this slightly daft idea, but the Keery twins were the first to put it into action. The quirky, novelty factor of Cereal Killer guaranteed media interest, but a rather clumsy interview given by Gary to Channel 4 News brought the cafe widespread notoriety. Queues for its cereals are now Black Friday-esque .
Gary was asked by Channel 4 News' Symeon Brown whether he thought local people would be able to afford £3.20 for a bowl of cereal and whether he knew that Tower Hamlets is one of London's most deprived areas. Keery cut the interview short, saying 'I don't like the questions you're asking me', and went back to serving customers. Perhaps he should have served Brown a hairshirt. Hipster-bashers had a field day, of course. But Brown's interview also prompted support for the Keery brothers' venture.
It's not the first time hipster entrepreneurs have been slated for selling 'unaffordable' produce. Pauline Pearce, the Hackney heroine of the 2011 riots, wrote in the Telegraph that hipster cafes in Hackney selling five-quid cappuccinos were an outrage. But these entrepreneurs are not forcing anyone to buy their goods. There are enough supermarkets around from which to buy far cheaper cereals and coffee, and there are lots of cheap cafes in east London, too.
The anti-gentrification complainers end up being incredibly patronising to the poorer people they profess to support. There's an assumption that a retail outlet selling quirky, odd or nice produce won't be understood or accepted by poorer locals. The fact that some people may not be able to afford something shouldn't be used as an excuse to bash entrepreneurs who want to sell goods to those who can. It smacks of the worst kind of inverse snobbery, and looks like an attempt to do down ambition and entrepreneurship. Okay, a café selling 120 varieties of cereal is hardly a bold leap forward for mankind, but the desire to be a bit different, to do something a bit different, is to be admired. Besides, the opening up of similar quirky shops, cafés or pub venues is exactly the sort of thing that can brighten up a rundown area. Who wants to go back to the shabby London of the 1970s?
Shoreditch and other parts of east London have definitely changed for the better in recent years. Whereas the arty Hoxton types of the 2000s often affected lower-class mores and habits to sneer at materialist aspiration, the beardy lumbersexuals of today have an eye for creating all sorts of niche products and produce. At a time when the brewery industry has been under attack from officialdom, the rise of hipster microbreweries in the East End is a welcome development. Shops such as hardware store Labour and Wait, specialist clothing outlets and niche food stores all thrive because some people's basic outgoings have been reduced due to the modern-day marvel of supermarkets. Entrepreneurial hipsters often discover a gap in the market for high-end or novel goods. And this desire to have quality commodities is a good thing. As Marx pointed out, it is in the process of exchange that capitalism reveals its civilising, historically progressive side. Hipster capitalism – why not?
But perhaps the most preposterous argument against the Keery brothers and other hipster businessmen is that they are somehow responsible for poverty. In London in particular, the lack of affordable housing, and subsequent sky-high rents and mortgages, is more of a problem than a £3.20 bowl of Coco Pops. Attacking hipsters for simply selling nice goods in the East End is not going to tackle inequality and poverty. But the demand that anyone with a novel idea for a small business should shut up and ship out certainly reeks of a poverty of ambition.
Neil Davenport is a writer and teacher based in London.
To enquire about republishing spiked's content, a right to reply or to request a correction, please contact the managing editor, Viv Regan.