Viz – still the biz
Happy 35th to 'the shittest magazine in Britain and possibly the world'.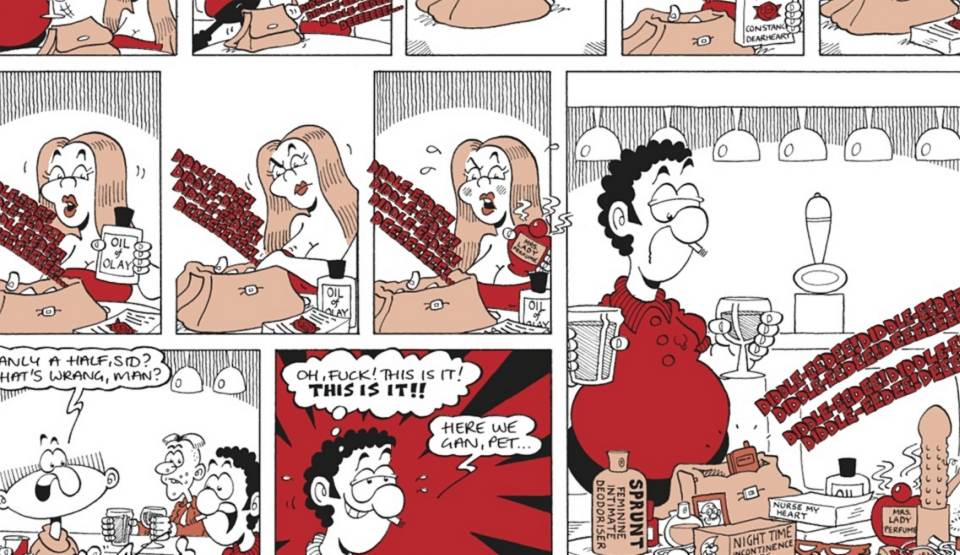 Thirty-five years ago, a young Margaret Thatcher was just settling in for her decade-long domination of British politics; Liverpool and Nottingham Forest were the top football teams in Europe; and the fresh-faced Viz magazine was setting new standards in funny satirical filth.
In a world of turmoil, it is nice to know that some things don't change.
Remarkably Viz, the comic masterpiece that describes itself as 'the shittest magazine in Britain and possibly the world', has just celebrated its thirty-fifth birthday. It is marking this auspicious anniversary with not one but two compilation albums: The Big Viz Book of Adventure, a collection of affectionately acid send-ups of the British kids' comics of yore, and The Dutch Oven, the typically tastefully entitled selection of favourite bits from the year's 10 issues. Like an old-fashioned hardback child's Christmas annual, with the small addition of a bold 'not for sale to children' tag across the back cover.
It was, as legend tells, November 1979 when a trio of teenage Geordies drew and published 150 copies of the first Viz, a 'Bumper Monster Christmas Edition' (12 pages) sold in the local pub for 20p – '30p to students'. Inspired by punk, the revolting Viz soon changed comedy and publishing in the UK and itself inspired everything from the irreverent 'lads' mag' Loaded to a new generation of taboo-tampering comedians. By the early 1990s, it sold more than a million copies of every issue.
So, is there a place for the now-venerable Viz in a new world of caustically satirical websites and self-consciously offensive comedy? With an intelligence and artfulness that sets it apart, Viz is still the biz; a lot of newcomers (the Daily Mash sometimes excepted) are not fit to ink its artists' Victorian-style pen nibs.
It's not just that things we now take for granted – like those piss-taking celebrity 'news' stories – were invented in Viz. The magazine's mock Letterbocks section — 'the page you write and it's always shite' — and the famous Top Tips feature remain among the sharpest-written things in the English language. And whether every strip works or not, the drawing boasts a degree of old-fashioned craftsmanship unseen in post-modern cartoons.
As well as inky artistic skills, Viz has always displayed a fine comic intelligence. It does jokes at everybody's expense without any set agenda, and proudly boasts that you will learn nothing by reading it. Yet plenty of today's 'edgy' comedians could usefully study Viz to learn that simply being offensive is not enough – you have to be funny first.
Yes, Viz has long revelled in 'controversial' working-class caricatures such as Sid the Sexist and the Fat Slags. But they have always seemed to me to emit a warmth towards their plebeian subjects that sets them apart from the moral snobbery of mainstream chav-bashing today. Anyway, Viz has also specialised in puncturing the inflated egos and hypocrisies of the political and cultural elites, albeit through the medium of the fart-and-knob gag.
In that light, one small complaint about the new compilation album might be the absence of a strip featuring my favourite subjects, the Bottom Inspectors – uniformed prodnoses with the power to strip-search and imprison members of the public for wearing women's underwear or exhibiting piles or 'third-degree skidmarks'. First published at a time when groups of real-life parents were being arrested and accused of abusing their children by real-life bottom inspectors, this cartoon stuck a sharp pen into the inflated paedophile panic that led to increased police powers to pry. As editor of Living Marxism magazine from the late 1980s, I recall wanting to run articles as challenging as the Bottom Inspectors. The late Auberon Waugh, a great Viz fan, compared the Bottom Inspectors to Orwell's attack on Stalinism.
Like others among us who also came of age in the 1970s, Viz has more recently had to adapt to the new world of websites, Facebook promo pages and all of that. Unlike some, however, it has done so without selling its arse-soul to the cultural bottom inspectors. Thirty-five years on, Viz remains a model of how to do infantile, adolescent and frankly puerile humour for grown-ups with a brain. More power to its sharp and hopefully non-arthritic elbow.
Mick Hume is spiked's editor-at-large. His book, There is No Such Thing as a Free Press… And We Need One More Than Ever, is published by Societas. (Order this book from Amazon(UK).) Visit his website here.
The Viz Annual: the Dutch Oven, by Viz, is published by Dennis Publishing. (Order this book from Amazon(UK).)
The Big Viz Book of Adventure, by Viz, is published by Dennis Publishing. (Order this book from Amazon(UK).)
To enquire about republishing spiked's content, a right to reply or to request a correction, please contact the managing editor, Viv Regan.