Obama is wrong: we need more politics, not less
The State of the Union address exposed Obama's abandonment of reality.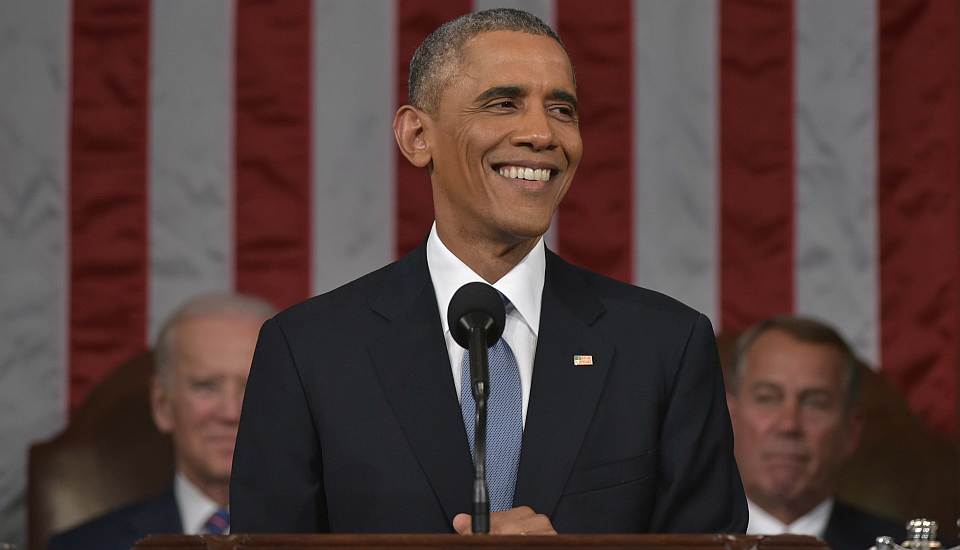 Only a week has passed since US President Barack Obama delivered his penultimate State of the Union address, but already the news has moved on to how House Speaker John Boehner and Vice President Joe Biden managed to sit through a whole hour of Obama's speech without visibly reacting beyond a few rounds of polite clapping. Biden fulfilled his vice presidential role admirably with his 'pretend to be interested' expression and Boehner wore the mandatory, but entirely 'unrehearsed', opposition scowl while thinking about the wording of the invite card he was about to send to Israeli Prime Minister Benjamin Netanyahu. At least Supreme Court Justice Ginsburg had the honesty simply to fall asleep halfway through.
Yet, given the reaction to the speech among the liberal media, one could be forgiven for thinking this was a vintage SOTU. One commentator described it as 'Obama's best speech. Period.' It was, we were told, a speech to reunite a divided and broken America. Brimming with confidence and self-congratulation, Obama spoke as if he had just won a landslide election victory – when, in truth, the Democrats were recently given a massive drubbing at the midterms. His bravado seemed completely at odds with reality.
But ignore the awkward facts: this was an opportunity for Obama to reassert his authority through his undeniably powerful and emotive oratory. 'Tonight we turn the page', he declared. 'The shadow of the crises has passed, and the State of the Union is strong… Tonight I want to focus less on a checklist of proposals, and focus more on the values at stake.'
Over the years, there have been some inspiring SOTU addresses: Abraham Lincoln in 1862 outlining why giving freedom to the slaves would save the Union; Franklin D Roosevelt in 1941 outlining the four essential freedoms, including 'the freedom of speech and expression – everywhere in the world'. These addresses were remarkable not just for their style but also for their substance. And it was the substance that was lacking in Obama's address. Admittedly, unlike Lincoln or Roosevelt, Obama is not facing a true existential threat to the Union, but he is lacking the political authority of his predecessors.
So who was Obama talking to? Well, given only 31.7million people watched this year, compared to 33.3million last year and 52.4million for his 2009 address, he certainly wasn't speaking to large swathes of America. In reality, it seems that Obama's grand ideas appeal to an increasingly small minority. Yes, he paid lip service to diverse groups, such as veterans, Jews, Muslims and the LGBT community, but in some senses this SOTU was an ode to the political bubble in which Obama increasingly finds himself operating. That isn't to say that Obama lacks popular support – in fact, his personal approval ratings have increased significantly in recent weeks. But his support seems more closely linked to his individual popularity, his rock-star persona, rather than to any political project. Indeed, he still maintains the status of a pop-culture phenomenon, something that was embarrassingly on show after the SOTU address as he signed autographs and even a groupie's tie. But what these personal approval ratings do not show is how the American public view the work of the government. Congressional approval ratings are near an all-time low, with the latest Gallup poll showing that only 16 per cent of respondents approve of the way Congress is doing its job.
This is critical, and highlights a glaring disconnect between the pitch Obama made in his SOTU address and the reality of politics in the US today. The political elite, Obama included, is falling over itself to appeal to the 'middle class'. In fact, the idea of 'middle-class economics' formed a large part of his address. But 'middle class' is really just a catch-all term now used to describe almost everyone in the US who is 'trying hard' and 'contributing'. It is an attempt by the elites to appeal to all of us, to make us feel included – it even seems to have supplanted the American Dream in common parlance. But where the American Dream inspired an unashamed desire to have and want more – a big suburban home, nice cars, a college education and a boat – 'middle-class economics' is about living within our means and managing our student-debt burdens. Where the American Dream was about sharing in the political desires of a free, fair and enlightened nation, 'middle-class economics' is about making the best of what we have.
The aversion to 'politics' and resulting lack of leadership among America's elite was startlingly laid bare by Obama in the SOTU. 'So the verdict is clear', he said. 'Middle-class economics works. Expanding opportunity works. And these policies will continue to work, as long as politics do not get in the way.' As long as politics do not get in the way: this is a remarkable thing for a president, or any other career politician or leader, to say. Obama is telling us not to engage in a battle of ideas, and urging us instead to work together to move to the middle ground, the safe space where we can all just get along and not question decisions. To my mind, this is a scary place, and somewhere I don't believe most Americans want to go.
In fact, what Obama is trying to address in his pitch against politics is the popular disenchantment with America's 'polarised' and 'broken' politics. But contrary to what partisan pundits would have us believe, the American people want unifying ideas and policies that will move this country forward and make it a better place for its citizens. The disenchantment is not with politics per se; it's with a politics bereft of substantial goals. Republican Sarah Palin learnt this the hard way at the Iowa Freedom Summit earlier this week, where her rambling and barely coherent speech effectively removed any chance she ever had of winning the Republican nomination for president. Much to the disappointment of the left-leaning media, Middle America is not made up of a bunch of hillbillies, rednecks and bible-bashers who will believe anything a Conservative Republican tells them. In fact, like Obama, Palin fails to inspire precisely because of her focus on the politics of culture and identity.
Perhaps the most telling parts of the SOTU address were the parts with which Obama seemed most comfortable. These were the areas where he could appeal to the new orthodoxies of American life, orthodoxies that have taken hold since he was elected president, orthodoxies born of victories in the culture wars, such the acceptance of gay marriage. But Obama seemed to want more, telling his Congressional colleagues: 'Imagine if we did something different. If we're going to have arguments, let's have arguments – but let's make them debates worthy of this body and of this country.' Agreed. Obama has talked the talk, now he needs to walk the walk, and come up with bigger, bolder and more meaningful ideas, worthy of this country.
Neil Ross is US programme director at spiked.
To enquire about republishing spiked's content, a right to reply or to request a correction, please contact the managing editor, Viv Regan.