You can't say that, Chrissie
The real reason Chrissie Hynde angered feminists? She refused to play the victim.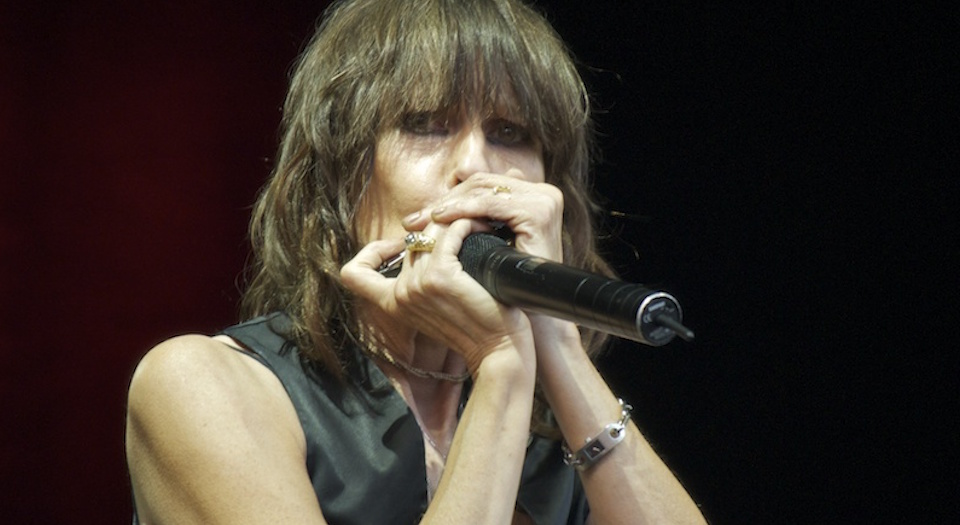 If ever there was a woman who knows her own mind, it's Chrissie Hynde. Former groupie, rock star and all-round hellraiser, Hynde is famous for pushing boundaries and breaking rules. And it seems old habits die hard. The 63-year-old is now causing considerable controversy on Twitter and in feminist circles following an interview with The Sunday Times about her new autobiography, in which she discussed the time she was sexually assaulted by several men in a biker gang when she was 21. 'This was all my doing and I take full responsibility', she said.
Hynde's comments on her sexual assault come at a time when discussions about rape and sexual violence are especially fraught. Hynde was immediately criticised by Victim Support, a charity for victims of crime, which stated that, 'regardless of circumstances or factors', victims of rape should never 'blame themselves or be blamed for failing to prevent an attack'.
But Hynde wasn't really blaming women for being raped. She was simply saying that she was aware of the possible consequences of her actions. 'You can't fuck about with people, especially people who wear "I Heart Rape" and "On Your Knees" badges', she said. She knew the risks she was taking, off her head on drugs and in bad company: 'They're motorcycle guys! If you play with fire you get burnt. It's not any secret, is it?'
Hynde's comments were shocking because the prevailing narrative around sexual assault and rape has been so one-sided. If you don't play the victim, then you're part of the problem, runs the dominant train of thought. It is as if victimhood has become a sort of brand: students who have been sexually assaulted get photoshoots in broadsheets, petitions in their names and t-shirts made in their honour. The reaction to Hynde's comments shows just how stifling this victim-heavy atmosphere has become. Some critics of Hynde, such as #EverydaySexism founder Laura Bates, accused her of suggesting that all women are to blame when they are raped; others, such as Louise Mensch, said Hynde was stupid for not inhabiting the classic victim role. But perhaps the most sickening response was from feminist-of-the-month Daisy Buchanan, who expressed sympathy for the delusional rock star in a heartfelt article for the Telegraph: 'She's self-blaming and has been for more than 40 years.'
Yet Hynde was making a commonsense argument: people should keep their wits about them, and should avoid putting themselves in certain situations or inviting danger unnecessarily. This is not an argument against women's freedom. Unlike contemporary feminists who want to safe-space women's lives, I think we should take more risks more often. The crucial point Hynde is making is that if you are willing to take risks, you must also be willing to take responsibility for the consequences of your actions. Now, I don't think that going out in a tarty outfit should be a risky affair, but in Hynde's case, she made a decision to put herself in danger. That doesn't excuse her assailants or their actions, but it does show that she was no deer in the headlights. Rather, she was responsible for getting herself into a clearly iffy situation.
We also have to challenge this idea that women should be protected from social interaction. When I wear a short skirt to a club, it's usually in the hope that I'll catch someone's eye, not because I find having cold legs particularly comfortable. What feminists don't seem to realise is that the portrayal of women as weak, vulnerable and under attack isn't something that appeals to most women. In fact, in normal interactions between sexes, women are far more forward than men about sex, because men are notoriously bad at making the first move. We don't go around in bubbles; what we wear, do or say is done in a public arena. We should invite interaction, not hide from it.
Hynde is wrong to suggest that what you wear is an indicator that you're up for being raped, just as she's wrong to suggest that a bit of thigh flips the switch in a man's head from reasonable human to rapist. However, what we should celebrate is her refusal to be painted as another hopeless victim. When asked if she was a feminist, Hynde replied: 'I've never made a decision because a guy suggested it… I just do my thing.' Feminism increasingly wants women to recoil from interaction with the outside world, flinch at every compliment and cry at every insult. There is a difference between arguing that victims of rape are not asking for it, and celebrating women's inherent victimhood. Though I don't think society should see rock stars as role models, I salute Hynde for talking about her own experience in a way that challenges the notion that women aren't in control of their own lives. We need to open up the debate about rape, and challenge feminists who seek to tell us how to feel about our own lives.
Ella Whelan is staff writer at spiked.
Picture by: Peter Tea.
To enquire about republishing spiked's content, a right to reply or to request a correction, please contact the managing editor, Viv Regan.