The fake-penis case: a moral travesty
Gayle Newland's sentence revealed a chasm between the law and the people.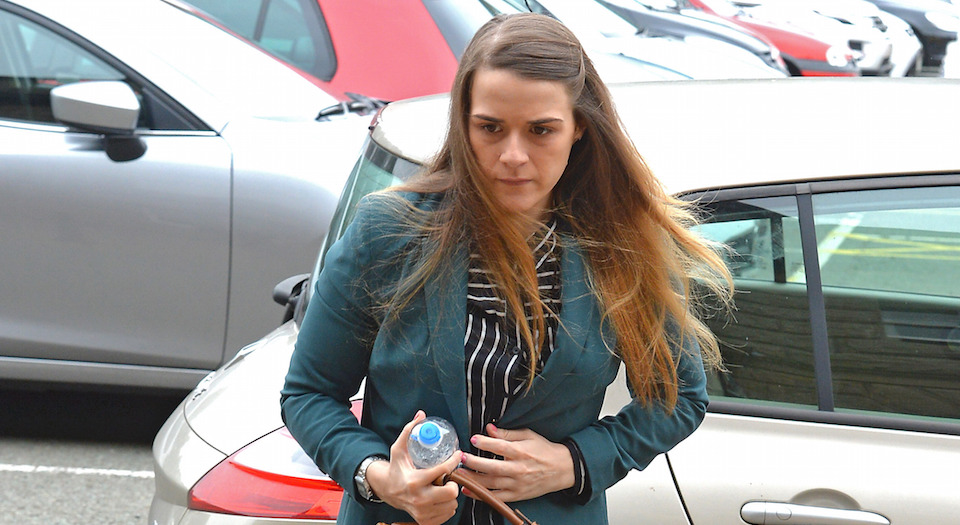 Twenty-five-year-old Gayle Newland was recently convicted of assault by penetration, and sentenced to eight years in prison. The judge, when sentencing Newland, called her an 'obsessional, highly manipulative, deceitful, scheming and thoroughly determined young woman'. After release, she will spend 10 years on the UK's sex-offenders register.
The bizarre facts of this case are well known. Newland created an online, male alter ego she called 'Kye Fortune'. She made virtual contact with the victim, who can't be named for legal reasons, in 2011, but didn't meet her in person until 2013. When they finally did meet, Newland asked the victim to wear a blindfold, saying Kye was insecure about his looks after undergoing brain surgery. It is said they spent more than a 100 hours together, and the victim would wear a blindfold even while they watched television, and, incredibly, sunbathed together. Newland and the victim reportedly had sex 10 times before the victim removed her mask and saw Newland wearing a prosthetic penis.
The judge's eight-year sentence split popular opinion. Legal commentators were quick to point out that the sentence was 'commensurate' and not out of the ordinary for what Newland was convicted of. Assault by penetration is a 'very serious offence', they said, praising the judge for dealing with a very difficult set of facts. And, going by the sentencing guidelines issued to judges, the judge's decision to lock Newland up for eight years for deceiving someone into bed is entirely justified.
But for everyone outside the sphere of legal commentary and the legal profession, the sentence appeared in a different light. Some called Newland's sentence an 'outrage', with even some lawyers pointing out that it 'set a dangerous precedent for transgender rights'. The split between the majority of legal commentators and the rest of society over the Newland case highlighted a gulf between the law and public morals. Here we had an example of a rather strange, complex interaction between two adults, arguably equal in their 'psychological vulnerability', which ended with one party getting eight years in the slammer, and branded a 'manipulative' and 'deceitful' sex offender.
In my view, the case merely proved right the old adage: the law is an ass. If you want to maintain your humanity in cases like these, if you want to be able to understand why we probably shouldn't send people like Newland to prison for long periods of time, we have to look beyond the law. So, while what Newland did was undoubtedly illegal, the more interesting and complex question is: was it immoral?
Yes, Newland lied to get her partner into bed. She probably went further in her deception than most. But as I have argued previously on spiked, the law on whether it is okay to lie to someone before sleeping with them is an inconsistent mess. According to the Court of Appeal, keeping your gender history secret is apparently wrong, while keeping your HIV status a secret is not necessarily problematic. Lying about being an environmental protester when you are in fact an undercover policeman is fine, as we saw following the refusal of the director of public prosecutions to prosecute several undercover police officers, but lying about being a doctor performing a medical examination, for example, is not fine.
The more cases like this we are confronted with the more we should realise that they raise moral questions the law is ill equipped to handle. Indeed, the climate around such cases has become so fraught that we have become terrified of asking the difficult questions about sexual morality that underpin cases like Newland's. Instead, we rely on law to tell us what is right and wrong – law that is, in this case, thoroughly confused.
For example, academics and senior lawyers often argue that society 'blames victims' for being attacked. Of course, when someone makes a criminal complaint it must be taken seriously and properly investigated. But are we not able to ask whether someone who accepts being penetrated while blindfolded on numerous occasions should share some moral responsibility for dictating the terms of their sex life? Yes, Newland deceived her victim, but the circumstances of the deception were such that many people sensibly asked how someone could be deceived so readily. Of course, legally, Newland is guilty. But does her partner not share some of the moral responsibility for the terms of their relationship? Shouldn't it be permissible to ask the question without being dismissed as a victim-blamer?
This complexity is reflected in public attitudes towards rape and sexual-assault cases. Recent research has consistently demonstrated that women think that rape victims 'bear some responsibility' for what has happened to them. However, when these surveys are published they are widely reported as showing that women 'blame' rape victims for being raped. But responsibility and blame are different things. Attributing responsibility merely recognises that someone is autonomous and capable of making meaningful decisions. A person can have responsibility for something, in the sense that something they did contributed to the possibility of an act or event occurring, without him or her being to blame for it. It is just this type of subtle distinction that is so vital in contemporary discussion, but that is so often lost in a climate of You Can't Say That.
What Newland did was illegal, and the judge passed a sentence perfectly in accordance with the law of the land. But it would be a mistake to treat this as the end of the public discussion about the moral complexity of Newland's case. Newland's case is about more than the law. It raised a profound and difficult debate about how we want the state to interact with the most private areas of our lives. It raised questions about moral responsibility in the context of sex and intimacy. It also raised questions about the dividing line between the law, which says Newland is undoubtedly guilty, and public morality, which is inevitably more complex. Perhaps the judge was right to throw the book at Newland, but the questions of responsibility and judgement that the case raised will have to be resolved outside of the courtroom.
Luke Gittos is law editor at spiked, a solicitor practicing criminal law and convenor of the London Legal Salon. He is the author of Why Rape Culture is a Dangerous Myth: From Steubenville to Ched Evans. Why Rape Culture is a Dangerous Myth: From Steubenville to Ched Evans. (Buy this book from Amazon(UK).)
Picture by: Andy Kelvin / PA Wire / PA Images
To enquire about republishing spiked's content, a right to reply or to request a correction, please contact the managing editor, Viv Regan.