The Danish Girl: neither stunning nor brave
The uneasy response to Tom Hooper's botched biopic speaks volumes.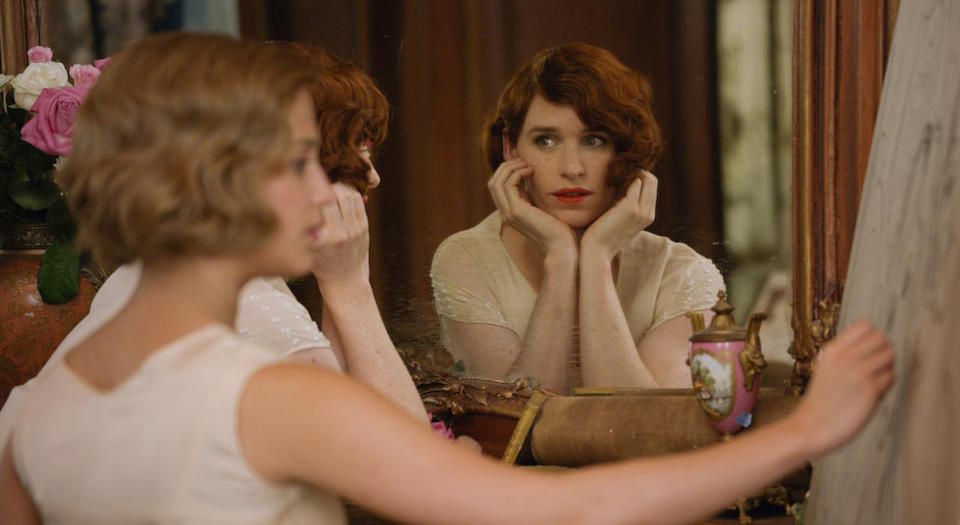 It's January, and in the film world that means one thing: Oscar Gold season, that period, just before the Academy Awards noms are announced, in which we're treated to a slew of safe, calculated releases aimed at warming hearts and nabbing gongs. This year, all the usual suspects are lining up. We've got the true-life thriller (Spotlight), Tarantino's latest bloodbath (The Hateful Eight), and the obligatory 'taboo-buster', in the form of Tom Hooper's The Danish Girl.
Hooper's glossy biopic tells the story of Einar Wegener (Eddie Redmayne), a Danish landscape painter who, in the early 1930s, became the first person to undergo gender-reassignment surgery – emerging, at the end of it, as Lili Elbe. But, while its Oscar chances remain to be seen, it's already caught a surprising amount of flack. Hooper's been slammed by transgender activists for failing to give the lead to a trans actor – despite the clear lack of trans A-listers. What's more, reviewers have criticised its romantic depiction of Wegener's transition, suggesting it papers over the undoubtedly brutal nature of Elbe's pioneering, and eventually lethal, procedure.
It's a testament to the maelstrom of offence-taking, Tumblr sociology and finger-wagging that surrounds the transgender debate that The Danish Girl has attracted anything but plaudits. Where Sean Penn as a gay mayor could mince his way to awards wins with ease, Redmayne's (admittedly) cartoonish turn as Elbe, complete with constant swan necking, demurring grins and lots of crying, has stuck in the critics' craw. Where you'd imagine people to be tripping over themselves to praise The Danish Girl for 'giving a voice' to another blighted minority, the film's mere existence being cast as a giant leap forward, the response has ranged from mildly outraged to cautiously critical.
Perhaps this is a good thing. Judging films purely on how many PC points they rack up is degenerate, and The Danish Girl is more than worthy of some criticism. On top of Redmayne's incessant simpering, the rest of the cast wrestle with cardboard cut-out characters. Alicia Vikander, playing Wegender's wife-then-gal-pal Gerda, just about manages to wring some depth out of the Feisty Woman lines she's given. And Matthias Schoenaerts's Hans, bobbing in and out of the story looking like a crestfallen Basset Hound, is there only as a reassuringly blokey shoulder for Gerda to cry on. The streets of Copenhagen and Paris, meanwhile, are cast in a chocolate-box haze and it all ends in a sub-TV movie scene on a windy clifftop.
But there's a reason The Danish Girl strikes such an uncertain note. Even though transgenderism has become the fastest-formed orthodoxy ever, with enraged tweeters taking anyone to task for daring to raise a peep of criticism and subeditors throwing the English language out the window in order to accommodate the ever-expanding list of pronouns, no one is still quite sure what the line is. We're told transgenderism is 'something in the brain', and yet not a mental illness. That it's driving our idea of gender into a more progressive place, even though it seems to rely on the idea that masculinity and femininity are biologically determined.
Watching The Danish Girl is like wandering into a minefield. You're never sure if it's supposed to be inspiring or offensive – if you're expected to cry or log on to Change.org. In one scene, Lili gets a job in a shop and giggles away as the manager informs her that sales is 'like a performance'. Soon, she's strutting around talking diets and waistlines with the rest of the shop girls, knowingly playing up to some cartoonish standard of womanhood. It's a scene designed to tug at the heartstrings, but which descends into unintentional farce.
The Danish Girl is no more naff than any other worthy flick that has been precision-made to pander to the Academy's 'progressive' credentials. But in biting off more than it can chew, it lays the limits of worthy, [insert minority here] cinema bare. Where art once aspired to say something profound about who we are as human beings, to uncover something universal, now it dwells on difference – each play, book and film desperate to 'do justice' to whatever pet victim it takes as its subject. Combine that with the world of trans politics – a nascent, disconnected and incoherent movement that seems to thrive solely on pious outrage – and you've got a deadly cocktail. In this age of privilege-checking, even making Oscar Gold has become a risky business.
Tom Slater is deputy editor at spiked. Follow him on Twitter: @Tom_Slater_
To enquire about republishing spiked's content, a right to reply or to request a correction, please contact the managing editor, Viv Regan.