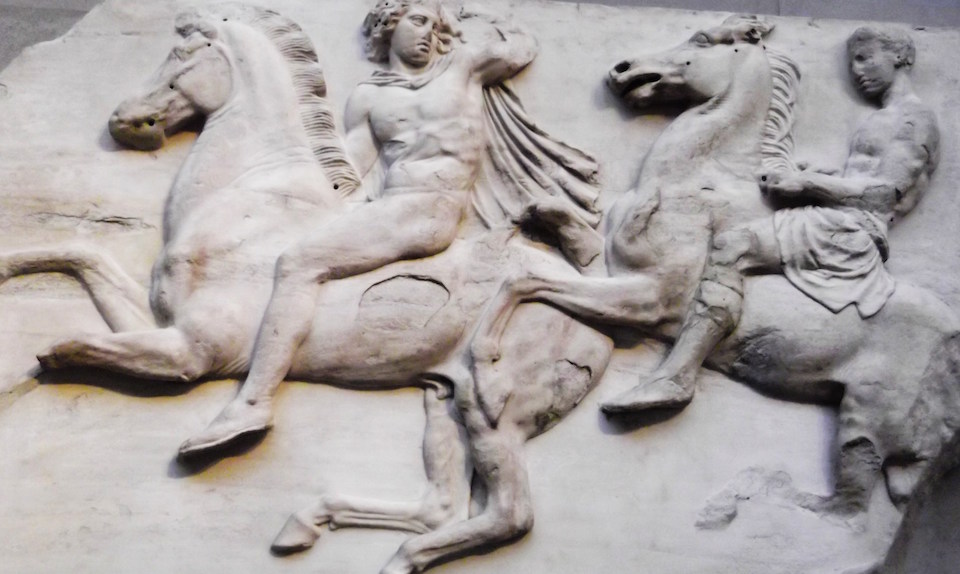 Long-read
'Museums are not agents of the elite'
Tiffany Jenkins discusses her new book, Keeping Their Marbles.
'In the 19th century there was a belief in cultural expertise and cultural authority, but also a belief in people, that they could uplift themselves from their day-to-day lives and be transformed by an understanding of other times and places.' That, says author Tiffany Jenkins, is the foundation of the modern museum. And it is this enlightened spirit, this belief in the possibility of transcendence, that she feels is in peril today.
Her new book, Keeping Their Marbles, is an elegant and passionate study of the rise of the great museums, and their recent lapse into self-dismemberment. 'I've always loved museums', she tells me, 'but recently I noticed they were doing some really odd things. They were sending back objects and human remains to communities. And they were intensely passionate about that.' It is this unravelling of museums' faith in themselves that spurred her to explore how artefacts from around the world came to find themselves in Western museums, and to explain why she feels these artefacts should stay put.
At the centre of her study is the Elgin Marbles – the Ancient Greek sculptures that were packed off to the British Museum in the early 19th century. Over the past 20 years, the clamour for repatriating the Marbles has been growing. The Greeks have no legal claim; the sculptures were taken before modern-day Greece existed. And the British could even be credited with saving them from neglect and destruction: Lord Elgin arrived in Athens during Ottoman occupation, when the Parthenon was being used as a quarry and the 'old ruins' were being ground down for mortar. But now, Jenkins notes, the arguments for returning the sculptures have become focused on national pride and self-esteem. As one Greek minister put it, the Marbles are 'something unique, something matchless, something specific to our identity'.
Jenkins is having none of this. It reeks, she says, of a 'hoarder mentality' and a particularism that suggests culture can only be owned, and perhaps only appreciated, by the descendants of the people who made it. 'Culture is never autonomous', she tells me. 'It may come from a particular place, or a particular person, at a particular time. And often you can see that in the object. But it is formed in a relationship with others.' There is a dubious, racialised undertone, she suggests, to the insistence that a nation can somehow own its own culture.
She advocates the status quo – the marbles split between the British Museum in London and the Acropolis Museum in Athens. 'You can walk through the Acropolis Museum and see the marbles in their geographical and historical context; you can see why they're such a breakthrough, so different. And in the British Museum, which is more encyclopaedic, you can see them in relationship to other cultures. You can see them in relation to Ancient Rome, which was hugely influenced by the Greeks but could never quite achieve their greatness. When they were acquired they also transformed our understanding of Ancient Greece, and I think the British Museum reflects that.'
The British Museum has long resisted the calls for repatriation. But Keeping Their Marbles is full of examples of museums that are all too happy to give repatriation claims a sympathetic hearing – some even seem to be inviting them. The Museum of World Culture in Gothenburg, Sweden, recently committed to handing back nearly a hundred artefacts to Peru from its seminal Paracas Collection. Discovered in the early 20th century in the Paracas peninsula, the objects, including burial shrouds and textiles, are over 2,000 years old. When they went on display in Gothenburg in 2008, it was under the title 'The Paracas Collection: A Stolen World', with the museum's own website referring to the exhibition as the product of 'tomb-raiding'. By December 2009, Peru's foreign ministry had made a formal request for repatriation, citing the exhibition's own guilt-ridden literature.
'There is a self-loathing at the heart of it', Jenkins tells me. 'There's a real lack of faith in both the meaning and power of cultural artefacts and their history. Because many museums are not interested in that anymore. They're far more interested in making themselves feel better about a past they had nothing to do with.' The clamour for repatriation, she goes on, is most often generated within institutions themselves. It is an expression of museum curators' own crisis of purpose – that is, 'the pursuit of truth and its dissemination', as Jenkins puts it. 'I also think there's a real crisis of faith in human beings. [Some curators] have no sense that people can appreciate and enjoy those cultural artefacts and where they came from.'
I ask her if there's any danger here of whitewashing history. Though the claims for repatriation are over objects that changed hands centuries ago, the circumstances in which they were acquired were often far from noble. The Benin Bronzes, a collection of plaques created by the 13th-century Edo people in what is now Nigeria, were taken by the British in 1897 after a trade dispute with the king of Benin. The kingdom was razed to the ground and the British seized the plaques and the territory. In 1860, during the Second Opium War, an Anglo-French expedition sacked the Old Summer Palace in Beijing and burnt it to the ground. Among the swag was a Pekinese dog, who was renamed Looty and presented to Queen Victoria.
Jenkins is unconvinced: 'There might have been a danger of whitewashing in the past, but it's certainly not the case now. If anything, there's a kind of new whitewashing.' The desire to turn Britain's imperial past into a morality play, she says, is holding back historical understanding in the name of making guilt-ridden Westerners feel better. 'We no longer understand these events as historically specific. The past is being pilfered and rewritten to serve contemporary interests. We're seeing new hidden histories being written, and you don't have the approach to the past that is required. That is, it's not a morality play, and we have to try to understand it – you can't atone for it. You have to have an open investigation, and that open investigation is completely closed right now.'
It is the loss of that spirit of open investigation that Keeping Their Marbles mourns. The book begins with the Captain Cook voyages of the 18th century, in which Cook, along with a crew of naturalists, artists and scholars, mapped the Pacific, conducted geological surveys and gathered plant and animal specimens. It was fuelled, Jenkins writes, by a newfound belief in discovery. She quotes Francis Bacon, speaking on the eve of this new and exciting era: 'Men have been kept back, as by a kind of enchantment from progress in the sciences by reverence for Antiquity.' It is this break with tradition that laid the ground for what was to follow.
A culture of collecting – first of natural specimens, later of tribal and ancient artefacts – grew among the European aristocracy. Though this began as an expression of status – of personal and national vanity – there was a genuine desire to widen the horizons of knowledge for the good of all. When the British Museum was opened, following the British state's acquisition of various personal collections and artefacts, it was free and open to everyone. The trustees hoped it would contribute to the 'improvement, knowledge and information of all persons'. A visiting German intellectual, Jenkins writes, was 'taken aback' by the presence of women and the working class.
The ideal of the 18th-century museum – that it could both pursue knowledge and offer it up for the betterment of all – survived attempts to put this new knowledge to work. Jenkins discusses the founding of the Louvre in post-revolutionary France, where Napoleon was hauling ancient treasures back to Paris in order to build his imperial stature. But progress continued in spite of this. The Rosetta Stone, rediscovered by the Napoleonic expedition to Egypt in 1799, would later unlock the secret of the hieroglyphs. And elite hopes that public museums in Victorian Britain would 'civilise' the proto-revolutionary masses would later prove to be misplaced.
It is the shedding of Enlightenment values, Jenkins contends, that has driven museums into crisis. 'The foundational principles of the museum, to investigate and understand the world, have been scrutinised severely', she says. 'Those in museum studies are schooled in post-colonialism, postmodernism and the idea that the museum is just the agent of the elite.' This has entwined with a 'retreat from social and political solutions to very serious problems, and has led to the targeting of culture as a way of making people's lives better'. This is why, she goes on to say, discussions about land rights, about political and material equality for historically marginalised groups, have given way to a valorisation of identity and the repatriation of long-looted objects.
The hollowing out of the modern museum is not an isolated phenomenon. Culture has only become politicised, Jenkins says, because of the failure of social change. The crisis of progress and freedom simultaneously dashed hopes for political progress and recast culture as a site of oppression. This, Jenkins notes, is bad news on both fronts: 'Any political or cultural achievement of worth has come through people who are different coming together – either comparing what they do or making something new together. And that's what these trends mitigate against.'
Keeping Their Marbles is a plea to get politics out of the museum, and reinvigorate the spirit of discovery that has been dimmed in these downbeat times. Jenkins' estimable study explores how the collecting of objects, the ordering of them and their display to the public, has served the pursuit of knowledge over centuries. This is a book not just about the fate of the modern museum, or the objects stored within, but the fate of the Enlightenment spirit itself.
Tom Slater is deputy editor at spiked.
Keeping Their Marbles: How the Treasures of the Past Ended Up in Museums – And Why They Should Stay There, by Tiffany Jenkins, is published by Oxford University Press. (Order this book from Amazon UK.)
Picture: Frise West, II, 2, Elgin Marbles, British Museum.
To enquire about republishing spiked's content, a right to reply or to request a correction, please contact the managing editor, Viv Regan.