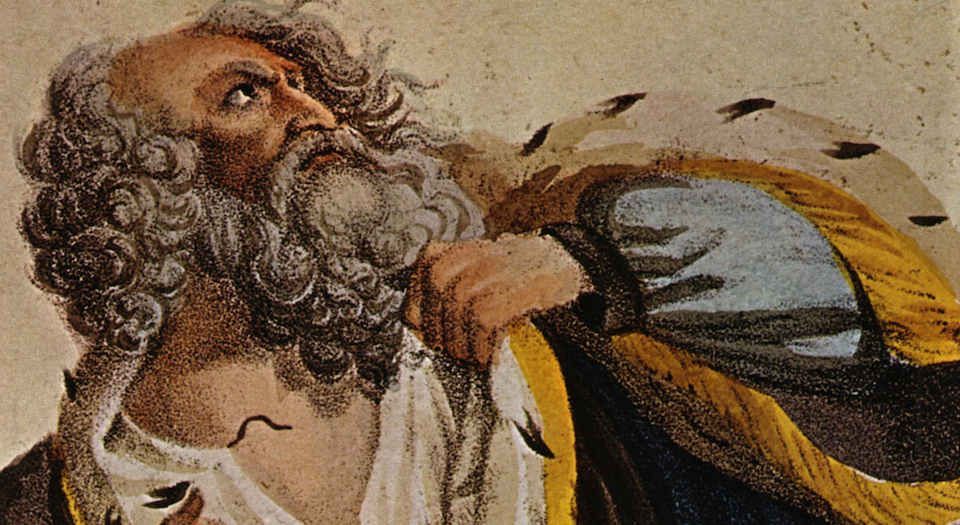 Long-read
Made in Germany
It took the likes of Herder and Schlegel to grasp the brilliance of Shakespeare's tragic vision.
'German critics understand Shakespeare better than we do here', Lord Melbourne, the prime minister, told the young Queen Victoria in 1838.
Melbourne's comment reminds us how German writers and thinkers, from Hegel and Marx to Schiller and Nietzsche, made the rest of us take Shakespeare seriously, and created a 'world Shakespeare' as part of building their own national culture. Many Europeans often initially encountered Shakespeare through German translations and criticism, because German theatre and scholarship was more advanced and rigorous in its engagement with Shakespeare. Indeed, English literary studies only really learnt to appreciate Shakespeare intellectually through German appreciation. The enthusiasm for Shakespeare among Romantic writers, such as Coleridge, drew extensively on German scholarship, notably August Schlegel's essays, even straying into plagiarism. This influence continued through the 19th century up until the First World War.
German engagement with Shakespeare has resonated with other nation-building projects, from Russia to Tanzania. And it has also resonated with political dissidents, from the Russian Decembrists to Alfred Dreyfus to the anti-colonialist CLR James. What is it about Shakespeare's work that has allowed such a diverse political appropriation? The answer lies in Shakespeare's pioneering depiction of people trying to act to change their lives.
While many earlier English critics and audiences tidied up Shakespeare according to the values of polite society, their German counterparts embraced what they saw as his non-conformity. Herder's 1773 essay, Shakespeare, was one of the early international studies of Shakespeare. Herder developed his philosophy of history, in which each society developed its own particular forms of artistic expression, through engagement with Shakespeare. Shakespeare, Herder argued, does not slavishly follow classical models. Rather, he appropriates the creative spirit of the classical tradition to create his own dramatic forms. So whereas the unities of Ancient Greek drama were grounded in simpler societies, offering universal myths, Shakespearean drama has a historical sensitivity and a sense of a nation's historical development. Germans, in turn, were inspired by Shakespeare's creative spirit, and especially his historical understanding, to create their own distinct national cultural tradition.
Herder's thinking on Shakespeare was developed further by Hegel, whose Shakespeare-inspired work on tragedy influenced the English Shakespeare scholar AC Bradley. In Shakespearean Tragedy (1904), which for decades was one of the most widely read studies of Shakespeare, Bradley praised Hegel as the most original thinker on tragedy since Aristotle. Hegel outlined how ancient tragedy presupposed an unalterable world of moral absolutes brought into tragic conflict with an individual transgressor. By contrast, modern Shakespearean tragedy shows us the dialectical development of world history, with characters embodying the hidden new world spirit colliding violently with the old laws. Accordingly, Shakespeare develops the soliloquy, which allows individuals to comment on their own situation, as opposed to Ancient Greek drama, which allows the chorus, the collective, to comment on the action. Shakespeare's pioneering individuals are fated to be destroyed in the struggle to give birth to a new world.
While Hegel, writing in the aftermath of the French Revolution, was inspired by humanity's history-making potential, philosopher Karl Jaspers' writings on tragedy and Shakespeare were marked by the barbarity of world war, totalitarianism and the Holocaust. In Tragedy is Not Enough (1952), Jaspers outlines three aspects of tragic knowledge, drawing on Shakespeare and other tragic dramatists' understanding of the individual and collective predicaments we face in the world.
First, Jaspers notes, our mortality marks the human condition as tragic. Tragedy addresses humans as mortal beings, both of nature and beyond nature, who are conscious of their own mortality. As Shakespeare's tragic King Richard II decries: 'Within the hollow crown / That rounds the mortal temples of a king, / Keeps Death his court; and there the antic sits, / Scoffing his state and grinning at his pomp.'
Tragedy seeks to save human words and deeds from scoffing death and oblivion. In giving meaning to our brief lives, tragedy can encourage our freedom to act against the uncertainty of success and the possibility of failure.
Second, our plurality, and how we differ as individuals, characterises our potential to be political beings and to find ourselves in tragic conflict with one another. Our plurality as individuals means that we do not merely behave as a collective, a herd, driven by instinct, but as self-determining individuals. As Shakespeare's Coriolanus declares: 'I'll never / Be such a gosling to obey instinct, but stand / As if a man were author of himself / And knew no other kin.'
Nevertheless, our individuality is only realised through the world we create between us, as Coriolanus discovers when he defiantly and vainly tries to invert his banishment from Rome: 'I banish you', he says to his fellow citizens. He who would dispense with human society and his fellow human beings would lose his humanity, and must be either a beast or a god, according to Aristotle's Politics.
And third, tragedy is concerned with the scope of human freedom in a material world characterised by necessity and physical causation. Given this, what possibility is there for us to exercise free will and determine our lives? As the player king in Hamlet observes: 'Our wills and fates do so contrary run / That our devices still are overthrown; / Our thoughts are ours, their ends none of our own.'
Hamlet cries out against our fate, where we have to act in a world with time 'out of joint', where our soaring ideals are confounded by material or mortal limits, and the consequences of even our most carefully considered acts cannot be determined. In summary, tragedy dramatises how we die, how we are conflicted and how we are not free enough.
Shakespeare's works dramatise our fears about our human place in world. Consider the prisoner whose freedom cannot be granted because Coriolanus has forgotten his name: 'By Jupiter! Forgot. / I am weary; yea, my memory is tired. / Have we no wine here?'
Coriolanus' failure to recognise this nameless prisoner symbolically recalls the countless nameless individuals whose fates are lost to oblivion. But Shakespeare also captures our creative potential to forge 'a little world of man', as King Lear has it. Even the mighty Coriolanus depends on the recognition he receives from the nameless individuals he cannot remember.
Tragedy, Arthur Miller argues, presents our struggles to gain a 'rightful place in world' and confronts the conditions which suppress our humanity, affront our dignity and are 'the enemy of [our] freedom'. Tragedy revolts against our degradation, questions the unquestioned, asserts our dignity and judges humanity 'justly'.
Shakespeare, though, does not offer us any neat or anodyne treatises on human life and good ethical living. Far from it. Instead, his work trusts the public to confront opposing passions or fundamentally disturbing perspectives and judge the dramatic events for themselves. We are thereby cast as crucial determinants of public life, and not mere passive beholders. So while Shakespeare's plays are hardly democratic theses, they nevertheless engage us as an active and intelligent demos.
Tragedy, for Miller, is essentially hopeful because it demands we realise our full humanity. But tragedy's decline is also possible when we no longer feel with keenness our common humanity, or humanity's striving to make a home in the world.
Against the ruins of world war, the founders of the United Nations put forward a hopeful, humanist vision seeking to enrich our lives, foster peace and expand human freedom. Conversely, today's global imaginary has lost belief in our humanity and aspiration for human prosperity and flourishing. Instead, we see ourselves as needing to rein in our dreams and actions. Too often we accept our portrayal as degraded beings, whose pathological behaviours must be micromanaged, rather than as free citizens with the capacity to speak and act. Against our degradation, we may turn to Shakespeare, among other shared international cultural sources, to reanimate our efforts to create a world in which our humanity, freedom and dignity can flourish.
Vanessa Pupavac is an associate professor in the faculty of social sciences at the University of Nottingham. She has recently completed a manuscript, Our Unbrave World, which is inspired by The Tempest.
To enquire about republishing spiked's content, a right to reply or to request a correction, please contact the managing editor, Viv Regan.