Growing out of Radiohead
It's time Jonny Greenwood was set free from this miserabilist outfit.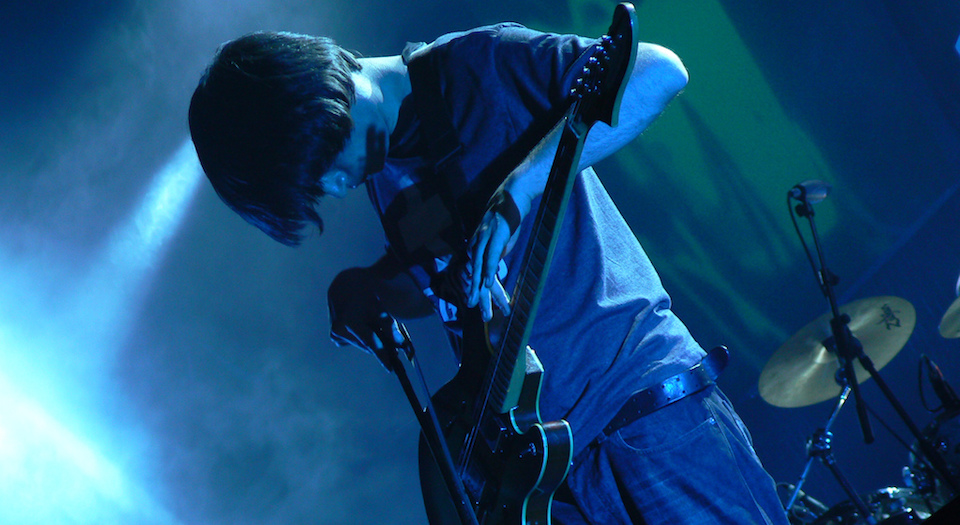 I'll fess up straight away: I grew up a Radiohead fanboy. I spent my teenage years desperately trying to be more like Thom Yorke, the band's consistently depressed lead singer. In my teenage band, one of the first songs we ever covered was 'Creep', from the band's first album Pablo Honey (anyone familiar with the song, particularly the sweeping falsetto vocals, will be able to guess just how terrible our version sounded). I saw them live, taped their TV appearances and hung on their every word.
But then I grew up. Suddenly, Thom Yorke's increasingly banal lyrics started to grate. I no longer understood what it meant if a girl 'buzzes like a fridge' or what a 'Gucci little piggy' was. I got bored with Yorke's constant predictions of climate catastrophe and Malthusian complaints about the contribution of human beings to the impending apocalypse. I enjoyed the later albums, but found few occasions to actually listen to them. By the time Radiohead released King of Limbs, the truly dreadful eighth studio album, I had grown tired of being told that the world was going to hell and that everything about being middle class was desperately depressing.
Their political nonsense would be bearable if their later albums had been decent. But what Radiohead fans hate to admit is that their later albums have not had the aesthetic interest of OK Computer or Kid A. In Rainbows, released in 2007, was not sufficiently daring to be interesting and not sufficiently enjoyable to be something you actually wanted to listen to. Kid A seemed like a genuine statement of artistic intent – even if it appeared to render three quarters of the band redundant – but later albums drifted between electronica and off-beat rock, only unified by the constant presence of Yorke's whinging. Radiohead's enduring commitment to remaining a band means that they meander between musical directions, sometimes indulging in an electronic soundscape, sometimes moving on to more traditional guitar-based song writing. They have become jacks of all trades and masters of none.
So what about album No9? A Moon Shaped Pool, released last week, has some decent and interesting music on it. The problem is, the songs in which they act like a band are the most forgettable tracks on the album. 'Identikit', a song which Yorke has been performing solo for some time, is made notably worse by the involvement of the other members and is overproduced into oblivion. Since when has a song been made better by adding another layer of high-pitched vocal whining? 'Desert Island Disk' is a song so boring it must have been composed simply to give Colin Greenwood (bass), Philip Selway (drums) and Ed O'Brien (rhythm guitar) something to do. 'The Numbers', a dreary and repetitive guitar track, meanders along, sounding like a Turin Breaks record played at half speed.
The album's salvation is the contribution from lead guitarist Jonny Greenwood. Greenwood has emerged in recent years as the most dynamic talent in the band. His scores for There Will be Blood (2007) and The Master (2012) are brilliant, combining diverse influences from 20th century classical music. His soundtrack to the documentary Bodysong was a great experiment in mixing musical genre, drawing together jazz, minimalism and aggressive orchestral harmony.
It is Greenwood's daring that carries Radiohead today. A Moon Shaped Pool opens with a fantastic string blast reminiscent of Gyorgy Ligeti or Iannis Xenakis. This introduces the first single from the album, 'Burn the Witch' – a song which is ruined by the involvement of a drum machine and Yorke's vocals. The second single, 'Daydreaming', is six minutes of Satie-esque piano (probably composed by Yorke) with moody strings which sustain a peculiar and beautiful atmosphere. On the stand-out track of the album, 'Glass Eyes', Greenwood's strings turn an average three-minute pop song into a short cinematic masterpiece.
Greenwood could be something exciting: a popular and distinctive British classical composer. He could be the new Harrison Birtwistle or the British Steve Reich. Setting Greenwood free from his Radiohead obligations seems all the more pressing given that it is not all that clear that the band are actually achieving anything by staying together. Nine albums is a lot for any band to make, especially when it is not clear that they are saying anything new. While Thom Yorke sails away into the sunset on a Greenpeace boat bound for the Arctic Circle, Greenwood should get behind the manuscript paper and push himself beyond second fiddle. If I've managed to grow out of Radiohead, Jonny can, too.
Luke Gittos is law editor at spiked, a solicitor practising criminal law and convenor of the London Legal Salon. He is the author of Why Rape Culture is a Dangerous Myth: From Steubenville to Ched Evans. (Buy this book from Amazon(UK).)
To enquire about republishing spiked's content, a right to reply or to request a correction, please contact the managing editor, Viv Regan.