Football fans: still being treated like animals
Euro 2016 shows fans are still viewed as 'unwashed and backward'.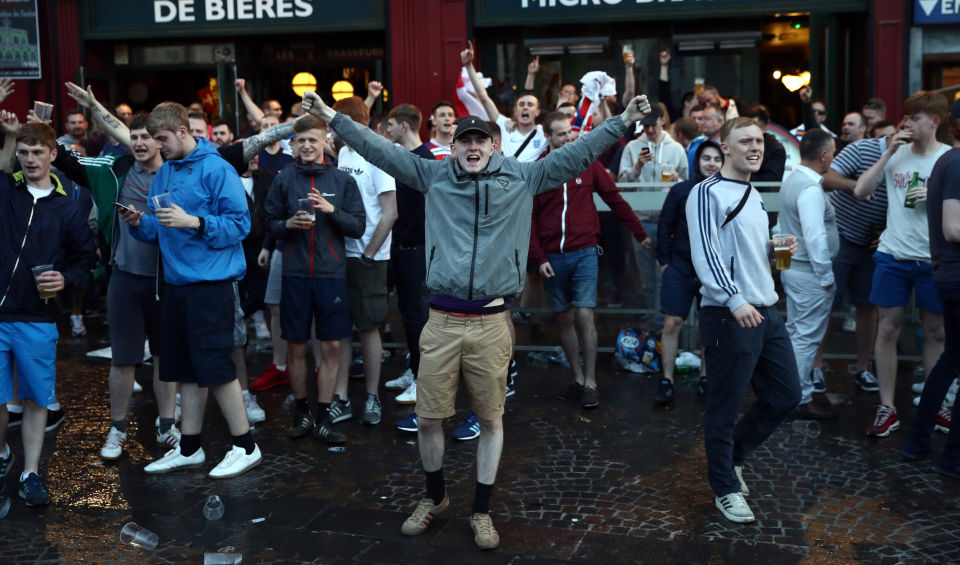 'It could have been a scene from any time during the worst years of football hooliganism', read one report from last week. 'The fan draped in an England flag on a debris-strewn street, strutting defiantly as a mob of supporters gathers nearby. The only thing that points to the fact this isn't some flashback from the 1980s is the smartphone clutched in his hand.'
The tang of tear gas, dispensed with such strong-armed enthusiasm by the French gendarmerie, was still in the air, but that didn't stop other pundits and politicians leaping to a similar conclusion: the so-called English disease was back, bare-chested and bottle-throwing in Marseille's Old Port area.
It didn't matter that actual old-school casuals, the hoolie-lore heroes of a thousand crappy Football Factories, are now pensionable and/or currently passportless under the draconian Football (Disorder) Act 2000. It didn't matter that the strong-arm tactics of the French police, firing gas canisters into hitherto peaceable public places as a 'pre-emptive' crowd-dispersal tactic, at the very least proved provocative. It didn't even matter that the majority of those caught up in the ensuing trouble were doing little more than enjoying themselves over a few pintes. The mere sight of a few England fans having a fight was enough — enough, that is, to confirm middle-class observers' prejudices about match-going football fans, about those who follow the national team, about that type of person.
Hence Labour MP Andy Burnham quickly branded them 'embarrassing' while footballer-turned-crisp-handler Gary Lineker tweeted an image of a crowd of England fans, arms outstretched in invitation to their out-of-shot riot-gear-wearing opponents, alongside the caption: 'What is wrong with these people?' Admittedly, both Burnham and Lineker emphasised that it was just a 'minority' of troublemakers, but their eagerness to focus on the disturbances in Marseille, to make political capital out of them, in Burnham's case, betrayed their discomfort with a perceived social type: the football fan, they suggested, is a problem.
Others were less coy. 'We must grasp the nettle: there's something intrinsically violent about football itself', wrote one commentator. 'The ritualised combat, the mindless chants and rituals handed down from generation to generation, the sublimation of individual conscience to crowd behaviour… Here, to speak frankly, is a medieval cult of violence spawned hundreds of years ago when unwashed and backward peasants took time out from fretting about scrofula to blow up a pig's bladder and use it as the excuse for a gigantic ruck with the next village along.'
The leap from particular, from the plastic-cup throwing antics of some England fans in Marseille, to the sweeping condemnation of a whole swathe of society – the 'unwashed and backward' – is striking. But it's not surprising. For this generalising impulse lies at the root of the perception of the English disease – the perception, that is, of the core football-fan demographic: Britain's unreconstructed white working class. They're not quite like 'us' cosmopolitan, metro-minded souls. They're herd-like, ignorant, subhuman 'knuckledraggers', as one broadsheet columnist once put it, a throwback to an England time forgot. And, worse still, those who follow the England team are jingoistic, chauvinistic and, as one report exclaimed, inclined to sing pro-Brexit songs.
What was particularly troubling about the rush to condemn England fans, and, therefore, tacitly to approve of the gendarmerie's treatment of them, is that it comes in what is ostensibly a post-Hillsborough Inquiry climate. We're meant to be beyond seeing football fans as a problem to be managed, as cattle to be directed and penned in; the days when newspaper editorials would talk of football's domination by 'the underclass', 'a slum sport played in slum stadiums increasingly watched by slum people', are meant to be over. Yet that middle-class fear of the hooligan, which was always really a displaced fear of an increasingly estranged working class, persists, like a latent virus, in the elite imagination. At the merest sign of fan-induced stress, the fear of the football fan, and what he represents, breaks out. They ought to be locked up, or at least penned in and cordoned off.
But, over recent days, as more details about what actually happened over the weekend emerged, the fear and disgust that had been all too quickly aimed at England fans found a new object: Russian fans. First came the televised scenes of Russian 'ultras' rushing England fans in the stadium at the final whistle of England and Russia's opening Euro 2016 match. Then came darker tales of 'hyper-violent', 'hyper-quick' assailants, clad in black, wielding batons and knives, attacking England fans in the Old Port area. Then the facts: 35 people have been reported injured, most of them English, and one, who is currently in an induced coma, seriously so. On Monday, French prosecutors placed the blame for the trouble squarely on Russian shoulders. Marseille prosecutor Brice Robin told a news conference that 'there were 150 Russian supporters who in reality were hooligans. These people were well prepared for ultra-rapid, ultra-violent action. These are extremely well-trained people.'
The narrative appears now to have well and truly shifted. As one British-based crowd-control expert put it, 'the authorities have begun to recognise that rather than being the protagonists, English fans have been victims of attacks on them by Marseille ultras and organised groups of Russians'.
Yet, while the media focus is now trained on Russian fans, complete with titillating analyses of this ripped, neo-Nazified 'new breed' of football hooligan, the same generalising logic is at work. The football fan is still being used as a symbol of something of which right-thinking, Western liberals are frightened. It's just that it is no longer the native working-class male who is the locus of fear; rather, it's Putin's Russia, in extreme white-supremacist form.
The mental jump from criticising the specific minority of Russian protagonists to a general condemnation of Russia wasn't difficult, thanks to the tweets of Igor Lebedev, an MP and member of the Russian FA. 'I don't see anything wrong with the fans fighting', he said. 'Quite the opposite: well done our lads, keep it up.' Sports minister Vitaly Mutko clearly agreed, standing on the pitch after the England game and applauding the Russian fans running after the England fans. But it still requires considerable mental acrobatics to see in the actions of a few Russian 'ultras' something of Russia itself. Not that this has stopped some from doing just that. One commentator described Russian fan behaviour as 'nationalistic violence from the hooligan corps of a resurgent Russia'. Another, arguing that Russia's 'ruthless thugs symbolise [the] new Russia', suggested that Russian president Vladimir Putin supported the ultras as an extrajudicial policing force.
In the course of a few days, then, we have seen the loathing of football fans mutate, taking its initial inspiration from a fear of the lagered-up, Lonsdaled 'underclass', before drawing deep on an image of Russia as a steroidal, racist behemoth. Both say rather more about the right-thinking liberal gaze, and the brutish police methods it justifies, than they do about actual football fans. But then, the fans themselves are difficult to see through the clouds of tear gas.
Tim Black is a columnist at spiked. He also edits the spiked review.
To enquire about republishing spiked's content, a right to reply or to request a correction, please contact the managing editor, Viv Regan.