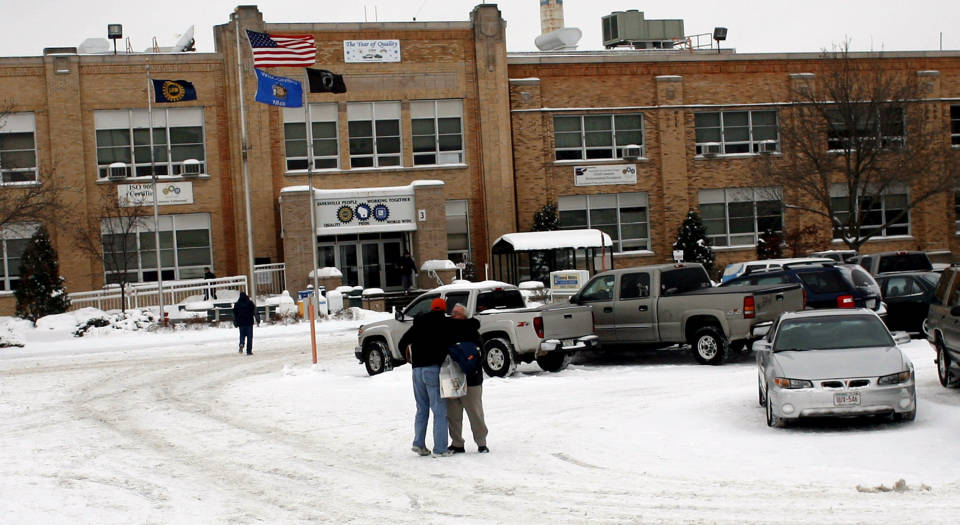 Long-read
Janesville: an American elegy
Amy Goldstein's portrait of one town ravaged by de-industrialisation has universal significance.
In June 2008, the US congressman for Wisconsin, Paul Ryan, who is now Speaker of the House of Representatives, was back in his native town of Janesville, a city in southern Wisconsin. It was there that he received a phone call that would forever alter the lives of the residents of Janesville. Troy Clarke, the president of General Motors North America, called to tell Ryan that GM was about to announce the closure of its Janesville plant. 'You know this will destroy the town', Ryan shouted down the phone.
Amy Goldstein's Janesville: An American Story recounts what happens next, chronicling the lives of Janesville's workers and residents, and, hopefully, helping us understand how America can and should react to the decline of manufacturing industries.
In some ways, Janesville's story is a typical one. It had been dominated by GM ever since it first opened its assembly line after the First World War. Like many other industrial towns across America, this one factory became both the primary source of direct employment as well as the catalyst for several other ancillary businesses. In contrast to other towns in the region, however, Janesville had not suffered much industrial decline. In the 1970s and 1980s, when many manufacturing towns began shedding factory jobs, and the term 'rust belt' entered popular discourse, Janesville's assembly line 'moved on and on', as Goldstein puts it.
Rumours had circulated for years that the plant might close. But no one really believed it would happen. Until it did, that is. After GM experienced record financial losses in 2007, something had to give. By 2008, no one was buying the gas-guzzling SUV's that Janesville produced anymore – especially not with oil prices being so high in the late 2000s. And attempts to get GM to produce more fuel-efficient and popular cars in Janesville came to nothing.
With the announcement of the Janesville plant's closure, the job losses came in waves – largely on the basis of staff seniority. And as more and more employees finished their last shift at the factory, the impact of the closure spread through the town, as businesses dependent on the GM factory begin to shut down, too. In total, one in three adults in Janesville either lost a job or knew someone in his or her family who did. And as employment shrunk, so payday loans companies started to pop up on Janesville's main street, and 'for sale' signs proliferated on people's property.
Not all residents initially saw the plant's closure as a disaster. Some even viewed the impending end of GM in Janesville as an opportunity. One Goldstein spoke to, Bob, the executive director of the Southwest Wisconsin Workforce Board, felt 'the shackle of big GM pay cheques bred complacency and tethered people to the assembly line for 30 years or 40 – for an entire working life, even if they hated the work'.
Indeed, as Goldstein's cast of Janesville residents make clear, no one much liked working in the plant. But they did like getting paid. Some such as Jared, a GM worker for 13 years, downright hated the work, as did his father and father-in-law. But for $28 an hour, overtime and a raft of other union benefits, plenty like Jared were prepared to do something they hated. So, as Bob quietly hoped at the time, the 'catastrophe might prove to be an unbidden opportunity to help people find the work paths that would have suited them all along'. Unfortunately, this didn't happen.
Those who went looking for work elsewhere in Janesville received severely reduced pay packets. Of course, it didn't help that by 2009 the US as a whole was in recession. But even with the economic recovery, GM levels of pay never returned. This left Janesville workers with few other choices.
Some simply packed up and moved on in search of work. Hundreds of GM workers even travelled across the US to work in still-functioning GM factories. Two-hundred or so headed to Kansas City, earning the Missouri town the moniker, 'Janesville West', while 170 more commuted to Arlington in Texas, which became known as 'Janesville South'.
However, with many workers having to support families and service the debt of their now unsellable houses, moving to Kansas City or Arlington proved impossible. Instead, they become 'GM Gypsies', travelling to work in the still-functioning GM factories for the week, or perhaps longer, while their families remained in Janesville.
Others decided to retrain at the local Blackhawk Technical College, hoping to gain new skills and find new careers. Yet even then, the jobs weren't there. One former GM worker, Matt, was one of many that enrolled at Blackhawk to train to become a lineman at the local utility company, Alliant Energy. But, as a rather candid conversation with his lecturers made clear, his chances of being hired were really rather low. Indeed, between 2008 and 2011, Goldstein found that those who had re-trained after the plant's closure were, in actual fact, less likely to find work than those who did not re-train. And even those who did find work after completing their re-training picked up much lower wages than they received at GM. As Goldstein concludes, 'job retraining, it turned out, was not a path to more work or better pay in and around Janesville, at least not during the time when jobs were so scarce'.
Yet, even after the economy had recovered, things were little better. In 2015, average incomes were still way below what they were when the GM plant was still open. Indeed this is one of the bleakest parts of Janesville: for years now, it's been federal policy to re-train workers whose old jobs have gone so that they can ease into new jobs and avoid the dreaded 'worker dislocation'. But, as Janesville shows, re-training doesn't necessarily lead to new jobs let alone better ones. Unemployment levels may have now dropped to their pre-factory-closure levels, but incomes are way down, with little prospect of a revival anytime soon. While some workers have maintained pre-closure incomes – by travelling to other GM factories hundreds of miles away – the workers left behind are earning far less than they did at GM. Even when new employers come to town, the jobs on offer are nowhere near as well paid as they had been in the past. Dollar General, for instance, opened a distribution centre in Janesville, offering, on average, $16 an hour – GM once offered an average of $28 an hour.
Goldstein shies away from easy answers to Janesville's post-GM problems, let alone policy prescriptions. That's not Janesville's purpose. But perhaps there are two main lessons that can be gleaned from it: first, towns become too reliant on one industry or employer at their peril. The Midwest is littered with once thriving towns that became too reliant on one employer or one industry. In Indiana, Gary, a town founded by the US Steel Company in 1906, and, effectively closed with the steel industry's departure, is an obvious example. Youngstown in Ohio, a steel town like Gary, is now one of the poorest, most rapidly depopulating cities in America. Janesville, thankfully, has not suffered a similar decline. But its similar predicament underlines the point: over-reliance on one industry or one large employer can foster economic complacency, which leaves a town completely exposed when economic forces drive an employer or industry away.
The second lesson is that re-training is not, by itself, a solution to job losses. Janesville, and towns like it, have endured the destructive part of creative destruction. Old industries no longer tenable have disappeared, as have the well-paying jobs they once provided. The question now is how these towns and communities can revive their fortunes through a new bout of creation, which could bring back the level of income residents enjoyed in the GM years. Sending laid-off workers back to school may be part of this, but it is nowhere near enough.
Tom Bailey is a writer based in London.
Janesville: An American Story, by Amy Goldstein, is published by Simon and Schuster. (Order this book from Amazon(UK)).
Picture by: Getty Images.
To enquire about republishing spiked's content, a right to reply or to request a correction, please contact the managing editor, Viv Regan.